Injured Robinson staying engaged in practice
Published: Monday, February 15, 2021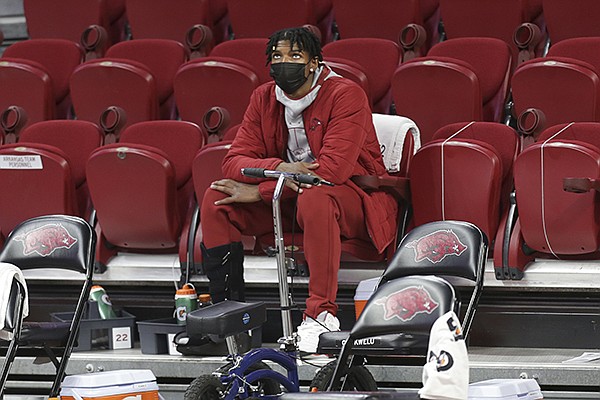 (
Charlie Kaijo
)
Arkansas guard Khalen Robinson is shown prior to a game against Georgia on Saturday, Jan. 9, 2021, in Fayetteville.
FAYETTEVILLE — Injured Arkansas freshman basketball player Khalen "KK" Robinson may not be able to play the rest of this season, but he is staying overly engaged while watching practice, according to Razorbacks coach Eric Musselman.
Robinson (6-0, 175) suffered a bone fracture in his right foot, apparently in the Red-White game on Oct. 31, but went on to play in Arkansas' first 11 games before aggravating it in a loss at Tennessee and having surgery on Jan. 10.
The former Bryant and Oak Hill Academy standout guard scored 29 points and had 11 assists in those games while playing an average of 8.4 minutes per game for the Razorbacks (16-5, 8-4), ranked 24th in this week's Associated Press Top 25 poll.
"I tell you what, he's getting stronger physically," Musselman said. "The difference to today from a month ago, physically - and I just met with our strength coach, Dave Richardson - he talked about how much stronger. And you can see it visually."
Robinson averaged 10.7 points, 7.5 assists, 4.8 rebounds and 3.7 steals per game as a senior for Oak Hill (37-3) and was ranked as the 37th-best player nationally, per 247 Sports.
"As far as his foot, he's not going to be able to do anything on that, but what he can do is he can be at every practice like he has been," Musselman said. "He continues to know everything that we're adding because we continue to add plays.
"He's on the sideline doing (abdominal) work every day, doing stretching. Sometimes he'll just be over there dribbling while he's sitting down. But he's certainly overly engaged, I would say, for sure - both in the weight room and he's very active while we're in practice off on the sideline."
Robinson is part of an Arkansas-born freshman class for the Razorbacks that was ranked fifth nationally and also included fellow Top 100 national prospects Moses Moody (6-6, 205), Davonte "Devo" Davis (6-3, 180) and Jaylin Williams (6-10, 245).
Moody is averaging a team-leading 16.3 points and 5.7 rebounds per game while Davis (6.6, 3.5) and Williams (3.2, 4.6) have been key cogs in Arkansas' current six-game SEC win streak.
Moody is playing a team-high 32.3 minutes per game while Davis (19.2) and Williams (14.6) have also logged significant minutes.
Davis' minutes have gone up to 22.3 per game and he has started half of the team's 12 league contests. Williams has played 16.8 minutes per game during SEC action.
"I mean, to to start (Davis) and to play him the amount of minutes that we are, he's earned it," Musselman said. "He comes in every day and he keeps getting better. He has a hungry attitude and comes in at night and works.
"We have been really pleased with all of their development. They are getting a lot of minutes. Our team is 16-5 and currently ranked. To play three freshmen this amount of minutes and for them to have a pretty decent record and so on and so forth is really impressive.
"It shows you how talented those guys are, and as a staff we're really happy that those guys are getting not only development behind closed doors in practice but they're getting court time, which is the most valuable piece to developing players."
Discussion
Have a comment on this story? Join the discussion or start a new one on the Forums.