Gators have no excuses for loss at Arkansas
Published: Tuesday, February 16, 2021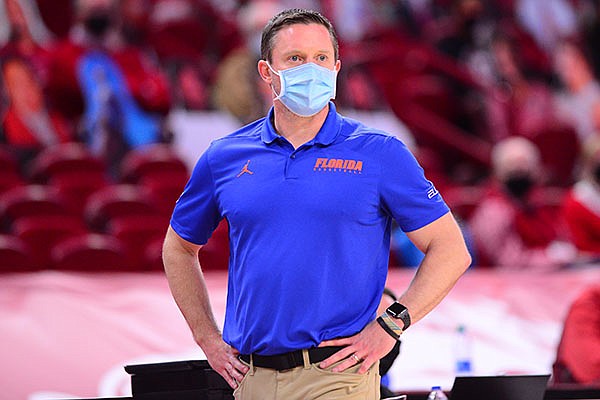 ( Gunnar Rathbun, University of Arkansas Razorback Athletics )
Florida coach Mike White is shown during a game against Arkansas on Tuesday, Feb. 16, 2021, in Fayetteville.
FAYETTEVILLE — Florida coach Mike White wasn't looking for excuses after No. 24 Arkansas won its seventh straight league game by downing Florida 75-64 Tuesday night at Bud Walton Arena.
White's team had not played in two weeks, was playing on the road, fell behind by 15 points and continued to play without SEC preseason player of the year Keyontae Johnson.
"Everybody in college basketball can make excuses," White said. "We have several opportunities and reasons I guess to, but we are not going there. We have got to overcome. We have got to be better than we were.
"All that said, I hate ever coming off that this was about the Gators being bad. The Gators weren't good enough, especially in the first half. We weren't competitive enough.
"Another factor is that we had to play so hard the first 15 minutes of the second half, so hard to make it a fight. Credit Arkansas. It is why they have won seven SEC games in a row."
The Razorbacks (17-5, 9-4 SEC) closed the game on a 14-2 run after the Gators (10-5, 6-5) had taken a 62-61 lead on Jacksonville native Tyree Appleby's shot with 4:40 left.
Florida did not make another shot the rest of the game.
"I thought Arkansas was really good late, forcing turnovers," White said. "We had a couple of tough decisions that I wished we could have back."
The Gators rallied from a 45-30 deficit early in the second half. Arkansas led 40-30 at halftime.
"They are a really good defensive team," White said. "We fought back. It's a shame. We gave ourselves a chance late and just didn't execute as well down the stretch as we needed to.
"(The Razorbacks) are fantastic. They play extremely hard and really share it. I thought we did a lot of good things defensively, but obviously offensively not so much."
White seemed to think the first-half struggles were both mental and physical.
"I don't know the best way to put it, but I was displeased with our overall physical effort in the first half," White said. "We didn't match Arkansas' intensity and competitive level. I thought we did in the second half, but again, down the stretch we didn't make the plays needed. The first 15 minutes of the second half, we were very competitive."
White noted there was no schematic change at halftime.
"Mostly it was what was between the ears — focus and (connectivity)," he said.
He refused to blame the loss on his team being off for 13 days due to covid-19 protocols that kept the Gators from playing three scheduled games.
"We played harder in practice yesterday than we did in the first five minutes of the game," White said. "I don't understand it. We ought to have been very, very fresh."
He instead wanted to give credit to an Arkansas that had four players in double figures, led by Davonte Davis' 18 points. Justin Smith added 15 and Moses Moody and jalen Tate had 14 apiece.
"I said yesterday, or the other day as they all run together, especially this year, that they are good at a lot," White said. "They just are. They are very handsy. They have great length and quickness. They have depth. I love the way they share it. They are a really good passing team.
"I knew (Connor) Vanover was big, but my goodness, it is even bigger than he seems on film. They have got some experience. Obviously they run good stuff and they space you. They have five guys out there that can pass, dribble and shoot. They are handful to defend.
"Defensively...they present some problems schematically as well. They played us a little bit uniquely, if you will. Only a couple of teams this year have showed us that much of kind of forcing us to one side of the floor. It was a big factor and disruptive to our guards."
Smith, 7-of-9 shooting from the field, also had 6 rebounds, 5 steals, 4 assists and 2 blocks.
"I thought late he had a huge shot in front of their bench, off a little (Charles) Barkley-esque, back-you-down move, over his left shoulder with a right hook," White said. " I think he is one of the better cutters in our league.
"He was really efficient tonight. He and Vanover have really good chemistry. He is a good cutter regardless of who has the ball in his hands, but Vanover does a great job of finding him. And (Arkansas coach Eric Musselman) did a great job late of getting him the ball in spots. He has a nice pace to his game, is big and strong and played within himself at times. He is a good player."
Discussion
Have a comment on this story? Join the discussion or start a new one on the Forums.