Arkansas-Ole Miss women's game moved to Friday
Published: Thursday, February 18, 2021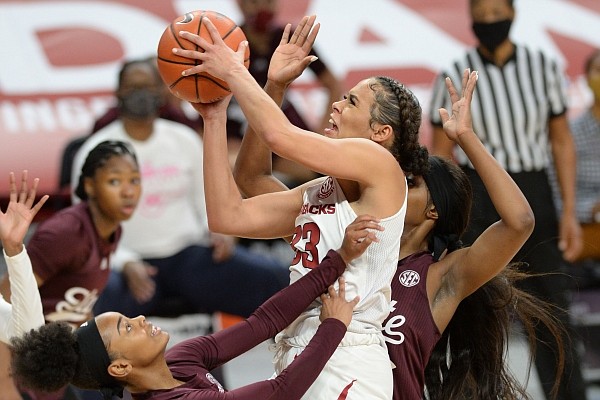 (
Andy Shupe
)
Arkansas guard Chelsea Dungee (center) takes a shot in the lane Thursday, Feb. 11, 2021, as she collides with Mississippi State guard Jamya Mingo-Young (left) during the first half of play in Bud Walton Arena. Visit nwaonline.com/210212Daily/ for the photo gallery.
The No. 18 Arkansas women's basketball team will host Ole Miss on Friday at 6 p.m.
The Razorbacks were originally scheduled to play the Rebels in Bud Walton Arena on Thursday, but the Southeastern Conference postponed the game due to poor weather conditions. All tickets purchased for the Thursday game will be honored Friday.
Due to the date change, the game will not be televised or streamed on SEC Network-Plus.
"The gymnastics meet scheduled for Friday night is on the SEC Network and the required resources from the University for that broadcast precludes the opportunity to broadcast the rescheduled women's basketball game," department spokesman Kevin Trainor said in an email.
The Razorbacks have not played in eight days, their longest layoff since a 10-day stretch around Christmas. Arkansas defeated Mississippi State 86-80 last Thursday at home.
"Uncertainty has been a huge part of the entire season," Arkansas coach Mike Neighbors said. "We were in a pretty good little rhythm. You worry about time off disrupting some of that timing you had going. It could be good, it could be bad."
The Ole Miss game will be the first of two in three days for the Razorbacks, who are scheduled to play at LSU on Sunday.
Discussion
Have a comment on this story? Join the discussion or start a new one on the Forums.