SEC basketball roundup: Kentucky holds off Vandy, Mizzou falls again
By: The Associated Press
Published: Thursday, February 18, 2021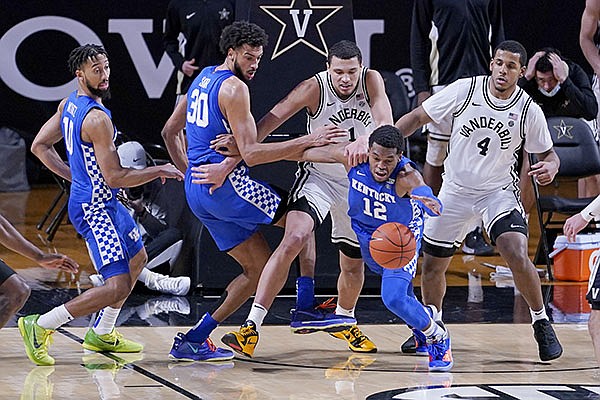 Kentucky forward Keion Brooks Jr. (12) dives for the ball ahead of Vanderbilt's Dylan Disu (1) and Jordan Wright (4) in the second half of an NCAA college basketball game Wednesday, Feb. 17, 2021, in Nashville, Tenn. Kentucky won 82-78. (AP Photo/Mark Humphrey)
NASHVILLE, Tenn. — Davion Mintz had 18 points, Jacob Toppin scored 12 of his 16 points in the second half and Kentucky blew a 17-point lead before holding on to beat Vanderbilt 82-78 on Wednesday night.
Isaiah Jackson had 15 points and nine rebounds, Brandon Boston Jr. added 12 points and three steals and Olivier Sarr had 10 points and four blocks for Kentucky (7-13, 6-7 SEC).
Scotty Pippen Jr. scored six points and Dylan Disu added five in an 11-5 spurt that pulled Vanderbilt (6-11, 2-9) within a point with 26 seconds left but Toppin, Boston and Devin Askew combined to go 8 of 8 from the free-throw line from there.
Disu had career highs of 29 points and 16 rebounds for the Commodores and Pippen finished with 21 points.
Kentucky scored the first 10 points and never trailed. Boston hit a 3-pointer and then took a steal coast-to-coast for a dunk 17 seconds later to spark a 15-3 run that made it 25-8 midway through the first half.
Issac McBride hit a 3-pointer to trim the Commodores' deficit to 12 at halftime and Vanderbilt scored 16 of the first 20 points of the second half to tie it at 46-all but Mintz answered with a 3-pointer and Kentucky led the rest of the way.
The Wildcats have won back-to-back games for just the second time this season. They won three in a row in early January.
Tennessee bounces back
KNOXVILLE, Tenn. — Every time South Carolina made a move, Tennessee answered.
Victor Bailey was a big part of the Volunteers' response.
Bailey connected on 7 of 10 3-pointers and scored a career-high 29 points to lead No. 19 Tennessee to a 93-73 victory over the Gamecocks on Wednesday night.
The game was originally scheduled for Tuesday, but what turned out to be a false positive COVID-19 test for a Tennessee player led to a one-day postponement.
John Fulkerson scored 15 of his 19 points in the second half, Jaden Springer added 16 points and Yves Pons had 10 for the Volunteers (15-5, 8-5 Southeastern Conference).
AJ Lawson led the Gamecocks (5-10, 3-8) with 20 points. Keyshawn Bryant and TJ Moss each scored 15.
Tennessee expanded its 11-point halftime lead to 89-69 late in the second half thanks to a 17-7 run. Bailey had nine points in the burst and Fulkerson had eight.
"We can't stop the bleeding when it starts," South Carolina coach Frank Martin said. "The biggest problem is that we have no personality on defense. We gave up another career high. The desire to defend and sustain effort is not what it needs to be."
Bailey had struggled in recent weeks after a strong start to the season.
"Sometimes when a player stops thinking about making shots and just plays, the shots go down," Tennessee coach Rick Barnes said. "All we ask him to do, like anyone else, is to 'Do what you do and trust each other. Play to your strength.'"
"I've tried to stay resilient," Bailey said. "I've stayed focused on my work. It's tough to put in the work when you're not seeing the results."
Bailey hit 4 of 7 3-pointers and had 14 points to lead Tennessee to a 50-39 halftime advantage. Spring connected on a buzzer-beater jumper to score 10 in the opening half. The Vols were good on 6 of 13 3-pointers in the first 20 minutes.
Mizzou drops 3rd straight
ATHENS, Ga. — Losing a big second-half lead made Missouri's third consecutive loss even more painful.
Toumani Camara scored 15 points, including a big three-point play, and Georgia rallied to beat No. 20 Missouri 80-70 on Tuesday night.
Missouri (13-6, 6-6 Southeastern Conference) blew a 48-35 lead following a dominant start to the second half.
"You put yourself in a position to win it on the road, you've got to find a way to win it," coach Cuonzo Martin said.
Camara said it was important that the Bulldogs, faced with their own streak of two consecutive losses, played with even more hunger than the Tigers.
"I believed ... the most desperate team will probably win the game," Camara said.
Missouri dropped 10 spots in this week's Top 25.
Kobe Brown led the Tigers with a career-high 21 points. Mark Smith and Xavier Pinson had 11 apiece.
Missouri forward Parker Braun said the Tigers "stopped being aggressive" after building the big second-half lead.
"We've just got to stay locked in for a full 40 minutes and be ready to play down the stretch," Braun said.
Tigers center Jeremiah Tilmon missed his second consecutive game while away from the team following a death in his family.
Justin Kier led Georgia (13-8, 6-8) with 16 points.
Camara's three-point play with 4:55 left broke a 62-all tie, launching an 18-8 run to end the game.
Missouri led 37-33 at halftime despite making only 3 of 15 3-pointers. The Tigers made 6 of 26 for the game. The modest total of first-half 3s included a long jumper by Dru Smith with 31 seconds remaining in the half.
Georgia opened the second half with turnovers on its first three possessions, paving Missouri's path to nine unanswered points. A 3-pointer by Mark Smith capped the run.
The Bulldogs were held without a field goal for almost six minutes after the break before Andrew Garcia's tip-in ended the drought.
Jaxon Etter helped Georgia narrow the deficit. Etter scored on a layup, sank two free throws following his steal and had a defensive rebound to set up a basket by Garcia, trimming the Tigers' lead to 50-45. Etter added a 3-pointer from the corner, leaving Missouri's lead at two points.
Georgia finally pulled even at 53-all on K.D. Johnson's steal and layup for his first points of the game. P.J. Horne's 3-pointer gave the Bulldogs their first lead of the half at 57-55. Kier added another long 3 to extend the lead to five points.
Discussion
Have a comment on this story? Join the discussion or start a new one on the Forums.