Arkansas contributes to nightmare start for Longhorns
Published: Sunday, February 21, 2021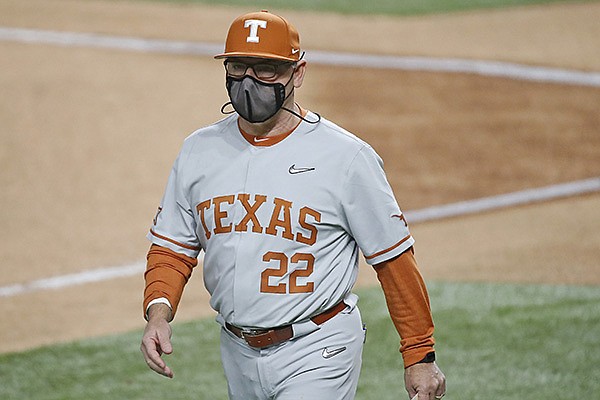 ( James D. Smith/Special to the Democrat-Gazette )
Texas coach David Pierece is shown prior to a game against Arkansas on Sunday, Feb. 21, 2021, in Arlington, Texas.
Texas is living through what its coach calls a nightmare at the plate these days.
Arkansas was happy to keep the bad dream going at Globe Life Park on Sunday.
The Razorbacks defeated the Longhorns 4-0 behind a strong pitching performance from starter Peyton Pallette and relievers Caden Monke and Caleb Bolden, who combined to strike out 15 batters and hold Texas to two hits.
Pallette had 8 strikeouts in 4 1/3 innings, and Bolden had 7 strikeouts in 4 innings. The No. 10 Longhorns brought their season strikeout total to 33 through two games.
"I don't feel like our at-bats have been very quality," Texas coach David Pierce said. "There is always concern. Hitting and scoring kind of comes and goes, but the approach has to be better.
More from WholeHogSports
"We faced some really quality arms, especially their starter."
Pierce was asked if covid-19 issues and lack of practice time due to weather played an issue in the rough start for Texas, which lost 8-3 to Mississippi State on Saturday.
"We are not going to use it as a excuse," Pierce said. "We are not even going to talk about it. We just have to understand that we have to get better. And because we are 0-2 right now, I am not as concerned with the record, I just feel like we need to improve our quality approach, put together good at-bats and not worry about the record. It will take care of itself."
Texas wasted a strong outing from starter Tristan Stevens, who retired the first 11 Razorbacks he faced in his first start.
Arkansas designated hitter Brady Slavens drove in the game's first run in the fourth against Stevens, and delivered a three-run homer off reliever Dawson Merryman in the sixth to break the game open.
"They got a couple of clutch hits and we didn't and that is kind of the way the game went," Pierce said.
Stevens took the loss as he allowed 3 runs on 2 hits and 2 walks in 5 1/3 innings. He also hit a batter and threw two wild pitches.
"Outstanding job by Tristan Stevens," Pierce said. "He went there and gave us a great start. Our defense was outstanding."
Pierce also celebrated freshman Tanner Witt, the son of former major league player Kevin Witt, who had five strikeouts while facing nine Arkansas batters.
"We know he has got good stuff and we want to get him out there yet, but he is not ready yet as far as length," Pierce said. "That I can definitely attribute to weather and just getting those pitchers to the pitch count that we try to get them to before we start him. I think everybody is struggling with that.
"But the kid is going to be great for us. He has the right look, he's got stuff and he has got mound presence. You will probably see him hit some, too."
Texas will face Ole Miss (2-0) on Monday.
"We have got to have a clutch hit," Pierce said. " We have got to have somebody step up so everybody can breathe a little bit."
Discussion
Have a comment on this story? Join the discussion or start a new one on the Forums.