Schlossnagle says Hogs remind of '19
Published: Tuesday, February 23, 2021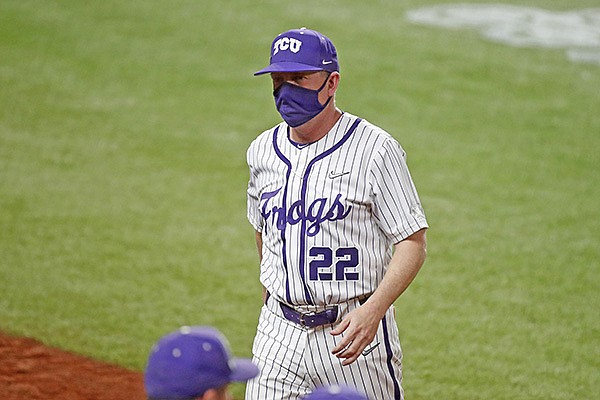 ( James D. Smith/Special to the Democrat-Gazette )
TCU coach Jim Schlossnagle walks to the dugout during a game against Arkansas on Monday, Feb. 22, 2021, in Arlington, Texas.
Having seen Arkansas' baseball team in a 2019 NCAA regional, TCU coach Jim Schlossnagle knew there were two Razorbacks he would rather not face in clutch situations.
Turns out, Christian Franklin and Casey Opitz were those two, and both came through with big hits against the No. 11 Horned Frogs on Monday night.
The No. 8 Razorbacks rallied for a 4-1 victory in the final game of the College Baseball Showdown at Globe Life Field in Arlington, Texas. Arkansas completed a three-day sweep of former Southwest Conference foes who were highly ranked in the preseason USA Today Baseball Coaches Poll.
Franklin doubled home the tying run in the eighth and scored the go-ahead run on Cullen Smith's single to give the Razorbacks a 2-1 lead. Opitz doubled home an insurance run and scored on a wild pitch in the ninth.
"There (are) like 2,000 other players in the country that I would like to see up to bat...than Opitz," Schlossnagle said. "He is just a great player. I have watched his career. Of course, we played them in the regional in 2019.
"Not many people right handed or left handed get great swings on (TCU All-America reliever) Haylen Green, but obviously Franklin's was big and Opitz's was, too. Those guys have been through the wars and they are a great program."
Schlossnagle believes Arkansas has a more balanced offense than it did in its run to the College World Series in 2019.
"As soon as you make a mistake, they make you pay for it," Schlossnagle said. "I actually think their 2019 team had some great players on it, but they were predominantly left handed, so there was a little more you could do game planning against them. This lineup, I know it it is young, but I think it is more balanced."
Schlossnagle was impressed with Arkansas' pitching staff, with starter Lael Lockhart, Evan Taylor, Jackson Wiggins, winner Ryan Cousteiu (1-0) and Kevin Kopps all handling mound duties. They tied a school record with 18 strikeouts and allowed only two hits.
Lockhart whiffed 8 in 4 1/3 innings; Kopps struck out 5 in 2 innings while getting the save; Wiggins struck out all 3 of the batters he faced in the sixth; and Cousteiu struck out 2 in the seventh.
"We knew going into the season, and I have said this all along, that this is going to be the greatest year ever in college baseball, especially on the mound," Schlossnagle said. "It is just going top be insane, whether that is in the SEC or the Big 12 or all across the top 40 or 50 schools. That is what you are going to get. There is not going to be many smallish right handers throwing 88 mph with bad breaking balls. It is is going to be power arms that are going to be in the big leagues."
Schlossnagle was impressed with his starter, Austin Krob, on Monday. Krob struck out five in four innings before turning it over to Charles King.
"I felt like Austin Krob did a really nice job in his first college start," Schlossnagle said. "He had 67 pitches through four innings and felt good. We had three right handers in a row coming up so I thought that was a perfect time to have him finish his outing with some confidence."
TCU outfielder Elijah Nunez was tossed in the bottom of the eighth inning after arguing with the home plate umpire after he was called out looking at a pitch from Kopps.
"There were a lot of emotions in the game and the umpire was already upset at pitching staffs with pitchers looking in the dugout and things like that," Schlossnagle said. "Elijah has to learn from that and control his emotions better.
"But at the same time, everybody in the ballpark needs to understand what is at stake. The crowd was into it and that is what happens at times.
"Sometimes adults have a tough time turning it back when all they need to do is turn their back."
The Horned Frogs notched the Big 12's only win in the College Baseball Showdown when they beat Mississippi State on Sunday. Arkansas, Ole Miss and Mississippi State combined to go 8-1 against TCU, Texas Tech and Texas.
Schlossnagle said before the weekend that a team could go 0-3 in Arlington and still end up in the College World Series.
"We will let the season play out and see what happens," Schlossnagle said. "I can't speak for Texas or Texas Tech, but both of those teams are super talented and are at different stages of development, and I feel like we are, too.
"We were a couple of pitches away from losing yesterday and we were a couple of pitches away from winning Saturday and tonight.
"I am confident in our league. I think we have a really good league and it will show itself over the course of the season. What happened here happened, and you have to tip your cap to those three teams and the way they played."
Discussion
Have a comment on this story? Join the discussion or start a new one on the Forums.