SEC hoops roundup: Tide top Vols on road, Kentucky snaps losing skid
Published: Saturday, January 2, 2021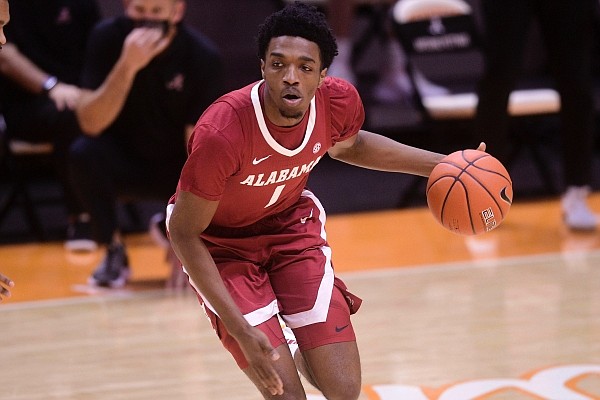 Alabama's Herbert Jones (1) dribbles past Tennessee's Josiah-Jordan James, left, during an NCAA college basketball game Saturday, Jan. 2, 2021, in Knoxville, Tenn. (Caitie McMekin/Knoxville News Sentinel via AP, Pool)
KNOXVILLE, Tenn. — John Petty hit three critical 3-pointers and finished with 19 points, leading Alabama to a stunning victory over No. 7 Tennessee 71-63 Saturday night.
The Crimson Tide (7-3, 2-0 Southeastern Conference) turned a one-point halftime lead into a double-digit advantage midway through the second behind Petty's trio of 3s and two more long-range makes by Joshua Primo.
Primo and Herbert Jones finished with 11 points, and Jahvon Quinerly scored 10.
Tennessee (7-1, 1-1 SEC) struggled from the field the entire game, hitting 21 of 66 shots (32%).
Victor Bailey Jr. scored 16 points and Santiago Vescovi had 13 for the Volunteers. Keon Johnson added 12 points. Yves Pons had four second-half blocks when Tennessee clawed its way back to single digits late in the game, but never got closer than six points.
The first half was painful on both sides.
Alabama's 31-29 lead at the break happened with the Crimson Tide shooting 39% (12 of 31), while Tennessee struggled shooting 33% (11 of 33). Tennessee hadn't trailed at halftime in any game this season.
The Vols had three turnovers and two missed shots before they scored their first points, almost 3 minutes into the game.
With 8:46 left in the first half, the score was tied at 14 as both teams labored to make anything happen.
Late in the first half, a couple calls — and non-calls — drew the ire of Tennessee coach Rick Barnes. He was animated while pleading his case with the officials during a timeout. Coming out of the stoppage of play, he was assessed a technical foul. As the half ended, he followed the officials off the floor continuing his rant.
Kentucky snaps skid with 2OT win at Mississippi State
STARKVILLE, Miss. — Freshman Dontaie Allen scored a career-high 23 points with seven 3-pointers and Kentucky ended its six-game skid beating Mississippi State 78-73 in double overtime Saturday night.
Allen finished 7-for-11 shooting from beyond the arc and 8-for-14 overall.
Olivier Sarr's 3 to start the second overtime gave the Wildcats the lead for good.
Iverson Molinar missed a contested 3 at the buzzer to send it to a second overtime. The Wildcats missed three shots on their final possession to force the first extra session.
Kentucky coach John Calipari was ejected after being issued consecutive technical fouls with 9:04 left in regulation and the Wildcats down 52-46 following Molinar's jump shot. Allen sank 5 of his 3s following Calipari's ejection.
Allen entered the contest having scored just a pair of baskets in 20 minutes of action prior to Saturday.
It was Kentucky's (2-6, 1-0 Southeastern Conference) first win since its season opener the day before Thanksgiving.
D.J. Stewart Jr. led the Bulldogs (6-4, 1-1 SEC) with 19 points.
Castleton leads Florida past LSU
GAINESVILLE, Fla. — Colin Castleton scored 19 of his 21 points in the second half and Florida held off LSU 83-79 on Saturday.
Castleton scored Florida's first 15 points of the second half, including a personal 9-0 run that put the Gators up 51-45. He made two free throws and Tre Mann followed with a 3-pointer to push the lead to 62-52 at the 12-minute mark.
The lead was never more than 10 but was was at 10 on a Mann jumper with 3:15 to go. From there the Gators missed four shots and the Tigers twice made it a one-possession game but Scottie Lewis made 5 of 6 free throws in the last 29 seconds, including the clinchers with 5.9 seconds to go.
Mann scored 19 points, Lewis had 17 and Anthony Duruji 16 with seven rebounds for the Gators (5-1, 2-0 Southeastern Conference). Castleton was 7 of 10 from the field and 7 of 7 from the line, where Florida was 20 of 23.
Freshman star Cam Thomas scored 28 points for the Tigers (6-2, 1-1 SEC), who had their five-game winning streak stopped. Trendon Watford added 21 points with eight rebounds and Javonte Smart 20. LSU shot 41% but made seven 3s and went 22 of 25 from the line.
In the first half, LSU was 5 of 8 from 3-point range but Florida shot 58% overall and the score was tied at 40 at the break.
Thomas, the leading scorer in the SEC and third in the nation at 24.1 points a game, had a four-point play with just over a minute to go in the first half for a 40-35 lead. But Omar Payne made two free throws 10 seconds later and after LSU missed, Duruji had a deep 3-pointer from the right wing as time ran out.
It was a good half for the Gators with Castleton, the junior transfer from Michigan, playing just two minutes because of early foul trouble and leading scorer Keyontae Johnson (16 points per game) still sidelined after collapsing during a game on Dec. 12 and needing emergency medical attention.
Johnson was at his first game, masked up on the bench, in street clothes.
Other Saturday scores
Missouri 81, Arkansas 68
South Carolina 78, Florida A&M 71
Texas A&M 68, Auburn 66
Wichita State 83, Ole Miss 79
Discussion
Have a comment on this story? Join the discussion or start a new one on the Forums.