Commentary:
Looking back at 2020 football predictions
By:
Rick Fires
Published: Sunday, January 10, 2021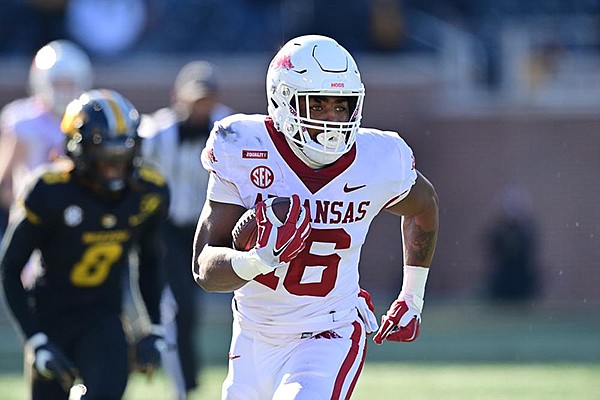 Photo by Walt Beazley, Arkansas Razorbacks
Arkansas receiver Treylon Burks runs with the ball during a game against Missouri on Saturday, Dec. 5, 2020, in Columbia, Mo.
I can't move on with column-writing in 2021 without holding myself accountable for the predictions I made about the Arkansas football team in 2020.
The picks I made four months ago in each category for the Porkers are in parentheses.
FINAL RECORD (1-9)
I've been saying for years Arkansas wouldn't be any better until its defense drastically improved and the Razorbacks did so under defensive coordinator Barry Odom. Odom's decision to stay at Arkansas after being pursued by other programs is huge.
Finishing 3-7 in SEC play doesn't seem like much until you realize Arkansas had lost 20 consecutive in league play before beating Mississippi State 21-14. Arkansas surpassed my expectations this year primarily because of head coach Sam Pittman and the staff he assembled.
Pittman is the right man to lead the program and, if a capable quarterback emerges to replace Feleipe Franks, there's no reason Arkansas shouldn't have a winning season in 2021.
BEST WIN: (Tennessee)
Beating Tennessee 24-13 after trailing 13-0 at halftime was a significant win for Arkansas. But the 33-21 win over Ole Miss on homecoming was even better, especially considering Lane Kiffin was the top choice for a few (myself included) in Arkansas to replace Chad Morris as the Razorbacks coach.
WORST LOSS: (Auburn)
Arkansas fans claim the Auburn game was stolen from them by the refs, but the history books will still record the score as Auburn 30, Arkansas 28. History will also record that Gus Malzahn was 7-1 against the Razorbacks.
Getting drummed by Alabama has become routine, so the worst loss, the most painful loss, came in the final game when Missouri rallied for a 50-48 victory. Pittman delighted Razorbacks fans when he went for two points, but the Arkansas defense failed that day and Missouri won on the last play of the game.
That kick through the uprights was a kick to the gut for Arkansas and its fans.
MOST VALUABLE PLAYER: (Treylon Burks)
No one benefited by Franks' appearance more than Treylon Burks, who was selected second-team All-SEC after catching 51 passes for 820 yards and seven touchdowns.
Burks is Arkansas' most skilled player by far and he's destined for the NFL after his career in a Razorbacks uniform.
TOP NEWCOMER: (Feleipe Franks)
Franks certainly wasn't a newcomer to the SEC, but he was a newcomer to Arkansas and the Razorbacks benefited greatly by his leadership and ability.
If we're talking about underclassmen, then redshirt freshman Jalen Catalon was the top newcomer as a defensive back for the Razorbacks. But, hey, this is my column and I'll stick with Franks for this category.
A college coach told me recently adding grad transfers to a roster can be risky, but Franks was a calming voice on the sidelines and in the huddle for the Razorbacks. He'll deserve some credit if the Razorbacks can build off the 2020 season.
BREAKOUT PLAYER: (Grant Morgan)
First team All-SEC.
Second-team American Football Coaches Association All-American.
Finalist for the Burlsworth Trophy.
Yes, it was an extraordinary year for Morgan, a former walk-on from Greenwood.
Morgan started at linebacker for the first time this season and led the nation with 12.3 tackles per game. There's little doubt Arkansas would've held on and beat Missouri had Morgan not suffered a knee injury and missed the second half for the Razorbacks. He was that valuable as a tackler and a leader who made others around him better.
Arkansas' program was built on in-state players like Morgan, who delighted Razorbacks fans by announcing after Christmas he'll return for another season in 2021.
Discussion
Have a comment on this story? Join the discussion or start a new one on the Forums.