Sills scorches Auburn again
Published: Thursday, January 21, 2021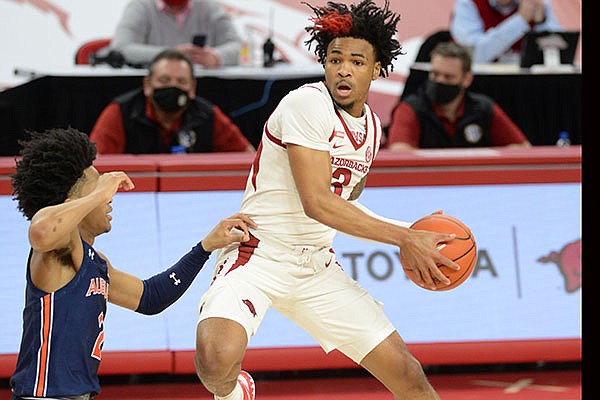 (
Andy Shupe
)
Arkansas guard Desi Sills (right) leaps Wednesday, Jan. 20, 2021, to catch the ball over Auburn guard Sharife Cooper during the first half in Bud Walton Arena in Fayetteville.
FAYETTEVILLE — The Arkansas team that looked lifeless while falling behind 19 points in the opening half Wednesday night against Auburn seemed to get its heart back right before intermission.
That was due in part to the return of junior Desi Sills' aggressiveness attacking the rim.
Sills had a team-high 22 points as the Razorbacksended a two-game losing skid by rallying to a 75-73 victory over Auburn at Bud Walton Arena.
"I felt like Desi just had a couple of games where he was in a semi-slump or whatever and he and I just had, yesterday or the day before, just more a personal, life conversation," Arkansas coach Eric Musselman said. "We love Desi and we need him to play well for us, we need him to be aggressive like he was.
"I think he came out with an incredible intent to get to the rim and did not settle, wanted to draw (free throw attempts) and get to the rim as much as possible."
Sills made 7 of 12 shots against Auburn. He scored just 25 points total in the previous five games.
"I just felt like I was in a slump," Sills said. "My teammates kept on talking to me, encouraging me to keep my head up high and I just kept working each and every day and I feel like it paid off tonight. Hard work always pays off."
Sills scored a career-high 23 points during Arkansas' 97-85 victory at Auburn on Dec. 30. Those performances against the Tigers earned him a pair of nicknames from teammate Jalen Tate.
"Desi is the Auburn killer, the War Eagle slayer," Tate said. "Desi puts in tremendous work every single day. I've grown close to him during my time here. He just has a huge heart and just plays as hard as he can night in and night out.

"We tell him that all the time. It is just great to see a guy ice that and the work paying off for him. He is coming around, man."
Sills, who averages 11.3 points per game, doesn't understand his success against Auburn.
"I do not know," Sills said. "I guess I just came in today and was ready to play. My teammates found me and I was able to produce. I'm just blessed to have the two games against Auburn and I just hope I can keep it up."
Arkansas' victory Wednesday broke a 42-game losing streak during games the Razorbacks trailed by at least 12 points at halftime, according to HogStats.com.
"I just feel like what happened was Coach Muss' energy and his enthusiasm kept us going," Sills said. "When he got he energy and Bud Walton's got that energy, it all comes together and that's how we pulled out a win."
Sills feels the win can help Arkansas make a push, beginning with Saturday's game at Vanderbilt.
"That was a big boost because we were coming off a two-game losing streak and now we have our confidence back and going to Vanderbilt," Sills said. "I feel like if we can keep this confidence up, we are going to be just fine. "
Discussion
Have a comment on this story? Join the discussion or start a new one on the Forums.