Big day arrives for Arkansas' top signee
Published: Saturday, July 10, 2021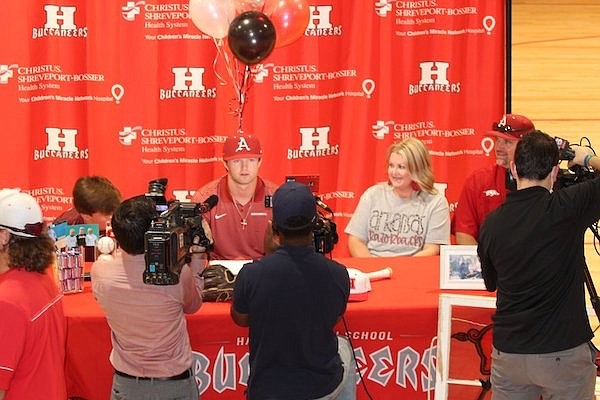 FAYETTEVILLE — Arkansas baseball signee Peyton Stovall is excited to learn what level of baseball he will be playing next season.
That decision is likely to be known Sunday, the first day of the MLB Draft. The Haughton, La., second baseman — who could be moved to third in college or the pros — is rated the No. 33 prospect in the draft by Baseball America.
The first round is scheduled to begin just after 6 p.m.
"My whole philosophy going into this has been I am going to Arkansas unless, and that unless is that me and my family have a number, and unless that number is met then I will be going to Arkansas to play some college baseball and hopefully win a World Series," Stovall said.
"That has been my philosophy the whole entire time and I am standing firm in that."
There has been speculation Stovall might sneak his way into the draft's first day, but sign-ability will also play into how high he is drafted.
He is rated as the No. 23 player on Prospects Live, 28th by MLB Pipeline and 71st by The Athletic.
"I will know tomorrow which path I will take," Stovall said Saturday. "I will definitely know what it will be."
He is trying to keep things low key.
"I am excited and I am looking forward to it," Stovall said. "It is something that a lot of kids always dream of, and I have dreamed of this every since I started playing T-ball.
"So just being able to do this now is a dream come true and I excited to be in this situation."
Stovall (6-0, 190 pounds) hit 14 home runs, stole 23 bases and walked 42 times as a senior. He received some advice before the season that reduced the stress.
"My head high school baseball coach told before this season that when all the scouts start showing up that no matter what happens, 'You are in a win-win situation,'" Stovall said. "You either will be drafted high and start playing professionally, or you will go to one of the top universities in the country and have a chance to win the College World Series.
"That just helped take off a lot of stress because knowing that no matter what happens, I am going to be in an amazing situation either way. It is kind of the best of both worlds."
Stovall sad Arkansas coach Dave Van Horn and his staff have been understanding of his situation.
"They have been very supportive and understand the situation I am in and have not put any more pressure on me," Stovall said. "They know that if it is life-changing money, they would probably take it, too. Their understanding has helped me a lot.
"I know they want me there really bad and they have been great about things."
Discussion
Have a comment on this story? Join the discussion or start a new one on the Forums.