Drafted Arkansas prep star Bishop plans to play for Razorbacks
Published: Tuesday, July 13, 2021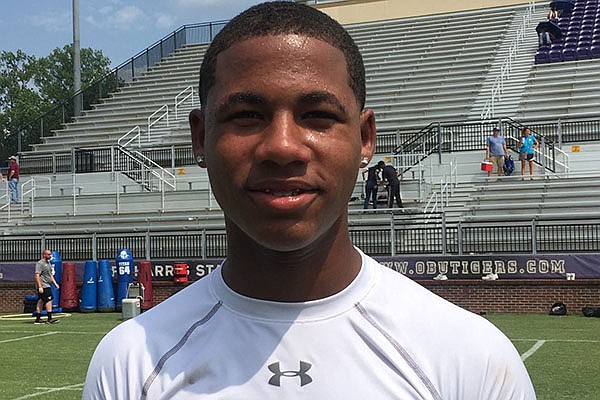 FAYETTEVILLE — Arkansas might have its center fielder of the future in Texarkana high school standout Braylon Bishop.
Bishop, who was selected Tuesday by the Pittsburgh Pirates in the 14th round of the MLB Draft, said he plans to play for Arkansas next year.
Rated Baseball America's 88th-best prospect before the draft, Bishop is viewed as a possible replacement for Christian Franklin, who was selected in the fourth round by the Chicago Cubs.
"I will for sure be at Arkansas and my goal is to just go up there and try to take over where Franklin has left off," Bishop said Tuesday following the draft. "I think that is what I will do and I am excited."
Bishop was unaware he had been drafted by the Pirates with the 403rd overall selection. He first got word from his summer travel coach, Chase Brewster of the Arkansas Sticks, and future college teammate Austin Ledbetter of Bryant.
"Since it wasn't on TV today I was just kind of laying on the couch, not worrying about it and waiting on a call," Bishop said. "I got a text from Coach Brewster and a SnapChat from Austin, who is already in Fayetteville.
"He was like, 'You just go drafted,' and I was like, 'For real?' And then the Pirates called me."
Bishop has plans to live with Arkansas defensive backs LaDarrius Bishop and Montaric Brown until he can enroll. Braylon and LaDarrius Bishop are cousins, and grew up with Brown in Ashdown.
"I plan to get up there early," Braylon Bishop said. "Whenever I do go, I am going to stay with my cousin Day Day and Montaric until I can move on campus. Then I can move in with my teammates from the Sticks — Drake (Varnado), Max (Soliz) and Austin."
Bishop committed to Arkansas on Dec. 16, 2017. He was 15 at the time.
"It all kind of played out," Bishop said. "When I first committed to Arkansas, it was more about having family there and it being a great offer. But as things went along, it was about kind of falling in love with the school itself and having a great baseball program."
Bishop expected to be selected higher in the draft, but is happy with his path.
"The Pirates guy that called me said I was his favorite player in the draft and told me they had more information on me than they did their first-round pick (Louisville catcher Henry Davis)," Bishop said.
"After he told me all that, I just realized it is all God's plan and I am going to go have a great career at Arkansas and then move on from there."
Discussion
Have a comment on this story? Join the discussion or start a new one on the Forums.