Battles will return to Diamond Hogs in 2022
Published: Tuesday, July 13, 2021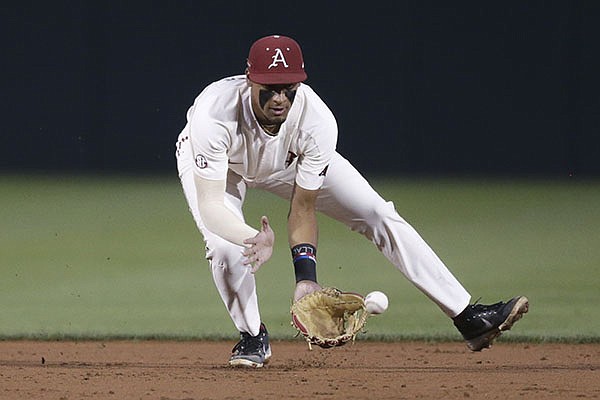 (
Charlie Kaijo
)
Arkansas shortstop Jalen Battles (4) fields a ball during an NCAA regional game against Nebraska on Sunday, June 6, 2021, in Fayetteville.
FAYETTEVILLE — The Arkansas baseball program got a boost Tuesday when starting shortstop Jalen Battles announced he will return to the Razorbacks for the 2022 season.
"After all the thoughts and talks with my family and coaches, I have decided to return to Arkansas for my junior season," Battles wrote on Twitter. "Thank you to everyone who has supported me throughout this process."
Battles, who has two years of eligibility remaining, made the decision Monday during the second day of the three-day draft, said his father, Fred Battles.
"He's just had such a great time there at Arkansas," Fred Battles said. "We actually had a couple of teams in the third and fourth rounds that wanted to draft him, but the money just wasn't where we wanted it to be.
"It's good that he has options to come back and that is what we are going to do."
Fred Battles believes his son will develop better in Fayetteville than in the minor leagues.
"Jalen is going to get to develop in the new (Hunt Baseball Center) that is opening there and get what I think is better instruction then he would in the minor leagues, and then you are going to get one-on-one time with the coaches," Fred Battles said. "It is a no-brainer for us to come back."
Jalen Battles joins first baseman Brady Slavens as returning starters who were draft eligible. Like Battles, Slavens has two years of eligibility remaining.
Both players transferred to Arkansas from junior college prior to the 2021 season. Both are fourth-year college players, but did not have the 2020 season count against their eligibility.
"He is good friends with Brady Slavens and they are excited about next year's team," Fred Battles said. "With the guys they have coming back and the new ones coming in, it should be another great season."
Jalen Battles, a San Antonio prep standout, hit .320 with 6 home runs and 42 RBI in 59 games as a freshman in 2019 for McLennan (Texas) Community College and was drafted in the 34th round by the Philadelphia Phillies.
He returned to McLennan for the 2020 season and chose to come to Arkansas last year. He hit .269 with 6 home runs and 43 RBI in his first season playing for the Razorbacks.
"He will go back and improve his stock," Fred Battles said. "His bat came along at the end of the year facing tough SEC pitching. I think that is what knocked him down the board.
"I think he has taken maybe three days off since he has been home and that is all we have worked on. He's excited about next season."
Jalen Battles is currently in Dallas at a tournament with his younger brother Jeter, an Arkansas 2024 recruiting target.
"There is no better fan base in the country, no better atmosphere," Fred Battles said of Arkansas. "I mean it was 60% capacity for most of the year and it was still unbelievable. I don't know how any kid could turn that down.
"It has been a blessing to see him achieve his dreams. I am beyond happy and I don't even know the words to describe it sometimes. It literally brings tears to my eyes, to our family's eyes, just to watch him perform and do what he loves to do."
Jalen Battles' signature moment in 2021 was a great defensive play followed by a home run against Tennessee during the Razorbacks' 7-2 victory over the Volunteers in the championship game of the SEC Tournament.
"His mom was at the game and I was here watching it because I had a prior engagement," Fred Battles said. "We were literally in disbelief."
But another moment earlier in the year was also special.
"I really think his (go-ahead, 10th-inning) home run that he hit at Louisiana Tech, I thought that was No. 1 because I was there," Fred Battles said of the March 10 game in Ruston, La. "When he pointed, he was pointing to me because it was actually the birthdays of the twins, his little brothers, and they were all excited."
On June 23, Arkansas coach Dave Van Horn joked he would give up his No. 2 jersey if Battles returned.
"I was texting with him last night and he's always kidding me because he wore No. 2. He said, 'Coach, you going to give up No. 2 next year?' I said, 'If you come back, I will,'" Van Horn said last month. "He said, 'OK, good to know.'"
Discussion
Have a comment on this story? Join the discussion or start a new one on the Forums.