Arkansas target Ware headed to NBPA Top 100 Camp
Published: Saturday, July 24, 2021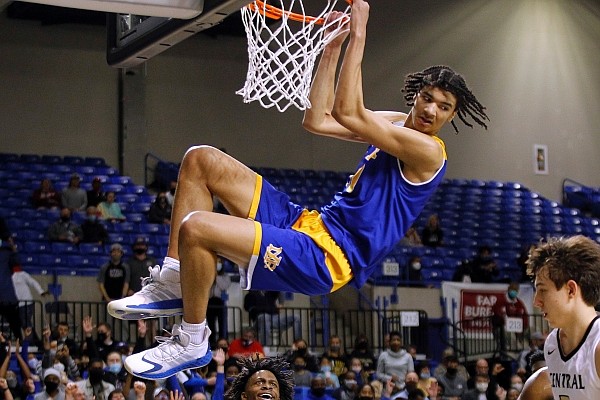 (
Thomas Metthe
)
North Little Rock's Kel'el Ware hangs on the rim after a dunk during the fourth quarter of the Charging Wildcats' 65-55 victory over Little Rock Central in the Class 6A championship Thursday at Bank OZK Arena in Hot Springs.
It has been a coming out party this spring and summer for North Little Rock senior forward and Arkansas basketball recruiting target Kel'el Ware.
That is not surprising to Charging Wildcats coach Johnny Rice.
Ware (7-0, 220) has risen to a 5-star prospect, the 17th-best player, according to 247 Sports, the No. 33 player, according to Rivals, and No. 75 by ESPN.
That makes Ware, who led his team to the Class 6A state title last season, the 36th-best player in the country, per 247 Sports composite rankings, which include those three recruiting services.
"He's worked really hard and really bought in," Rice said. "I've said this before, I told him that in the last month of the season, 'We are going to be as good as you are.'
"(Senior guard) DJ (Smith) was really good, maybe the best player in the state, but the difference maker was Kel'el being the consistent dominating presence inside and maintaining that. He did that the last month of the season and has just continued that."
Ware, who averaged 16.4 points, 8.8 rebounds and 4.6 blocks per game as a junior, was the MVP of the state championship game after scoring 19 points and grabbing 8 rebounds in a 65-55 win over defending champion Little Rock Central.
"He is shooting the ball well and I wanted to give him the options to stretch his game out, but his strengths are he is fast afoot and he is not a frail or weak guy," Rice said. "He is big and very skilled and I am happy to see him playing with that confidence. I am glad to see he is working hard and that confidence level continues to go up ever since winning the MVP of the state tournament."
Ware will get a chance to improve his status this week as one of 60 players nationally, including fellow Arkansas target Nick Smith, who have been invited to the NBPA Top 100 Camp in Orlando, Fla.
The event, sponsored by the National Basketball Players Association, will be held July 25-31 at the Walt Disney World Resort.
"He has the NBA Top 100 Camp this next week and he is looking forward to that," Rice said. "I am sure it is going to be a great experience for him."
Ware and Magnolia guard Derrian Ford both visited Arkansas officially on June 2-4. Ford has since committed to the Razorbacks to join Morrilton small forward Joseph Pinion and Alabama prep star Barry Dunning as 2022 pledges.
Rice believes the visit really helped Arkansas with Ware.
"It was really early and he is really a quiet kid, but he was really, really impressed and, I don't want to say surprised, but it was really eye-opening for him and he used that word," Rice said. "His mom was really blown away with the experience in Fayetteville. I think it was a really, really good thing that got him up there so early."
Ware has offers from Arkansas, Kansas, Oregon, USC, Memphis, Illinois, Oklahoma State, Ole Miss, Texas, Texas A&M, Baylor, Auburn, TCU, Missouri, California and other programs.
An NCAA rule change in spring 2020 allows prospects to take five official visits from Aug. 1 to July 31 of their junior year and five additional visits from August 1 and Oct. 14 of their senior season.
"I know he visited Oregon and he was going to Texas, but they pushed it back to September to their first football game, and I think he is going to go to that," Rice said. "He's also thinking about fitting in a trip to Baylor, and I want to say USC is another one.
"He really wanted to cram some official ones in June during his five junior visits and do some later on, but he kind of slowed it down and he wasn't able to do that."
Rice has challenged Ware with some of the things that have been written and said about him.
"I've showed him things that basketball analysts or others write about him or talk about him regarding his motor on the floor and staying in it," Rice said. "I printed off one article and handed it to him, he read it and started to hand it back to me.
"I said, 'No, we are going to go tape this in your locker so you can look at it every day because this is what people are looking at and saying.' He has really made an effort to do that."
Reports indicate that Sylvan Hills standout Smith, a top 25 player nationally and another Arkansas target, will play his senior season at North Little Rock.
Smith has visited Alabama, Auburn, Georgetown and Kansas and has visits set to Arkansas (Sept. 9-11) and Oklahoma (Sept. 16-18), and is setting up one to North Carolina.
He was named the All-Arkansas Preps Player of the Year after averaging 25 points, 5 rebounds and 4 assists as a junior last season.
Rice did not want to comment on Smith at this time as nothing is official yet, but he is excited about Ware's upcoming senior campaign.
"I am excited about how Kel'el is progressing and can't wait to see what he does this year," Rice said. "I love how he is working hard and developing."
Discussion
Have a comment on this story? Join the discussion or start a new one on the Forums.