Top-100 Baxter gets first look at Arkansas
Published: Saturday, July 31, 2021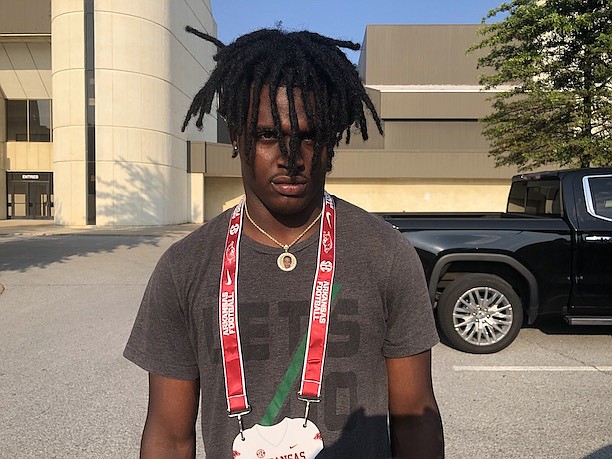 The Cedric Baxter, Jr., road tour rolled into Fayetteville on Saturday and he left impressed.
Baxter (6-1, 210), a 2023 tailback/safety prospect from Orlando (Fla.) Edgewater, is ranked as a four-star and top-100 player nationally, per 247 Sports' composite rankings, and has 29 offers.
Committed to Florida State for almost a year before opening his recruitment on April 15, Baxter has visited Florida, Florida State, Miami, Georgia Tech, UCF and Arkansas since June.
"It was real good," Baxter said of his visit to Arkansas. "It was way more than I expected. I liked pretty much everything."
Baxter was on hand for the Arkansas recruiting picnic for its 2022 commitments and other top players it is recruiting in the next few classes.
He was asked about the highlights of his visit to Arkansas, where he is being recruited by Razorbacks special teams coordinator Scott Fountain and running backs coach Jimmy Smith.
"Probably how big the campus was," Baxter said. "The coaching staff is real cool, too – Coach Fountain and Coach Smith. I love those guys and they are both from where I am from, so that's pretty cool."
Baxter rushed for 800 yards and 10 touchdowns in seven games last season.
He has offers from Florida, Florida State, Miami, Arizona State, Arkansas, Auburn, Tennessee, Cincinnati, Georgia Tech, Kansas, Kentucky, Maryland, Michigan State, Nebraska, Notre Dame, Ole Miss, Penn State, Texas, Texas A&M and other programs.
Baxter was also pleased with the people he met in Fayetteville.
"There are just real good people around here," Baxter said. "Everybody connects and accepts everybody."
Discussion
Have a comment on this story? Join the discussion or start a new one on the Forums.