Powell thoroughly enjoys visit to Arkansas
Published: Sunday, June 13, 2021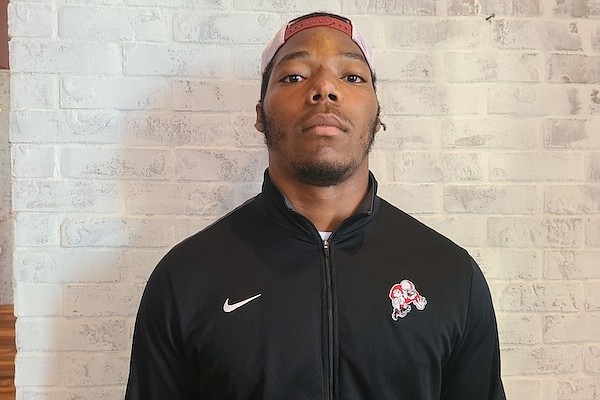 Canton (Ohio) McKinley linebacker Mani Powell (6-2, 220) will take a while to make his college decision, but has a leader in the clubhouse after taking his official visit to Arkansas this weekend and leaving impressed.
"Yes, Arkansas set the bar high for my visits," Powell said. "I know what I'm going to be looking for in other schools to top. Yes, they did increase their chances. I would say it's the people, the family feeling. They gave it to us and it never stopped. That was big and what helped."
Powell, a three-star prospect, per 247 Sports, was happy to finally see the campus in person instead of virtually.
"It was a great visit," Powell said. "I feel like me and my family had fun. It was a great time. We enjoyed the people, and seeing the place in person is a big difference from the technology, so it was a great time."
He spent time on the visit with Razorbacks true freshman linebacker Christopher Paul, who enrolled at Arkansas in January.
"I hung out with everybody - literally everybody," Powell said. "I hung out with a freshman linebacker. He's an outside linebacker and a great dude. He gave me great advice, he made it a great atmosphere and led me through the tour along with the linebackers coach, Coach Mike (Scherer). He was a great dude."
Powell got a sense of what Arkansas coach Sam Pitman is trying to do with the program.
"He's trying to bring in family," Powell said. "I made sure I told him that I want to go to a place where it feels like family all the time. Coach Pittman and the players made sure they broke it down to me that everything is about family here.
"There's a big atmosphere with the family, so that meant a lot. They're trying to change the atmosphere at Arkansas. They're trying to bring in great guys and keep pushing with great guys."
Powell was named to the Division I All-Ohio football first team and his district's defensive player of the year after a junior season in which he recorded 81 tackles, 14 for loss, 4 sacks, 7 quarterback hurries and 2 forced fumbles in 8 games.
He has visits set up to Indiana and Syracuse later this month, but doesn't plan to announce a decision soon.
Powell also has offers from Ole Miss, Kentucky, Boston College, Marshall and other programs.
"I don't think I'll be making a decision until after my season next year, just for the simple fact that I want to get all of the schools and break them down and analyze my decision," Powell said. "I won't be making a decision any time soon, but I will be taking notes of all the schools that I'm visiting."
Discussion
Have a comment on this story? Join the discussion or start a new one on the Forums.