2023 DE Kaleb James lands coveted Arkansas offer
Published: Saturday, June 19, 2021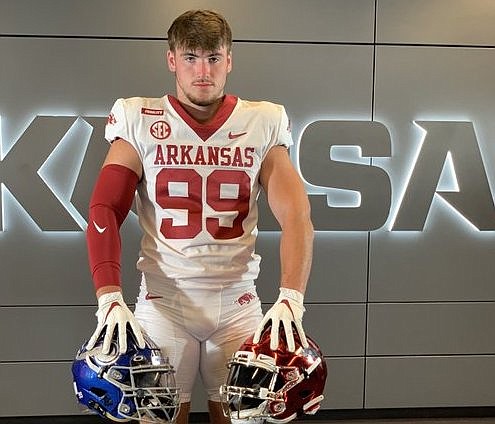 After his second unofficial visit to Arkansas in as many summers, Fort Worth (Texas) Nolan Catholic 2023 defensive end prospect Kaleb James (6-5, 250) was hoping an offer from the Razorbacks would come his way.
That's exactly what happened after he shined at Arkansas' camp on Saturday. He met with Razorbacks coach Sam Pittman afterward.
James, a three-star prospect, per 247 Sports, tweeted the news after meeting with Pittman.
"I visited Arkansas in the middle of covid (last summer)," James said earlier. "I just visited the campus and stuff, and I think it's one of the nicest campuses I've visited so far. It's super pretty, the weather is always pretty good, and I just feel like the culture is really good.
"This almost feels like home to me."
He expanded on that feeling.
"I feel like this place gives off a vibe that just feels like home," James said. "Everybody's really laid back, relaxed, everybody's chilled out, but they like hard work as well."
Unlike his visit last summer when coaches could not meet with prospects because of the NCAA dead period, James had the opportunity Saturday to do so while going through camp.
He worked with Arkansas defensive line coach Jermial Ashley.
"He gave me a lot of tips," James said. "He's definitely a very good coach that I want to be around and be with in the future."
James now has offers from Arkansas, Oklahoma State, Kansas State, Texas Tech, Utah, Virginia, Virginia Tech, Maryland, Minnesota, Arizona, Baylor, Boston College, Cincinnati, Colorado, Connecticut, SMU, Illinois State, North Texas, Texas-San Antonio and Illinois State.
He had 57 tackles as a sophomore, 16 for lost yardage, 10 sacks, 27 quarterback hurries, 1 fumble recovery and 1 pass defended.
James will continue his camp and campus tour as the month goes on.
"I'll be at Texas Tech (on Sunday)," James said. "I'll be visiting (Oklahoma) and Texas soon."
Discussion
Have a comment on this story? Join the discussion or start a new one on the Forums.