Sategna opens up about recruitment
Published: Monday, June 21, 2021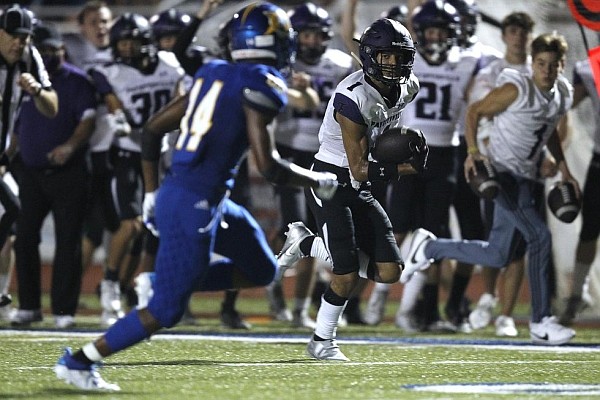 (
Thomas Metthe
)
Fayetteville wide receiver Isaiah Sategna (1) runs the ball during the third quarter of Fayetteville's 35-17 loss to North Little Rock on Friday, Sept. 11, 2020, at North Little Rock High School.
Fayetteville senior four-star wide receiver and track star Isaiah Sategna (5-11, 185) was pretty certain where he would be attend college when he committed to Texas A&M on March 9.
But Sategna, who has 29 offers, de-committed from the Aggies last week shortly after an unannounced official visit to Oregon and views himself 100 percent open.
"I had kind of been thinking about doing it for awhile, but I didn't want to go into my first visit to A&M de-committed, so I waited until after the visit to see if I changed my mind," Sategna said. "I really liked it, but I wasn't 100% sure that it is the right place, so I wanted to open up my recruitment to see if some new schools look at me.
"It also gives me a chance to re-evaluate my options as I think I committed a little too early without doing the right research."
Sategna is the 189th-best prospect in the class of 2022 by 247Sports and the 29th-best wide receiver.
Sategna plans to run track and play football in college, leading to the question of which sport is driving his choice.
"I would say that track is my main sport right now and I have always been better at track," Sategna said. "But football has kind of taken over my world recently. I am making the decision off of football, but track has something to do with it, but it is a decision based off football."
Sategna has taken in four schools during the month of June.
"I went to Oregon (officially) and I took an unofficial to Arkansas and an unofficial to Oklahoma State," Sategna said. "I am supposed to take an official to Missouri this weekend and set up another one maybe this week."
He has offers from those four schools as well as LSU, USC, Auburn, Tennessee, Ole Miss, Baylor, Florida State, Michigan, Penn State, Nebraska and numerous others.
"It is definitely a blessing from God and without him I wouldn't have any offers," Sategna said. "Same thing with my coaches and my teammates."
Arkansas and LSU, two schools that were speculated as possible or even likely destinations, may no longer be in the mix for Sategna, who had 41 catches for 823 yards and eight touchdowns last season.
"I really like Arkansas, but they are not really recruiting me right now," Sategna said.
Both of Sategna's parents ran track at LSU. His mom, Dahila, also ran in the Olympics.
"I really like them, but they want me to take an unofficial visit and I didn't wait to because all the other schools are asking me to take officials," Sategna said. "I don't really have the time now to drive all the way to Louisiana. I am not blocking them totally out right now, but maybe if I find some time later in the summer, I might go do down there on an unofficial."
His dad, Mario, recently stepped down as an assistant track coach at Arkansas.
"Right now he is looking at high school jobs and schools in Texas," Sategna said. "He wants to get back to Texas. I really wanted him to get back into college coaching because I wanted him to coach me and stuff, but he doesn't really want to.
"I know some colleges have reached out to him and he doesn't really want that. He wants to go back into high school and I think that is what he is going to end up doing."
Fayetteville's 2020 season ended in a crushing way when Little Rock Central kicked a game-winning field goal on the final play of a second-round Class 7A state playoff contest.
"We have all been working super hard and I would say that we definitely have the best receiving group in the state," Sategna said. "I would say that all four of our receivers would start for any team in the state and be the main option.
"It is going to open up a lot of options for us."
Discussion
Have a comment on this story? Join the discussion or start a new one on the Forums.