DeWitt O-lineman Will Moss puts in work at Arkansas
Published: Thursday, June 24, 2021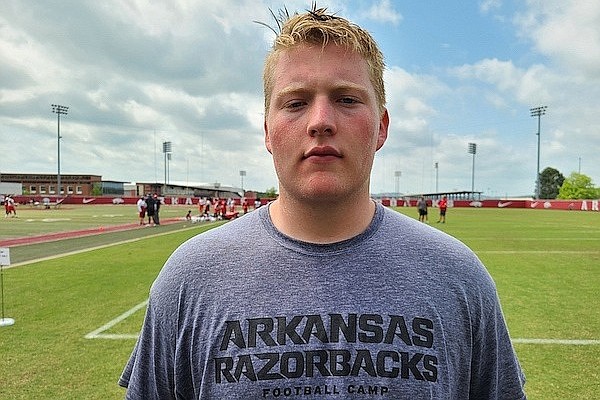 Arkansas continued its two-week spree of football camps Thursday with both a four-team 7-on-7 event won by Shiloh Christian in addition to an offensive line camp.
DeWitt junior offensive lineman Will Moss (6-4, 300), a 2023 prospect who has offers from Kansas and Middle Tennessee State, was on hand for the latter and will be back Friday for the program's last of 11 camps in June.
"I think it went good," Moss said. "I have a lot of things to work on and it really helped exploit that. I think I did good on the 1-on-1s. Overall, it was a good camp.
"There was pretty good competition from all over the state and some people from out of state. It was just pretty good competition."
Moss got the chance to work with Arkansas offensive line coach Cody Kennedy.
"I learned to keep my hands hot," Moss said. "Keep them inside, keep them heavy and to just keep moving my feet. Don't stop and be violent and punish the dude."
Moss believes Arkansas has landed a solid coach in Kennedy, who was recently moved from tight ends coach to head of the offensive line.
"I think he is a great offensive line coach," Moss said. "I think he's going to do good for Arkansas and for the future."
Moss' brother Logan will be a preferred walk-on linebacker for Arkansas next season, and former teammate Dax Courtney, who is now at Clarendon, is a Razorbacks tight end commit in the class of 2022.
Moss would love to join those two in donning a Razorback uniform.
"It would mean a lot, especially for in-state and SEC," Moss said. "Best football in the country. My brother and Dax up here, I would love to play with my friend and my brother."
He is high on Arkansas' facilities.
"Man, these facilities are the best in the country," Moss said. "It's hard to see facilities like this anywhere else."
Arkansas coach Sam Pittman is known as an offensive line guru, something Moss feels is key in the Razorback program's revival.
"I think it helps," Moss said. "The SEC is won in the trenches, and having a head coach that was one of the best O-line coaches ever just helps to succeed in the SEC and just be a powerhouse."
Moss is enjoying getting around to camps this summer after the covid-19 pandemic shut them down last summer.
He has been to Ole Miss, Oklahoma State, Mississippi State, Louisiana Monroe, Oklahoma and Arkansas.
"It feels great and there's not a scare of not being able to play," Moss said. "There's not a thought in the back of your head you aren't going to be able to play a game. It's just great to be back and going full throttle and being around people."
Moss' calling card is his aggressiveness and being quick off the ball.
He believes that has been adapted by the Dragons, who were 2-7 last season and have a new coach in Tommy Cody.
"There's a new mentality and everybody has bought in," Moss said. "It's looking good. Everybody is getting aggressive."
• • •
Shiloh Christian won the 7-on-7 championship over a field that also included Hot Springs, Little Rock Christian and Shreveport (La.) Evangel Christian.
The defending Class 4A state champion Saints went undefeated through both pool and bracket play.
Discussion
Have a comment on this story? Join the discussion or start a new one on the Forums.