Senegal native Jobe makes impression at Arkansas
Published: Friday, June 25, 2021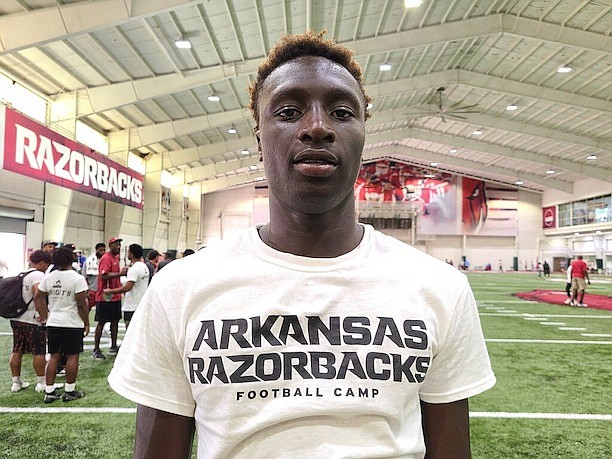 FAYETTEVILLE — While there were around 100 prospects who showed up for Arkansas' prospects camp Friday, there was no doubt who was farthest from home.
Senegal native Bai Jobe (6-5, 205), who arrived at Norman, Okla., Community College last year and is now a four-star tight end and defensive end prospect in the 2023 class, was that player.
Jobe, ranked as the No. 3 player in Oklahoma by 247 Sports, has accumulated several offers since his arrival, including ones from Arkansas, Oklahoma State, Texas Tech, Iowa State, Vanderbilt, Minnesota, Pittsburgh and Washington State.
"They like my athleticism," Jobe said of the schools. "I can run. I'm quick enough and I'm strong. I can get my guy any time and go get the quarterback and stuff. That's what all the coaches like and offered me."
He also has interest from Oklahoma, Texas A&M, Baylor, North Texas and Washington.
"I'm looking for somewhere I can fit," Jobe said. "Somewhere I can get to play. Somewhere they really, really need me. I'm just working hard. But at the end of the day I just want to go somewhere that I can fit."
Jobe's parents have not been able to travel to Oklahoma yet to see him play and are learning the game of football.
"I think they will come soon and watch me play," Jobe said. "They will really like it. First time, they didn't know anything about it and they were thinking, 'That's a crazy thing to do.' They didn't want me to get hurt, but now it's fine."
Jobe has attended camps this summer at Texas A&M and Arkansas, where he worked with Razorbacks defensive line coach Jermial Ashley.
"I like him a lot because the coach is all nice," Jobe said. "He is helping people. If you do the wrong thing, they just tell you do it like a good thing and stuff. I like it a lot, because I do (make) a lot of mistakes and like when coaches correct me.
"They are wanting me to get better. I like that a lot."
Discussion
Have a comment on this story? Join the discussion or start a new one on the Forums.