Colgate overwhelmed by Hogs' defensive intensity
Published: Friday, March 19, 2021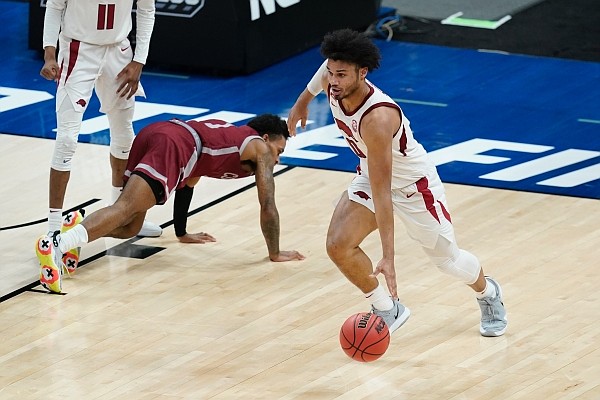 Arkansas' Justin Smith (0) dribbles during the second half of a first round game against Colgate at Bankers Life Fieldhouse in the NCAA men's college basketball tournament, Friday, March 19, 2021, in Indianapolis. (AP Photo/Darron Cummings)
With his team holding a 14-point lead late in the first half of its NCAA Tournament opener on Friday, Colgate coach Matt Langel had no idea the buzzsaw that was about to hit his Raiders.
Switching to intense full-court defensive pressure, Arkansas coach Eric Musselman's Razorbacks went on a 17-0 run to take the lead into halftime then used another scoring spree late to finish off an 85-68 victory at Bankers Life Fieldhouse in Indianapolis.
"Obviously disappointed in the result of today's game," Langel said. "I thought Arkansas, after we got a significant lead in the first half, made a conscious effort to turn up the defensive intensity today. They played a smaller lineup and clearly Coach Muss put his toughest guys in the game and we weren't ready.
"I take ownership in that. I didn't have our guys prepared for that part of what Arkansas did. They hadn't done that often and certainly not in SEC play. It ended up being the difference in the game. Their points off turnovers (34) led to points in the paint (36) and created an attack that we couldn't overcome."
Langel expounded on his tough guys comment.
"Well, again, guys that could just really guard the ball and scrap for loose balls and get on the offensive glass," Langel said. "In many ways, that, to me, exudes toughness."
Colgate (14-2) was confident in its uptempo game, but Arkansas' defense short-circuited its offense.
"Well, I don't know if they were trying to speed up the tempo, but they were trying to not let us run offense," Langel said. "Like when we were running offense, we were getting some penetration that we were used to. We were being able to read the defense.
"I think they just determined that they were going to dictate where we were going to go and they were going to take away some options, and we weren't able to get the ball moving well enough and connect on enough passes."
Colgate had only played five fellow Patriot League teams in a regular season that was delayed until January.
"That's a direct impact of us not having – I think our guys are capable of doing that, but we weren't able to do it this afternoon. We haven't faced that all year," Langel said. "It's not something you can simulate.
"And to be honest, it's hard to show it on film because they hadn't done that for long stretches over the course of their season. They hadn't been forced to do that, to play (Justin) Smith 40 minutes and (Moses) Moody 35 minutes and (Jalen) Tate 38 minutes, which they had to in order to make sure that they could try and advance in this tournament."
That was a sentiment shared by Colgate senior guard Jordan Burns, who was held scoreless by Tate in the first half and finished with 13 points.
"We weren't kind of used to the length with the pressure," Burns said. "I think that's kind of the main thing that happened. We prepared for it. We tried, but it's hard to simulate things, just like it's hard to simulate how much we hit shots.
"I think not being able to have those sized guys in our practice, you can never really be really fully prepared. Obviously their length and stuff bothered us a little bit. They were able to get up in us and come back before halftime."
Burns was impressed with Tate, the graduate transfer from Northern Kentucky.
"He's a great defender," Burns said. "He's long. He's a big point guard. They've got a lot of guys on their team that can defend. They play really hard. They play together. Obviously, they're ranked in the country for a reason."
Smith had a career-high 29 points, 13 rebounds, 5 steals and 2 blocks while Tate had 15 points, 7 rebounds and 4 assists, JD Notae 14 points, 5 rebounds and 3 steals off the bench and Davonte Davis and Moody 12 points each.
"They played a smaller line up with Justin Smith as the 5 man and he didn't come out of the game," Langel said. "He was super. His intensity really impacted the game and they ramped up the pressure on the interior and we were not able to get into our offense.
"We weren't able to get the ball past halfcourt."
Colgate took a 54-50 lead with 11:58 left and it was tied 58-58 with 8:51 remaining, but Arkansas then landed a 15-2 knockout punch by upping its defensive intensity again.
"We talked about some things to try and get into our offense in the second half, but every time we knocked them back they responded," Langel said. "We hung tough there for awhile, but we probably shot a few ill-advised shots.
"Ultimately, as the game wore on, they got too many times into the paint and forced us into too many turnovers (22) that led to some easy opportunities.
"I think it's two separate things. The pace is no problem for us. Like, running up and down is not really a problem. The intensity of their on-ball defense is really something that we're not used to."
Discussion
Have a comment on this story? Join the discussion or start a new one on the Forums.