Razorbacks smack 11 hits in win at Kansas
Published: Thursday, March 25, 2021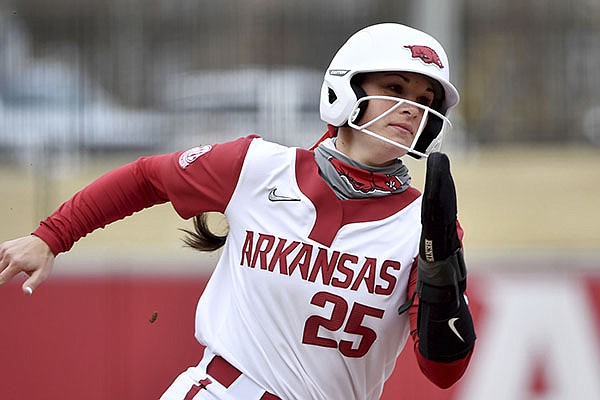 Arkansas base runner Braxton Burnside (25) is shown during a game against North Dakota State on Thursday, Feb. 25, 2021, in Fayetteville. (AP Photo/Michael Woods)
Braxton Burnside and Linnie Malkin each belted home runs to key an 11-hit attack for the University of Arkansas as the Razorbacks defeated Kansas 7-4 on Wednesday afternoon at Arrocha Ballpark in Lawrence, Kan.
Winning pitcher Mary Haff (15-2) and Autumn Storms combined for a three-hitter as the No. 15 Razorbacks (25-3) extended their winning streak to five games.
Haff worked 6 innings, struck out 9, walked 1, hit a batter and gave up 3 hits. Storms allowed a one-out walk in the seventh but got pinch hitter Cheyenne Hornbuckle to ground out into a game-ending double play. Storms was credited with her first save of the season.
Burnside leads the Razorbacks in home runs (16) and RBI (37).
Kasey Hamilton (3-4) took the loss for Kansas (16-9). She tossed a complete game, striking out 4, walking 3 and allowing 5 earned runs.
Burnside, Malkin, Hannah McEwen and Aly Manzo had two hits each for the Razorbacks, who held a 5-1 lead after two innings.
Sam Torres reached on an error to start the game and advanced on a single by McEwen. After Burnside singled to load the bases, Kayla Green lifted a sacrifice fly to center. McEwen scored on an error on a ball hit by Malkin for a 2-0 Arkansas lead.
After Kansas scored an unearned run in the bottom of the first, Arkansas responded with a run-scoring single by McEwen and Burnside's two-run home run to left.
Arkansas increased its lead to 6-1 in the fourth when Green scored on Manzo's single to right.
Kansas drew to within 6-3 in the bottom of the fourth on Ashlyn Anderson's two-run home run. The Jayhawks closed the gap to 6-4 in the sixth on Shelby Gayre's home run.
The Razorbacks capped the scoring in the top of the seventh on Malkin's home run, which was her 10th of the season.
Discussion
Have a comment on this story? Join the discussion or start a new one on the Forums.