SEC roundup: Mississippi State overcomes 25-point hole at Auburn; Gators survive 42-point half
By: The Associated Press
Published: Saturday, November 13, 2021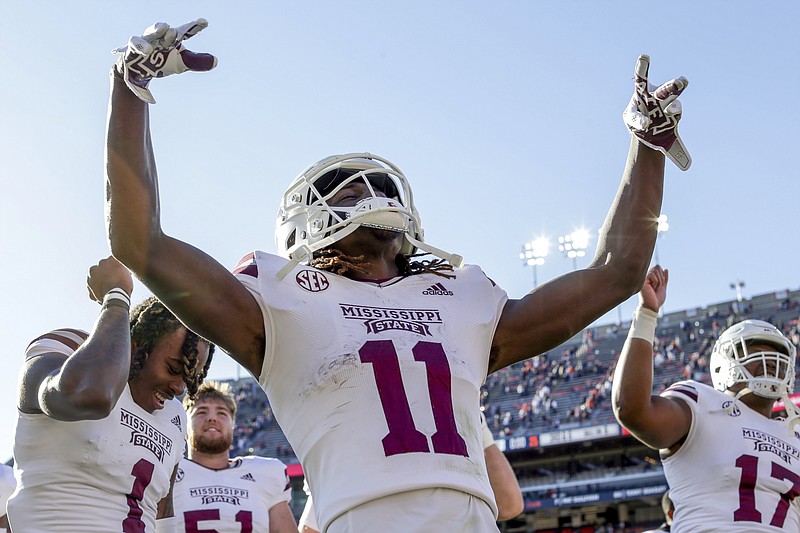 Mississippi State wide receiver Jaden Walley (11) celebrates with teammates after they defeated Auburn in an NCAA college football game Saturday, Nov. 13, 2021, in Auburn, Ala. (AP Photo/Butch Dill)
AUBURN, Ala. — Will Rogers threw for 415 yards and 6 touchdowns, and Mississippi State beat No. 16 Auburn 43-34 on Saturday.
Auburn (6-4, 3-3 SEC) scored touchdowns on its first four possessions and led 28-3 midway through the second quarter. But Mississippi State (6-4, 4-3) rallied, scoring 40 straight points behind Rogers' arm.
Rogers completed 44 of 54 passes and connected with 10 different Bulldogs. Jaden Walley had 7 catches for 87 yards, and Jakai Polk finished with 61 yards and 2 touchdowns on 8 receptions.
Auburn's offense got off to a strong start behind Bo Nix, who finished with 377 yards passing and two touchdowns. But, as the defense struggled to slow Mississippi State's passing attack after halftime, the Tigers were held to 158 yards and six points in the second half.
The 25-point deficit was the largest ever overcome by Mississippi State. 
Defense carries Ole Miss over Aggies
OXFORD, Miss. — A.J. Finley returned an interception 52 yards for a touchdown and Matt Corral threw for 247 yards and a touchdown to lead No. 15 Ole Miss to a 29-19 win over No. 11 Texas A&M on Saturday night.
The Rebels (8-2, 3-3 SEC) held a 15-13 lead in the fourth quarter before Ashanti Cistrunk's interception set up a 13-yard touchdown run by Snoop Conner with 6:32 left.
Finley provided an insurmountable cushion on the next series, grabbing Zach Calzada's throw and returning it down the Texas A&M sideline.
Texas A&M (7-3, 4-3) trailed 15-0 at half, but whittled the lead to to 15-13 in the fourth quarter on a 24-yard scoring run by Devon Achane and field goals by Seth Small.
Achane scored on a 9-yard run to finish the scoring with 3:11 left.
Corral completed 24 of 37 passes and Caden Costa kicked field goals of 33 and 32 yards. Chance Campbell and Keidron Smith added a safety by tackling Isaiah Spiller in the end zone in the first half.
The Rebels finished with 504 yards of total offense, highlighted by Jerrion Ealy with 24 carries for 152 yards and added 34 yards on 4 receptions.
Drummond had a game-high six receptions for 49 yards.
Achane had 110 yards on 12 carries. Calzada was 24 of 41 passing for 237 yards.
Georgia remains perfect
KNOXVILLE, Tenn. — Stetson Bennett ran for a touchdown and threw for another as top-ranked Georgia remained perfect, wrapping up its SEC schedule by routing Tennessee 41-17 Saturday.
The Bulldogs (10-0, 8-0 SEC) actually trailed by their largest margin this season after Tennessee scored a touchdown on the opening drive. Georgia also was down 10-7 at the end of the first quarter, new territory for the Bulldogs, who had only trailed by a field goal each to Auburn and Missouri.
Georgia responded by reeling off 27 straight points, including 17 in a dominating second quarter. Derion Kendrick intercepted a pass by Hendon Hooker, and Channing Tindall stripped Hooker of the ball — Tindall had three of Georgia's six sacks.
Bennett converted the interception into a 9-yard TD run midway through the second, and he capped a 90-yard drive with a 23-yard TD pass to James Cook just before halftime. Cook also ran 10 times for a season-high 104 yards and 2 touchdowns.
Tennessee (5-5, 3-4) had five-time NFL MVP Peyton Manning, former All-Star first baseman Todd Helton and WNBA champ Candace Parker on hand along with an announced crowd of 100,074 for a team coming off a win at Kentucky, its first upset of a Top 20 team on the road since 2006.
The Vols' biggest win in this game came in with 3:38 left before lots of empty seats. Joe Milton hit Cedric Tillman on a 12-yard TD, giving Tennessee the most points scored against Georgia in a game this season.
Tennessee came in second in the Bowl Subdivision scoring an average of 1.59 points per minute. Georgia and the stingiest scoring defense, which had allowed 6.6 points a game, simply smothered the Vols. The Bulldogs held Tennessee to nine yards total offense in the second quarter.
Florida wins shootout with FCS team
GAINESVILLE, Fla. — Emory Jones accounted for 544 yards and 7 touchdowns, delivering a career performance in Florida's come-from-behind 70-52 victory against lower-division Samford on Saturday.
Although the Gators (5-5) ended a three-game skid, the offensive shootout in the Swamp felt more like a loss than any outcome in embattled coach Dan Mullen's four years in Gainesville.
Florida gave up its most points (42) in a half against any opponent, and it came against a middle-of-the pack team from the Southern Conference less than a week after Mullen fired two of his top assistants.
Mullen vowed to get Florida fixed following last week's 40-17 drubbing at South Carolina. No one expected it to happen overnight. But the Gators lacked energy, looked lost at times and trailed by as many as 14 points in a game they were favored to win by more than five touchdowns.
There's little doubt that losing to Samford (4-6) would have cost Mullen his job and left the Gators on the hook for his $12 million buyout.
Now, though, Mullen's future likely hinges on Florida's next two outings: at Missouri and at home against rival Florida State. Win them both and he gets a chance to turn things around in Gainesville. Lose one and athletic director Scott Stricklin likely would be searching for Mullen's replacement.
No one can look at Florida and see a program headed in the right direction. The Gators have dropped eight of their last 10 against Power 5 teams and were on the ropes against a team from the Football Championship Subdivision.
Florida had won its previous four games against FCS opponents by a combined score of 199-16. 
The Bulldogs scored touchdowns on five of their first six drives – with little resistance — and led 42-28 late in the second quarter.
Samford's upset bid continued into the fourth with a successful onside kick that followed a touchdown. But the Bulldogs settled for a field goal, failed to convert on fourth down and couldn't stop the Gators down the stretch.
Jones completed 28 of 34 passes for 464 yards and 6 touchdowns. All of those passing numbers were career highs. He also ran for 86 yards and a score.
Kemore Gamble caught 6 passes for 122 yards and 2 scores, and Dameon Pierce ran 7 times for 78 yards and 2 touchdowns.
Samford's Liam Welch complete 33 of 52 passes for 400 yards, with 3 TDs and an interception. He also ran for 65 yards and two scores.
Montrell Washington ran for a touchdown, caught a TD pass and scored on a 98-yard kickoff return.
Alabama wins easily
TUSCALOOSA, Ala. — Bryce Young passed for 270 yards and 5 touchdowns, including 3 to Jameson Williams, and No. 2 Alabama beat New Mexico State 59-3 on Saturday.
Young completed 21 of 23 passes in just over a half and the Crimson Tide (9-1) produced the expected romp after a slow start. Alabama even trailed briefly before rattling off 7 touchdowns in 20 minutes for a 49-3 halftime lead over the Aggies (1-9).
Young became the first Alabama quarterback to complete his first 13 passes in a game, playing only one drive into the second half when he lost a fumble in New Mexico State territory.
The Aggies just couldn't keep up with the speedy Williams, who caught six passes for 158 yards. He had touchdowns of 50, 32 and 7 yards, and had a fourth called back because he stepped out of bounds.
Alabama's Brian Robinson Jr. ran for 99 yards and two touchdowns, all in the first half.
Jonah Johnson completed 19 of 30 passes for 129 yards for New Mexico State, which was outgained 587-138. Will Anderson Jr. had two of the Tide's seven sacks.
Alabama hosts Arkansas next week.
Mizzou's Badie goes over 200 yards
COLUMBIA, Mo. — Tyler Badie rushed 34 times for 209 yards and a touchdown and Missouri held off South Carolina's fourth-quarter charge to defeat the Gamecocks 31-28 on Saturday.
The Tigers (5-5, 2-4 SEC) built a 17-point lead when Badie scored on a 19-yard run with 12:31 left in the game. 
That's when the opportunistic Gamecocks (5-5, 2-5 SEC) made things interesting by converting two Missouri turnovers into touchdowns and slicing the deficit to three points with 4:32 left. But they never saw the ball again, thanks to Badie, who rushed for 63 yards on the final drive.
The game turned late in the third quarter when blitzing safety Martez Manuel jarred the ball from South Carolina quarterback Jason Brown and defensive end Trajan Jeffcoat recovered in the end zone to give the Tigers a 10-point lead. Missouri's Connor Bazelak completed 15 of 23 passes for 180 yards and 2 touchdowns. Mookie Cooper had three catches for 72 yards and a touchdown.
Brown, who was making his second start of the year, completed 16 of 30 passes for 193 yards, with 2 touchdowns and 2 interceptions. 
Josh Vann had five catches for 62 yards and a touchdown. But the Gamecocks rushed for just 57 yards against a defense that entered the game allowing 270 yards per game on the ground.
Kentucky gets on track
NASHVILLE, Tenn. — Chris Rodriguez Jr. ran for 114 yards and a touchdown, Will Levis threw for 2 scores and Kentucky used a fast start to beat Vanderbilt 34-17.
The Wildcats (7-3, 5-3) ended a 3-game losing streak and have won the last 6 games against Vanderbilt (2-8, 0-6). The Commodores have lost five in a row and 19 consecutive SEC games.
Kentucky scored on its first four possessions.
Levis hit Wan'Dale Robinson in the end zone for a 6-yard touchdown and Izayah Cummings for a 22-yard score. Jalen Geiger returned an interception 31 yards into the end zone. 
Rodriguez, who has rushed for over 100 yards 5 times this season, added a 5-yard touchdown run that stretched the Wildcats' lead to 28-3 with 10:43 remaining in the second quarter.
Mike Wright took over for Vanderbilt starting quarterback Ken Seals to start the second half and threw an 8-yard touchdown pass Chris Pierce Jr. with 5:53 left in the third quarter. Wright later capped a 75-yard drive with an 8-yard TD pass to Amir Abdur-Rahman with 7:33 remaining.
The Wildcats' offense was shut down for most of the second half. Matt Ruffolo's 32-yard field goal with 13:26 left in the game broke the drought.
Discussion
Have a comment on this story? Join the discussion or start a new one on the Forums.