Hog Calls:
Arkansans play key roles at Mizzou
Published: Wednesday, November 24, 2021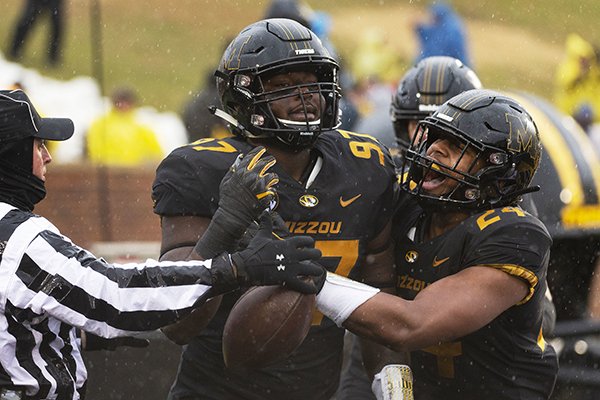 Missouri's Akial Byers, left, celebrates with teammate Terez Hall, right, after Byers recovered a fumble in the end zone during the first half of an NCAA college football game against Arkansas Friday, Nov. 23, 2018, in Columbia, Mo. (AP Photo/L.G. Patterson)
FAYETTEVILLE — Upon becoming the Arkansas Razorbacks' head football coach, Sam Pittman asserted he already knew one tenet accompanying the job.
Should he ever forget, two stark reminders loom Friday — reminders the Arkansas coach he once worked for forgot. What Bret Bielema forgot came at Pittman's 2020 expense in Columbia, Mo.
Friday in Fayetteville it could make Pittman pay yet again.
Growing up a Razorbacks fan, Pittman said he knew well Arkansas' success with Arkansas-born players.
As Bielema's 2013-15 Arkansas offensive line coach, that bred within Pittman all the more.
Sure, Arkansas is a small state. Razorbacks coaches must recruit beyond Arkansas.
Pittman did, recruiting stars spanning from Florida to California.
But he certainly appreciated the Arkansans he coached and the Arkansas-born All-Americans he watched from the 1970s through Warren's Treylon Burks today.
Pittman knows you don't ignore Arkansas' recruiting lawn fancying the grass always grows greener elsewhere.
Bielema and staff, with Pittman gone to Georgia, forgot in 2016. They didn't avidly recruit Fayetteville defensive lineman Akial Byers. They forgot in 2017, not even enthusiastically encouraging Fayetteville receiver Barrett Banister to walk on.
Both play for the Missouri Tigers coming Friday to Reynolds Razorback Stadium off five consecutive successes over Arkansas. Both played roles in Mizzou's last three.
In 2018, Byers recovered a fumble for Mizzou's third touchdown in a 38-0 rout, and in last year's 50-48 victory made three tackles and broke up a pass.
Banister caught two passes on Arkansas in 2018. In 2019 at Little Rock, he caught a career-high 6 for 60 yards in a 24-14 triumph.
Last year Banister matched his 6 for 60, but better. His 18-yard catch fueled Mizzou's game-winning field goal drive that won the game 50-48.
Does their Mizzou presence reaffirm Arkansas' importance recruiting Arkansas?
"Probably," Pittman replied with wry understatement. "They're good players. I can't really speak on what happened in recruiting when I wasn't here, but we don't want to let our good ones leave the state and especially go play for a team that we would consider a rival."
Banister is the grandson of Arkansas Sports Hall of Fame-inducted former Razorback player, assistant coach and recruiting coordinator Harold Horton, and nephew of Arkansas Sports Hall of Fame-inducted former Razorback player, assistant coach and recruiting coordinator Tim Horton.
Much of Arkansas in general, and the Horton family in particular, didn't seem to sit well with since-fired athletic director Jeff Long.
If that figured in Arkansas' preference not offering Banister as a preferred walk-on, Arkansas long pays the price. Banister walked on at Mizzou, then earned a scholarship much at Arkansas' on-field expense.
Both Hortons used to grimace when fellow staffers talked down Arkansas native sons constantly favoring recruiting bigger-hyped names in Texas.
Turns out from Arkansas, walk-on All-Americans Brandon Burlsworth and Grant Morgan outplayed much of the alleged Texas best.
To Arkansas' regret, that somewhat applies to Barrett Banister, too.
Discussion
Have a comment on this story? Join the discussion or start a new one on the Forums.