Razorbacks' big plays late sunk Bearcats
Published: Wednesday, November 24, 2021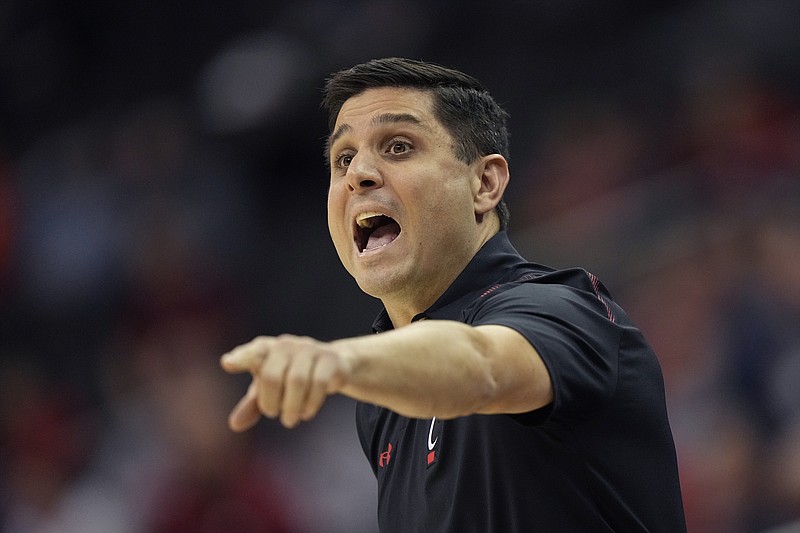 Cincinnati head coach Wes Miller talks to his players during the first half of an NCAA college basketball game Tuesday, Nov. 23, 2021, in Kansas City, Mo. (AP Photo/Charlie Riedel)
In a physical, hard-fought game the went down the to wire Tuesday night, Cincinnati star David DeJulius felt like he knew why Arkansas took a 73-67 win to capture the Hall of Fame Classic championship in Kansas City, Mo.
"I think they just wanted it a little more than we did," said DeJulius, who had a game-high 24 points. "I don't think they wanted to, like, win more than us, but they just made the plays down the stretch and that ended up being the difference in the game."
Au'Diese Toney had 19 points and 9 rebounds as the Razorbacks (5-0) dominated the glass with a 46-32 rebound advantage. Arkansas had 18 offensive rebounds that were turned into 14 second-chance points.
"They sent four most possessions," Cincinnati coach Wes Miller said. "When you are facing teams and that are really aggressive on the offensive glass...I think tonight the athleticism and ability to pursue the ball with Arkansas is there.
"Au'Diese Toney is a like a nightmare on the offensive board. You look down and he had six offensive rebounds. He was just extremely impressive, but it wasn't only him. Jaylin Williams had three, Devonte Davis had two. I think that the (14) turnovers are things that will stick out statistically, and we had some really costly turnovers down the stretch."
Toney was also praised for his defense on Jeremiah Davenport, who was held scoreless after coming into the game averaging a team high 13.8 points. Davenport was 0 of 4 from the floor in 22 minutes.
"Obviously Au'Diese Toney is a great on-the-ball defender and we tried to free him up, but I have got to do a better job as a coach because he is one of our best offensive players and Toney just took him out of the game," Miller said.
"He got a lot of looks early in the game, but they put Au'Diese Toney on him and he is probably one if the best wing defenders in the country. He made it difficult for him to catch and shoot."
Miller's team beat No. 13 Illinois 71-51 on Monday night, but said the game against the Razorbacks presented a different challenge.
"The athleticism and ability to pursue the ball with Arkansas is a little bit different than what we saw the last few nights," Miller said. "They had 18 offensive rebounds, and our turnovers are the things that will stick out offensively, particularly those down the stretch, and you can lose a game by one or two possessions and those are the ones you'll think about."
Miller was asked about the disparity in free throws with Arkansas hitting 24 of 32 and Cincinnati making 11 of 13.
"I don't complain about that and it is something I am not going to point to," he said. "I did think that early in the second half that they were in the bonus and we needed to focus on being a little more disciplined around the basket.
"You look down and you would like to get to the free-throw line more and that is a big disparity....That is a tough recipe to win close games."
Discussion
Have a comment on this story? Join the discussion or start a new one on the Forums.