Parkview super sophomore Thomas dealing with hoops hype
Published: Monday, November 29, 2021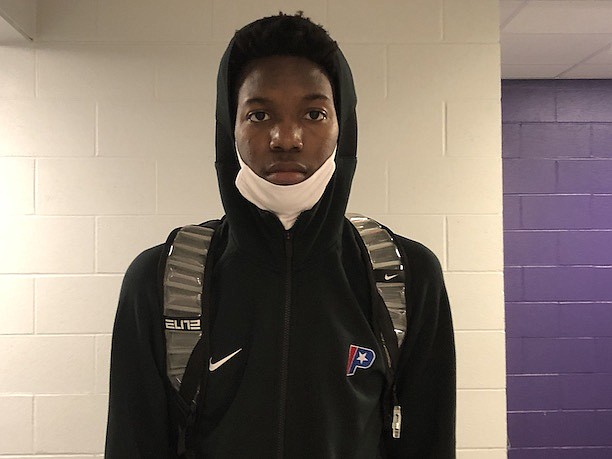 *Little Rock Parkview sophomore and Arkansas 2024 basketball recruiting target Dallas "Slim" Thomas, an ESPN Top 25 prospect nationally, and his Patriots picked up a win recently in the city many Razorback fans hope he plays collegiately.
University of Central Arkansas signee Cameron Wallace had 22 points and 11 rebounds while foul-plagued, 4-star prospect Thomas added 9 points, 4 assists and 3 steals to lead Parkview past host Fayetteville 75-60 on Nov. 19.
The Patriots are coached by former Razorback player and assistant coach Scotty Thurman, who helped lead Arkansas to the 1994 NCAA title.
"It was tough in the beginning with the environment and the crowd was kind of wild," Thomas said. "It was the first game this year and there were jitters, but we just had to get used to it. As the game picked up, we all settled down. Our coach talks to us in the locker room."
Parkview trailed 34-29 at halftime before going on a 20-2 during the third quarter.
"We took a couple of shots that were ill-advised and guys were trying to find a rhythm," Thurman said. "We finally found it there in the third quarter and got going. We have to play much better if we want to do what we set out to do. But I'm proud of the win and I'm not going to give it back, that's for sure."
Thomas had offers from Arkansas, Auburn, Houston, Illinois, St. John's, Texas A&M, TCU and Missouri State before the end of his freshman season when the Patriots went 22-5.
He missed a few three-pointers early at Fayetteville while getting a lot of attention from the student crowd, something he knows he will need to get used to.
"Like I said about the environment, they were all going to go crazy and at first they were calling my name, but that is something you just have to block out and keep playing," Thomas said. "Sometimes when you are playing bad, it is going to be a little worse on you, but that is when my teammates are there to pick me up and calm me down.
"Earlier my shot wasn't falling so I had to find other ways to pick it up — my defense, assists and all that."
Thomas, who averaged 11 points a game as a freshman, settled himself down by taking his length inside the lane and getting three buckets during his team's third-quarter spree.
"My coach had some words for me," Thomas said. "I love him, though. I stopped settling for threes and had to pick it up and get the to the rack and be more engaged. In the beginning, I was kind of down on myself that I was playing bad, but if you are more engaged and focus on my defense and pull together with your teammates, it will all come together."
Thurman knows Thomas, who played AAU basketball for Bradley Beal Elite this year, will have to adapt to being a marked man this season.
"Definitely not his best (game), but he is only 15 years old and I have to remind myself of that all the time," Thurman said. "Sometimes these kids get offers, get a lot of praise and everybody thinks they are going to be a finished product.
"But the thing I like about him is that he is a humble kid and he is not going to get caught up in all the highlights or the speculation on social media, he just puts his head down and knows he has to get stronger."
Thurman will do his best to help Thomas deal with being a focal point of opponent's scouting reports and college coaches.
"I think it is a matter of being a young guy and a matter of being a marked man, too," Thurman said. "A lot of times, when there is so much attention on you, you can more unnecessary pressure on yourself. Obviously he has a father that works with us as a volunteer assistant and that is different as well. I think he'll be fine, it is just going to take him a little bit of time.
"He is 15, he has got to mature, got to get stronger and we will help him with some of those things, but by the time he leaves high school he will be one of the best players in the country."
Thomas, ESPN's 23rd-best player in the 2024 class, got a chance to watch Arkansas 83-70 win over Northern Iowa earlier this month.
"They were looking good," Thomas said. "In the beginning they started off a little slow and it was kind of close, but at the end they stretched it out. They are looking pretty good, though. They have all the pieces."
Thomas (6-8) is aptly nicknamed "Slim" as he is just 165 pounds.
"He is definitely slim," Thurman said. "He kind of reminds me of how I was at Arkansas my first year. Obviously he is a lot taller. He has a diverse skillset. When he gets his strength, stops growing and everything kind of meets each other, that is when he is probably going to take off."
Thomas has located the weight room.
"He has just got to fall in love with the weight room, but to be honest he is bigger now than what he was," Thurman said. "That isn't not saying much, but he has actually started to embrace the weight room. He has gotten stronger, but he has got a ways to go to get to where he is trying to get, too."
Thomas, who would like to be 190 pounds by the time he heads to college, knows adding strength will be a key.
"We have consistently been in the gym working," Thomas said. "I try to block it out (the attention). Of course, I like the media hype, but my main goal is I have just have to keep working. I have just been with my teammates and my brothers the whole summer.
"I think I have improved on my physical strength, I need to improve on it more, but I think it has gotten better in just being able to do things other than scoring."
Discussion
Have a comment on this story? Join the discussion or start a new one on the Forums.