Washington excited about Hogs' hot start
Published: Saturday, October 2, 2021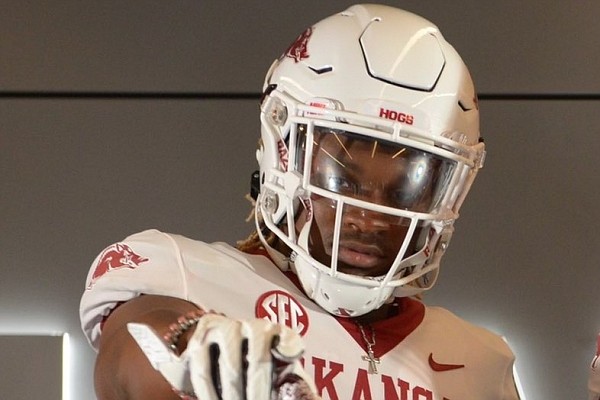 With Arkansas' football program off to an unbeaten start, Razorback 2022 tight end pledge and projected early enrollee Tyrus Washington (6-4, 230) of Leesburgh (Ga.) Lee County has been able to brag to his friends.
He hopes to keep woofing after No. 8 Arkansas (4-0) visits No. 2 Georgia (4-0) Saturday morning at 11 a.m. in Athens.
"It's been fun watching them play and have success, but I knew it was going to happen," Washington said. "I believe in what they are doing and that's what I wanted to be a part of it and why I committed. I've been talking to my friends that are Georgia fans this week. We are always talking trash."
Washington is a consensus three-star prospect who chose Arkansas over Central Florida, Cincinnati, Ole Miss, Missouri, Nebraska, Georgia Tech, Boston College and others.
He was in Arlington, Texas, last weekend to see the Razorbacks' 17-10 win over then-No. 7 Texas A&M.
"I was in Dallas and it was a great atmosphere," Washington said. "That's how they should have been playing awhile back. That's Arkansas. That's how we play.
"The defense has stepped up big time and the offense is putting up points. The running backs are running, the offensive line is blocking great and every thing is just coming together for them."
Washington, who had 17 receptions for 258 yards and 11 touchdowns as a junior, took his official to Arkansas on June 4-6 along with teammate Jaron Willis (6-2, 220), a four-star linebacker committed to Georgia Tech.
"He's doing good and I am still working on him," Washington said. "I am going to keep working on him to be a Hog."
Arkansas hired tight ends coach Dowell Loggians, a former NFL offensive coordinator and Razorback alum, after Washington took his official visit.
"They didn't have a tight end coach when I went on my OV, but Coach Pittman told me I am going to get you the best one out there," Washington said. "He did that by going and getting Coach D-Lo, who came from the NFL as an OC and you can't ask for more than that.
"He also told me that we are going to have a great season and we are going to turn this around. He said we are going to turn it around or I am going to get fired and I am not getting fired.
"I told him, 'I believe in you. Let's do it,' and that is just what is happening."
Lee County, Georgia's top ranked team in Class 6A, won its first five games this season before suffering a 56-30 loss to Class 5A top-ranked Warner Robbins.
Washington and his squad have outscored their foes 267-87 this season.
"It's been going good," Washington said. "I think it is really more about me leading the team and getting all the young boys right when I am gone so they can take over and do their job. I feel like we are on the way to getting us a ring."
While Arkansas has looked good offensively this season, its tight ends have combined to catch just four passes for 43 yards in the first four games.
The Razorback staff has made it clear to Washington that they expect him and fellow 2022 tight end commit Dax Courtney (6-6, 212) of Clarendon to make immediate impacts next season.
Courtney suffered a season-ending knee injury in his team's season opener while Washington has caught 14 passes for 183 yards and 4 touchdowns to go along with 11 knockdowns and 14 pancake blocks.
"Really right now they don't have that tight end right now that can block and go and run routes and make athletic plays," Washington said. "I can bring that to the table and help make the offense go faster – way faster.
"It's a great feeling to know I can come in and play right away. I just have to do my part. My main focus right now is getting that ring and after that it is to get my body in shape to go in and contribute to the team."
Washington is excited about what he has seen from freshman tailbacks AJ Green and Rocket Sanders and the quarterback play of KJ Jefferson, who has passed for 844 yards and six touchdowns and rushed for 230 yards and two more scores.
"Those running backs really get at them and they are running the same offense that we run here really," Washington said. "KJ reminds me of Cam Newton. He has got at least one more year and I am looking forward to playing with him."
Washington's goal is to be the last team standing in Georgia's next to largest football classification. The Trojans went 12-2 last season with a early season loss to Lowndes and a playoff loss to Buford 34-31 in overtime in the state title game.
"We have bye week and then we go into region play and then after that it is on to the playoffs," Washington said. "With the feeling we had last year, we are planning on going back this year for revenge."
Discussion
Have a comment on this story? Join the discussion or start a new one on the Forums.