Razorback gymnastics coaches engaged
Published: Wednesday, October 6, 2021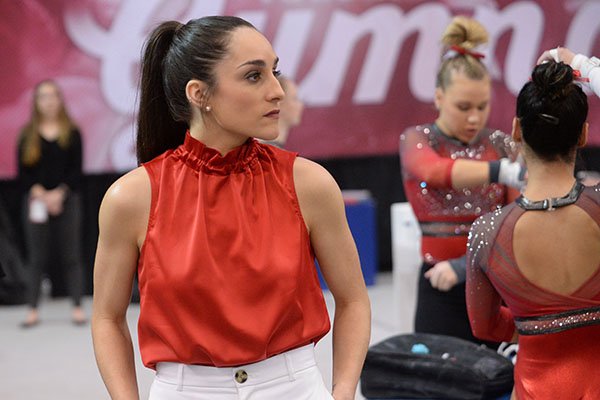 (
Andy Shupe
)
Arkansas coach Jordyn Wieber directs her gymnasts Friday, Feb. 7, 2020, during the Razorbacks' meet with Georgia in Barnhill Arena in Fayetteville.
FAYETTEVILLE — University of Arkansas gymnastics head coach Jordyn Wieber became engaged to marry Razorback assistant coach Chris Brooks last weekend, according to PEOPLE Magazine.
The magazine reported Brooks, 34, made an unannounced visit to Michigan while Wieber, 26, was being inducted to the sports hall of fame in her home state.
"He surprised me by flying in," Wieber told PEOPLE Magazine in an interview. "He walked in the door, my jaw dropped and he got on one knee."
Wieber and Brooks began dating in 2016, five years after they met during a gymnastics competition in Tokyo. Both gymnasts have represented the U.S. in the Olympics, and Wieber won a gold medal in London in 2012.
Brooks was hired to Wieber's first coaching staff at Arkansas in 2019. He was previously an assistant coach at Oklahoma.
Discussion
Have a comment on this story? Join the discussion or start a new one on the Forums.