Razorbacks crush Mizzou to remain undefeated in conference play
Published: Friday, October 15, 2021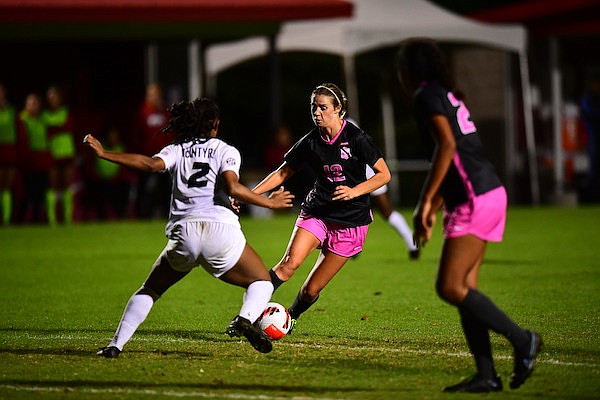 ( Gunnar Rathbun, University of Arkansas Razorback Athletics )
FILE — Arkansas' Kayla McKeon (12) moves the ball during a game against Missouri in Fayetteville in this Oct. 15, 2021 file photo.
FAYETTEVILLE — Arkansas extended its program-record win streak to 12 games on Friday.
The sixth-ranked Razorbacks trounced Missouri by a score of 6-1 on Senior Night at Razorback Field. Arkansas (12-2, 7-0 SEC) has outscored its opponents 44-6 since an overtime loss at then-No. 3 North Carolina on Aug. 22.
The Razorbacks controlled possession from the onset against the Tigers. After several point-blank saves from Missouri goalkeeper Mckenna Sheehan, Razorback senior midfielder Kayla McKeon settled a mis-hit clearance at the penalty spot and smashed a volley into the back of the net in the 23rd minute.
McKeon bagged a brace in the 44th minute as she skipped past two Tiger defenders and fizzed a left-footed strike into the bottom left corner. She doubled her season goal total from two to four.
One minute later, All-America forward Anna Podojil — back in action after missing the previous three games for an undisclosed reason — converted a buzzer-beater volley to put the Hogs up 3-0 with no time left before halftime. Podojil leads the team with eight goals and 21 points this season.
Kiley Dulaney scored in the 51st minute to put Arkansas ahead 4-0, but the Tigers (5-9, 1-6) caught the Razorbacks out of position on a swift counterattack and managed to pull one back with their first and only shot on target from Cassidy Nurnberger in the 64th.
In a scene strikingly similar to the first half, Arkansas managed to score twice in one minute to go ahead 6-1.
Senior defender Cora Duininck guided a glancing header across the goal line in the 81st minute. Fifty-nine seconds later, Parker Goins connected on a first-time strike from 30 yards that blew by the Missouri keeper.
"Sometimes, that is just how we play," Arkansas coach Colby Hale said. "We're a little streaky, but some of it is just that we had a lot of chances."
Goins' strike put her in sole possession of the school's all-time points record with 106. Julie Williford, who played from 2000-03, previously held the record of 103.
"It means the world to me," said Goins, who has 38 career goals. "I give credit to my teammates. I would not be here without them."
After the game, the 2021 senior class had its contributions to the Razorback soccer program recognized. The class includes Duininck, Goins, Bryana Hunter, Taylor Malham, Tyler Runnels, Haley Van Fossen, Kaeleee Van Gundy and Payton Woodward.
The class has played in the NCAA Tournament every season and won two SEC regular-season championships.
"You could not say enough," Hale said of his seniors that committed to an Arkansas program coming off a 13th-place finish in the SEC.
"They came (to Arkansas) when it was not cool. Whenever they are gone, we are going to feel the weight of what they did well after they leave."
Arkansas returns to action next Thursday at No. 23 Auburn (10-3, 4-2).
Discussion
Have a comment on this story? Join the discussion or start a new one on the Forums.