After near loss to Georgia State, Auburn has grown up on road
Published: Saturday, October 16, 2021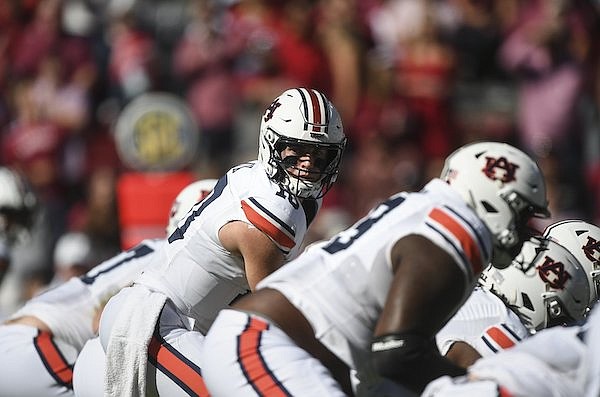 (
Charlie Kaijo
)
Auburn quarterback Bo Nix (10) prepares to take a snap during a game against Arkansas on Saturday, Oct. 16, 2021, in Fayetteville.
FAYETTEVILLE — Three weeks ago, Auburn barely survived what would have been a shocking home loss to Georgia State at home.
The Tigers sure have looked like a different team on the road since. Two weeks after winning at LSU, Auburn beat No. 17 Arkansas 38-23 on Saturday before 73,370 at Reynolds Razorback Stadium.
Bo Nix passed for a season-high 292 yards and 2 touchdowns, and ran for a 23-yard touchdown late in the fourth quarter to ice the game.
"I thought Arkansas going into this game was a very tough opponent and they showed that today," Auburn coach Bryan Harsin said. "I think (Arkansas coach Sam) Pittman has done a good job with his team. They are physical, their tempo — that showed up as they had a lot of plays on the offensive side today.
"It is not easy playing against a good team like this and win the game like we did, so I am really proud of our coaches, proud of our players. They had a good plan, they worked really hard leading into this game and then we some guys really step up and make plays, which we needed in order to win."
For Auburn, it was a big change from last week's 34-10 loss to top-ranked Georgia at home.
"Overall, a good team win with some individual performances where some guys who did a really good job on their assignments," Harsin said. "Just overall from the staff, everybody just focused from the week going into this game and it showed up in how we played today."
The Tigers (5-2, 2-1 SEC) led 14-3 in the second quarter, but had to rally from a 17-14 deficit after the Razorbacks scored on their last possession of the first half and the first possession of the second half.
Auburn started its comeback when Derick Hall strip-sacked Arkansas quarterback KJ Jefferson and Marcus Harris fell on the ball for a touchdown.
After Arkansas failed to convert a fourth down on its next possession, Nix hit Demetris Robertson on a 71-yard touchdown strike when Robinson got behind defensive back Hudson Clark.
"It was huge; obviously the play of the game," Nix said. "Those back-to-back were important. That just carried us on throughout the game into the fourth quarter when we got a chance to run the ball."
Harsin felt like it was the right time and place to take a shot.
"Well, we had a big play so we had some momentum," Harsin said. "That's not always what we do but felt like that was something we had set up, we had seen, we hadn't gotten to it....I thought it was a great call by (offensive coordinator Mike) Bobo. They had seen an opportunity for that route to have a chance.
"(Robertson) attacked the DB, he was able to get by him, Bo got the ball out early."
While Auburn mostly used quick hitters, the long touchdown needed protection. Robertson made the catch looking into the sun.
"We protected long enough to make that play successful and we hit it," Harsin said. "And the hard part about that one too, we were right in the sun. We kind of took it (the ball to start the game) to where we could have the sun in the fourth quarter in our favor and not in our face.
"So he kind of threw it up right there and Demetris came down with it and it was an explosive play. Those are the ones you want to hit and get a big shot like that, and finish it in the end zone like we did.
"That really helped us with the momentum. We just stopped so we had it, we were able to hit a big play. So it was kind of back-to-back momentum changers for us."

Arkansas cut it to 28-23 on Dominique Johnson's 10-yard touchdown run on the last play of the third quarter, but the Razorbacks didn't convert on the two-point conversion.
Auburn's Anders Carlson kicked a 29-yard field goal with 10:45 left and Nix capped a 12-play, 75-yard drive with the 23-yard touchdown run with 2:30 remaining.
"It's definitely the way that we'd like to finish the game," Harsin said. "You want to convert, you want to stay on the field, you want to be able to run it at the end of the game. I think most teams who are winning like to be able to do that. That was a drive I was very proud to see our guys go out and execute."
Arkansas out-gained Auburn 460 yards to 427. The Razorbacks lost for the second straight game when finishing with more yards.
"I am excited for our team to come in here and play against a really good Arkansas team and to win," Harsin said. "That was a fun game. I think Arkansas is a really good team...I like the way they play. I like the way our guys played today. That was a good football game that we had a chance to be a part of.
"To be on the road and to win and going into a bye week, all these things are big for our program. That gives us a chance to create some momentum going into this bye week and do some things."
Discussion
Have a comment on this story? Join the discussion or start a new one on the Forums.