Future Hogs headline 2021 King Cotton Holiday Classic
Published: Tuesday, October 26, 2021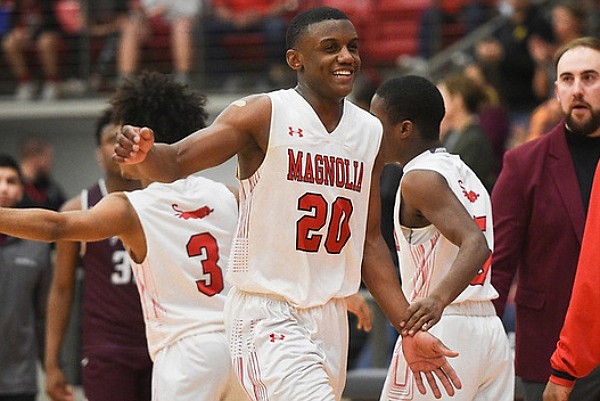 (
Charlie Kaijo
)
Magnolia guard Derrian Ford (20) reacts, Friday, March 6, 2020 during a basketball game at Cardinal Arena at Farmington High School in Farmington.
After a year off because of the covid-19 pandemic, the Simmons Bank King Cotton Holiday Classic basketball tournament at the Pine Bluff Convention Center is back Dec. 27-29 with a loaded field.
The field includes some of the nation's top high school prospects, including at least three Arkansas commitments or targets.
Magnolia 4-star senior guard and Razorbacks pledge Darrien Ford (6-5, 205), the North Little Rock 5-star senior duo of Arkansas guard commit Nick Smith, Jr., (6-5, 185) and Oregon commit Kel'el Ware (7-0, 220), and Little Rock Parkview junior small forward Dallas Thomas (6-7, 185) are scheduled to lead their teams in the event.
King Cotton Classic
WHEN Dec. 27-29
WHERE Pine Bluff Convention Center
Boys teams
• Magnolia
• North Little Rock
• Little Rock Parkview
• Pine Bluff
• Watson Chapel
• White Hall
• Raymond, Miss.
• St. Louis (Mo.) Cardinal Ritter
• St. Louis (Mo.) Chrisitian Brothers
• Chicago (Ill.) De Le Salle Institute
• Baytown (Texas) Goose Creek Memorial
• Missouri City (Texas) Hightower
• Beaumont (Texas) United
• Shreveport (La.) Cavalry Baptist
• Shreveport (La.) Huntington
• Antioch (Tenn.) Cane Ridge
Girls teams
• Shreveport (La.) Huntington
• Memphis (Tenn.) Hutchinson School for Girls
• Sylvan Hills
• Watson Chapel
Ford's Panthers, who had won 52 consecutive games and back-to-back Class 4A state championships before falling to Morrilton in a 2021 state semifinal, return all five starters.
"That's going to be a lot of fun for us," Ford said of playing in the King Cotton. "This is my last year and I am trying to enjoy every moment, every practice and every game. And even if it is a loss, which I don't plan on happening, we know each other, we all know our roles and we are excited."
The 16-team boys field includes six teams from Arkansas, a trio from Texas, two from St. Louis and Louisiana and one each from Chicago, Tennessee and Mississippi.
There will also be a four-team girls division this year.
"With continued support from Simmons Bank and our dedicated volunteers, King Cotton is back and stronger than ever," said Ryan Watley, the Go Forward Pine Bluff CEO at Tuesday's press conference announcing the field. "Basketball aficionados or not, this is a must-see tournament with a first-class, family-friendly arena experience."
Tickets go on sale Nov. 15 and the bracket will be announced in the near future.
St. Louis (Mo.) Christian Brothers is led by head coach Justin Tatum, father of current Boston Celtics NBA star Jayson Tatum, and whose star player is Larry Hughes Jr., son of the former 14-year NBA player Larry Hughes Sr.
St. Louis Cardinal Ritter, which has won consecutive Class 5A titles, will also play in the tournament.
Other teams in the event include Pine Bluff, Watson Chapel, White Hall, Raymond (Miss.), Chicago (Ill.) De Le Salle Institute, Baytown (Texas) Goose Creek Memorial, Beaumont (Texas) United, and Missouri City (Texas) Hightower.
Shreveport Cavalry Baptist and Shreveport Huntington are the two Louisiana teams invited while Antioch (Tenn.) Cane Ridge is also in the field.
Magnolia coach Ben Lindsey is excited about his team getting a shot to play in a tournament that was a showcase when he was growing up.
"Obviously there are some teams that are really heavy hitters coming in," Lindsey said. "For our small community in Magnolia, to be able to play in this is an honor.
"Growing up in south Arkansas, when I was little kid, I think about guys like (future NBA players) Jason Kidd and Bobby Hurley that played in it and how big a tournament it was for us to watch.
"Nobody like us or anybody we knew of got to play in it and now we are. It's just going to be an amazing experience for our community."
A couple of the other top players scheduled to be there are Antioch Cane Ridge uncommitted 5-star senior forward Brandon Miller and Houston commit and Beaumont United senior forward Terrance Arceneaux.
Miller (6-8, 200) is set to announce his next destination Nov. 1 between Alabama, Kansas, Tennessee State and pair of professional options in the NBA's G-League and the National Basketball League of Australia.
Arkansas is one of the teams showing interest in 7-2 St. Louis Christian Brothers sophomore center John Bol, while White Hall 6-8 freshman JaiChaunn Hayes is considered the best 2025 in-state prospect.
The original King Cotton Classic, which ran from 1982-99 and became the nation's first high school hoops tournament televised by ESPN in 1987, was revived in 2018.
The 1990 championship game featuring future Arkansas star Corliss Williamson of Russellville team facing off against Kidd's team drew a Classic record 7,600 fans.
Little Rock Parkview coach Scotty Thurman is a former Arkansas player and assistant coach who is best known for his shot against Duke that delivered the Razorbacks the national title in 1994.
Chicago De La Salle coach Gary Decesare will be trying to win his second King Cotton Classic after taking the title in 1993 with future Arkansas point guard Kareem Reid leading the way for Bronx (N.Y.) St. Raymonds.
Discussion
Have a comment on this story? Join the discussion or start a new one on the Forums.