NWADG Editorial: Baseball fans thrown a curve
By: Northwest Arkansas Democrat-Gazette
Published: Friday, September 3, 2021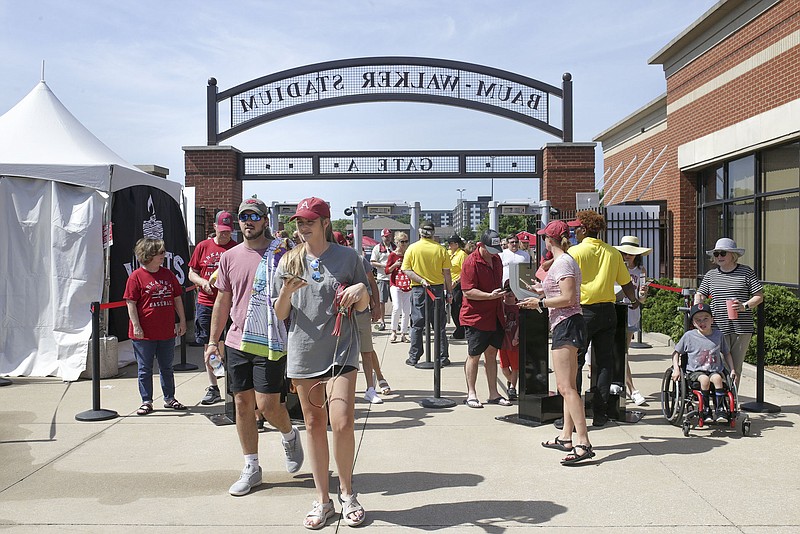 ( Charlie Kaijo )
Fans walk through the games, Sunday, June 13, 2021 before the start of Game 3 of the Fayetteville Super Regional at Baum-Walker Stadium in Fayetteville. Check out nwaonline.com/210614Daily/ for today's photo gallery. .(NWA Democrat-Gazette/Charlie Kaijo)
There is no joy in Fayetteville — if you're a long-time Razorback baseball season-ticket holder, that is.
If you are, you better open up your wallet, prepare to move to less attractive seats, or sign up for ESPN+. The cost of watching your beloved Hogs is about to go up.
A lot.
The Razorbacks' home baseball field, Baum-Walker Stadium, routinely sells out and season ticket holders — many of whom started buying seats before college baseball became as popular as it is — have jealously hung on to them. UA baseball was — we repeat, was — one of the best sports bargains around.
Last week, the UA rolled out a new baseball seating plan and informed hundreds of season ticket holders that to keep the seats they have, they'll have to pony up more money. Thousands more.
The actual price of a baseball season ticket — $250 — will remain the same. But to keep really good seats, fans will now have to make large donations to the Razorback Foundation, just like season ticket holders for football and men's basketball.
For season tickets in those sports, fans have been required to donate money to the foundation's Annual Fund. That's the pot that pays for athletic scholarships and other expenses associated with UA's various sports teams. The higher the donation, the better the seats you can get.
Many current baseball season ticket holders ended up with great seats at Baum-Walker without making those large annual contributions. That was mostly because the demand for those seats wasn't so great until recently. Big Razorback donors with premium football and men's basketball seats found themselves shut out of baseball, and the baseball crowd had little incentive to give more (though some did).
The new plan calls for donations of at least $10,000 a year to have access to premium seats behind home plate. The donation amounts drop the farther down the baselines the seats are, but no chair backs will be made available to season-ticket holds who don't donate to the fund.
Predictably, the long-term season ticket holders feel betrayed because they'be been supporting the program for years, albeit without the huge donations. But they consistently bought tickets, made smaller contributions and, most importantly in their minds, showed up for games and made the atmosphere special.
For the UA athletic department, it's a business decision. Big donors want baseball seats and money talks.
To be fair, something like this probably should have happened sooner, because baseball's popularity has been on the incline for a while now. It would be foolish for the UA not to take advantage of the burgeoning demand. But the sudden nature of the change and the jaw-dropping amounts listed in the plan created hard feelings.
It didn't help that Hunter Yurachek, the usually sure-footed Arkansas athletics director, mis-stepped when he told our Matt Jones that the baseball season ticket change wasn't all about money. He admitted money played a role in the decision, but that it was also about something else.
Yurachek tried to explain this way: It was to satisfy the demands of foundation members (translation: donors) who couldn't get prime baseball tickets. If that doesn't make it all about money, we don't know what does.
There's another risk the UA has to guard against, and that's those kinds of fans — or companies — who can afford the donations for great seats but who struggle to show up except for the big games. Which is worth more to the baseball program, a season ticket holder who shows up but doesn't donate as much, or one who can make a big donation but doesn't have time to make it to Baum-Walker Stadium much of the time? How does one enforce that? We don't know, but there's value in putting posteriors in the seats.
In the long run, Razorback baseball will be just fine, thank you, as long as they keep winning. And, some changes are understandable in the context of the business of college sports. But don't expect those folks who lose their seats or can't afford to bring their families to games anymore to be happy about it.
And don't tell them it's not all about money.
Discussion
Have a comment on this story? Join the discussion or start a new one on the Forums.