SEC roundup: Alabama, Georgia top ACC teams; LSU falls at Rose Bowl
By: The Associated Press
Published: Saturday, September 4, 2021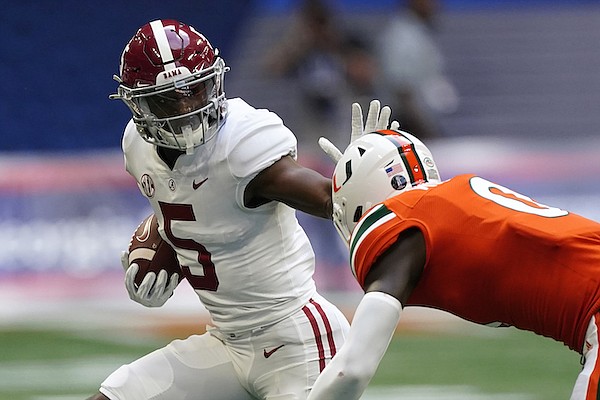 Alabama wide receiver Javon Baker (5) fends off Miami safety James Williams (0) as he runs after a catch during the second half of an NCAA college football game Saturday, Sept. 4, 2021, in Atlanta. (AP Photo/John Bazemore)
ATLANTA — Looking very much like a team capable of making another run at a national title, No. 1 Alabama opened its season with a 44-13 rout of No. 14 Miami on Saturday behind four touchdown passes from Bryce Young in his first college start.
The sophomore from Southern California completed 27 of 38 for 344 yards, hooking up with Cameron Latu on a pair of scoring plays and burying the Hurricanes with a 94-yard touchdown pass to Jameson Williams early in the third quarter.
Young became the first Alabama quarterback to throw four TD passes in his starting debut. Mac Jones and Joe Namath had shared the school record with three scoring throws to begin their stints as the Tide's No. 1 QB.
Williams, a transfer from Ohio State, had four receptions for 126 yards in his Alabama debut.
The Crimson Tide also turned in a dazzling defensive effort at the home of the NFL's Atlanta Falcons, sacking D'Eriq King four times, forcing him into three turnovers and stuffing him on a goal-line stand.
Alabama led 27-0 before Miami crossed midfield. King and the Hurricanes simply made too many mistakes to compete with perhaps the greatest dynasty in college football history.
After romping to coach Nick Saban's record seventh national title with a 13-0 record, the Tide came into the season with some big holes to fill.
Alabama had a record-tying six players taken in the first round of the NFL draft, including Heisman Trophy-winning receiver DeVonta Smith, star quarterback Jones and defensive stalwart Patrick Surtain II.
Of course, Saban doesn't rebuild, he simply reloads with another batch of five-star recruits. The quarterback job went to Young, a dual threat who was highest-rated quarterback prospect ever signed by the Alabama coach.
After spending a year learning the ropes behind Jones. Young was clearly ready to take over as the starter.
He made the short throws. He made the long throws. He threw it away when necessary. He used his legs to avoid getting caught very often behind the line.
Young's only major mistake was losing a fumble on a hit while attempting to scramble with Alabama leading 41-10.
King was 23 of 30 but produced only 173 yards passing, spending much of his time trying to escape the fearsome Alabama rush. He was intercepted twice and also lost a fumble.
The Hurricanes also lost safety Bubba Bolden in the first quarter. He was ejected for targeting after lowering his head for a helmet-to-helmet hit on Alabama's Brian Robinson Jr.
Miami finally put together a decent drive in the closing seconds of the first half, converting on fourth-and-6 and taking advantage of a disputed pass interference penalty to set up a 37-yard field by Andy Borregales.
Any hopes of an improbable comeback were dashed on Miami's first possession of the second half.
After an impressive, 74-yard drive, the Hurricanes lined up quickly on fourth-and-goal inside the Alabama 1, looking to catch the Tide flat-footed.
King took a shotgun snap and tried to power straight up the middle, only to be stopped about a foot short of the goal line.
Three players later, Young dropped back into his end zone and launched one for Williams, who hauled in the pass without breaking stride and scooted down the sideline for the 94-yard TD.
Georgia D dominates Clemson
CHARLOTTE, N.C. — Christopher Smith returned an interception 74 yards for a touchdown and No. 5 Georgia turned in a defensive effort for the ages, toppling third-ranked Clemson 10-3 on Saturday in the opener for both teams.
The Bulldogs held the Tigers to 2 yards rushing and sacked D.J. Uiagalelei seven times to position themselves for a run at the College Football Playoffs.
Uiagalelei, who entered the season as a Heisman Trophy candidate, finished 19 of 37 for 178 yards with one interception. He bobbled snaps, was out of sync with his receivers and spent most of the day under heavy duress against a relentless Bulldogs pass rush.
Even when Georgia turned the ball over, the Tigers couldn't take advantage.
With Clemson down 7-0 in the third quarter, Baylon Specter appeared to give the Tigers they momentum they needed when he intercepted J.T. Daniels' pass at the Georgia 33. But after a short gain on first down Uiagalelei was sacked on consecutive plays and Clemson was forced to punt.
Clemson didn't score until 9:08 left in the game when a 44-yard reception by Joseph Ngata an a defensive pass interference penalty set up a 22-yard field goal by B.T. Potter, helping the Tigers avoid their first shutout since 2003.
Despite being dominated all game, the Tigers had a chance to tie with 7:35 left when they took over at their own 25. The Tigers would reach midfield and Dabo Swinney went for on fourth-and-5, only to see Uiagalelei's hurried pass fall incomplete.
From there, the Bulldogs ran out the clock.
Georgia's defense, which dominated the line of scrimmage, set the tone early with Nolan Smith and Nakobe Dean registering third-down sacks on Clemson's first two possessions.
In a first half dominated by defense — and some pretty impressive punting — it was only fitting the only score came when Smith jumped in front of a Uiagalelei pass intended for Justyn Ross and raced 74 yards to the end zone to give the Bulldogs a 7-0 lead at halftime.
UCLA tops LSU at Rose Bowl
PASADENA, Calif. — Dorian Thompson-Robinson threw for 260 yards and three touchdowns, Zach Charbonnet added 117 rushing yards and a score and UCLA beat No. 16 LSU 38-27 Saturday night at the Rose Bowl.
Thompson-Robinson completed 9 of 16 passes and had an interception. Tight end Greg Dulich had 117 yards receiving, including a 75-yard touchdown catch early in the second quarter to tie it at 7.
It is the first time in 13 years a Pac-12 team has defeated a ranked Southeastern Conference squad. Coincidentally, UCLA was the last to do it, when it beat Tennessee in 2008. The Bruins are 2-0 for the first time since 2017 and could be ranked for the first time since 2015 when the AP Top 25 is released on Tuesday.
Charbonnet's 12-yard run off right end with 9:49 remaining in the second quarter gave UCLA a 14-7 lead that it would not relinquish.
UCLA held LSU to 48 yards rushing and forced a key turnover in the third quarter when Caleb Johnson intercepted Max Johnson's pass and returned it 34 yards to the LSU 17. Three plays later, Thompson-Robinson connected with Chase Cota for a 14-yard TD to extend the Bruins' lead to 21-10.
Thompson-Robinson's 45-yard TD toss to Kyle Phillips extended the lead to 38-20 midway through the fourth quarter.
Brittain Brown added 78 yards on 14 carries, including a fourth-quarter touchdown.
Johnson was 26 of 46 for 330 with three touchdowns and an interception. Kayshon Boutte finished with nine receptions for 148 yards, including all three scores.
It is the second straight year LSU has lost its opener. The Tigers had to leave campus last weekend due to Hurricane Ida and spent most of the week practicing in Houston.
Badie leads Mizzou
COLUMBIA, Mo. — Tyler Badie ran for 185 yards with touchdowns on the ground and through the air, and Connor Bazelak threw for 257 yards and two scores, helping Missouri hold off Central Michigan 34-24 on Saturday.
Elijah Young also had a touchdown run for the Tigers, who found themselves in a 14-14 tussle late in the first half before eventually pulling away. Bazelak clinched the win with a TD pass to Niko Hea that made it 31-21 in the final minutes.
Washington transfer Jacob Sirmon threw for 292 yards with a touchdown and two interceptions for Central Michigan. Lew Nichols III, the reigning Mid-American Conference freshman of the year, finished with 135 yards rushing and a score.
The game probably felt a bit strange for Missouri coach Eli Drinkwitz, who didn't have the benefit of a full stadium — or even a nonconference game — during his first season in Columbia. In fact, Drinkwitz was given the unsavory task of facing Alabama to open a Southeastern Conference-only schedule in his first year after leaving Appalachian State.
It was probably even more bizarre for Jim McElwain.
The Central Michigan coach, no stranger to the SEC from his time in Florida, underwent an emergency appendectomy on Wednesday. His doctors told him not to make the trip Saturday, leaving him to watch from afar as longtime assistant and newly minted associate head coach Tim Skipper handled game day.
The Tigers opened with a 63-yard pass to Boo Smith before Badie's 12-yard touchdown run on the very next play, but the Chippewas countered by going 75 yards in just five plays before JaCorey Sullivan's tying touchdown catch.
Just when it appeared the defenses were showing up, Central Michigan put together a 88-yard drive that Nichols capped with an 18-yard run. And the Tigers promptly answered when Bazelak found Badie from 30 yards out for a score.
Both teams squandered scoring opportunities early in the second half — the Tigers turned it over on downs in the Central Michigan red zone, and Sirmon threw a pick in the opposite red zone. But the Tigers finally were able to establish breathing room late in the third quarter, when Young scooted 32 yards to give them a 24-14 lead.
Sirmon, who was sacked nine times, was briefly knocked from the game on a hard hit by Missouri's Jaylon Carlies early in the fourth quarter. His understudy, Daniel Richardson, promptly threw a touchdown pass to Sullivan to pull the Chippewas within a field goal again, but Bazelak's second TD toss with 7:58 left effectively put the game away.
State rallies to avoid upset
STARKVILLE, Miss. — Will Rogers threw for 370 yards and Mississippi State scored three fourth-quarter touchdowns to secure a 35-34 come-from-behind victory over Louisiana Tech in Saturday's season opener.
LA Tech trailed 14-0 in the first quarter before rattling off 34 unanswered points against the Southeastern Conference's No. 4-ranked total defense from a season ago.
Mississippi State turned the ball over four times, committed 12 penalties for 95 yards and often looked confused and listless in the first game of head coach Mike Leach's second season in Starkville.
But in the game's final 12 minutes, down 20, the Bulldogs regained their offensive composure. Jo'Quavious Marks rushed for two short-yardage touchdowns, then Rogers found Jaden Walley for a 15-yard strike to put Mississippi State back on top.
Tech kicker Caleb Phillips missed a 46-yard field goal attempt in the game's final seconds to complete the comeback.
Rogers was 39-for-47 with three touchdowns and one interception. Marks led all rushers with 71 yards and also caught nine balls for 27 yards and a touchdown. Jamire Calvin also caught a touchdown.
Austin Kendall was 20-for-36 for 269 yards and also led the team in rushing with 68 yards. Harris Smoke caught four passes for 52 yards, including one 24-yard touchdown. Bub Means also caught a 72-yard strike.
Vandy pushed around by FCS team
NASHVILLE, Tenn. — Linebacker Stephen Scott returned a fumble 27 yards for a touchdown, and East Tennessee State upset Vanderbilt 23-3 Saturday night to ruin the head coaching debut of Clark Lea at his alma mater.
The Buccaneers also became the sixth FCS team to beat a FBS team to open this season and third of the day joining Holy Cross and Montana. The victory was ETSU's first over a Power Five program since upsetting North Carolina State on Nov. 7, 1987.
Vanderbilt became the first Southeastern Conference program to lose to a FCS program since South Carolina lost to Citadel on Nov. 21, 2015.
Lea left a job as defensive coordinator at Notre Dame to take over the challenge of rebuilding the program where he once played fullback. Instead, he joins the man he replaced in Derek Mason losing his debut. Vandy also extended an 11-game skid that started a game after ETSU last visited Nashville in November 2019.
ETSU's defense clinched this victory, forcing three turnovers all in the fourth quarter that the Bucs turned into 10 points.
Ken Seals dropped to pass on third-and-5 at the Vandy 35 and just lost the ball under pressure from Donovan Manuel. Scott picked up the ball and ran 27 yards for the touchdown and a 20-3 lead.
Cornerback Karon Delince picked off a Seals' pass at the goal line and ran 99 yards for a TD. An unsportsmanlike penalty on safety Tyree Robinson wiped out the TD, and officials put the ball at the 19. Tyler Keltner kicked his third field goal of the game, a 34-yarder, with 3:29 left for a 23-3 lead.
Quay Holmes led ETSU with 149 yards rushing, and Ty Riddell threw for 135 yards and a TD. Vanderbilt outgained the Bucs 318-314 but couldn't overcome three turnovers — all in the fourth quarter.
Vanderbilt started Seals, then rotated in Mike Wright for some series at quarterback after Lea had promised Wright would play as well. Vanderbilt led 3-0 after a 53-yard field goal by Alabama transfer Joseph Bulovas late in the first quarter, and the Commodores were shut out the rest of the way.
Riddell put ETSU ahead 7-3 with a 5-yard TD pass to Malik Murray in the back of the end zone midway through the second quarter.
Holmes keyed the opening drive of the third quarter with a 37-yard run down to the Vandy 12. Nate Clifton smothered Holmes just as he caught a shovel pass from Riddell on third down, and Keltner put ETSU up 13-3 with a 25-yard field goal.
Former South Carolina coach throws 4 TDs
COLUMBIA, S.C. — South Carolina coach turned quarterback Zeb Noland threw for four touchdowns on 13 completions as the Gamecocks beat Eastern Illinois 46-0 on Saturday night.
It was the debut for South Carolina coach Shane Beamer. He promised "Beamer Ball" just like his dad Frank Beamer played at Virginia Tech and his team delivered, holding the Panthers (0-2) to 109 yards and getting its first shutout in 13 years,
The Gamecocks version of Beamer Ball blocked two punts, picked off two passes with one going back for a 61-yard touchdown, ran a successful two-point trick play with the kicking team on the field after their first touchdown, converted all three fourth downs it tried including a fourth-and-goal from the 3, had two sacks and hit hard.
Beamer, 44, brought joy and enthusiasm to a team that had lost six in a row and 11 of its past 14 games — at least for a night and against a Football Championship Subdivision opponent.
Beamer won his opener with an unusual quarterback. Noland came to Columbia this spring to be a graduate assistant after playing seven games for North Dakota State in a season delayed to spring 2021 because of COVID-19.
When expected South Carolina starter Luke Doty sprained his foot in fall practice and couldn't play in the opener, Beamer asked Noland to turn in his whistle and grab pads and a helmet.
Noland was 13-for-22 for 121 yards and four touchdowns. He threw for five TDs last season at North Dakota State.
South Carolina ran for 263 yards. ZaQuandre White had 12 carries for 133 yards and a touchdown and also led the Gamecocks with four catches, including a 10-yard touchdown that made it 29-0 just before halftime.
Chris Katrenick was 13-for-22 for 78 yards and Tyler Hamilton caught five passes for 32 yards for Eastern Illinois.
Other Scores
Texas A&M 41, Kent State 10
Auburn 60, Akron 10
Florida 35, Florida Atlantic 14
Kentucky 45, Louisiana-Monroe 10
Tennessee 38, Bowling Green 6 (Thursday)
Ole Miss vs. Louisville (in Atlanta on Monday)
Discussion
Have a comment on this story? Join the discussion or start a new one on the Forums.