How we see it: Arkansas-Texas predictions
Published: Saturday, September 11, 2021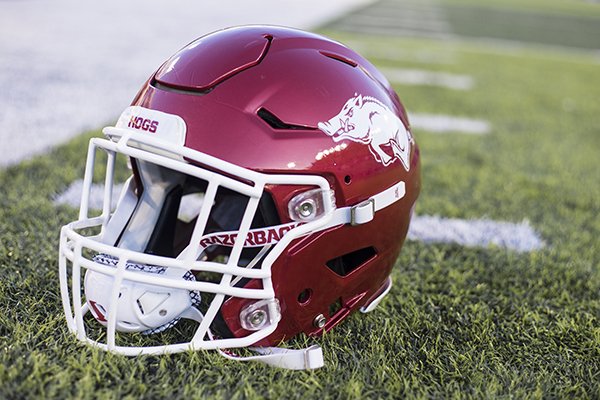 (
Charlie Kaijo
)
An Arkansas football helmet sits on the ground prior to a game between the Razorbacks and Kentucky on Saturday, Oct. 12, 2019, in Lexington, Ky.
Clay Henry, Hawgs Illustrated
The Hogs will have more passion and less nerves for Texas. They always do. There should be respect for the Longhorns, as always, but I don't think Steve Sarkisian has had enough time to build a monster. The real Treylon Burks arrives. Defense will rule the night and it will be mostly Barry Odom's unit in charge. Arkansas, 20-17
Dudley E. Dawson, Hawgs Illustrated
I was not overly impressed with either team, but think the Longhorns are a step ahead. Texas, 24-14
Scottie Bordelon, Whole Hog Sports
One of the most anticipated home games in years is sure to be memorable. I think Arkansas' defense comes to play and makes things hard on Texas quarterback Hudson Card and running back Bijan Robinson. But I'm a bit concerned about the status of the Razorbacks' passing game and execution on special teams. Texas, 28-20
Matt Jones, Whole Hog Sports
Arkansas will likely need a better passing performance to beat Texas. The Longhorns held Louisiana-Lafayette to 2.6 yards per carry, and Steve Sarkisian's offense looked good in his debut. Texas, 28-17
Tommy Craft, ESPN Arkansas
The Hogs need to be in mid-season form to beat Texas and earn Sam Pittman his first signature win. Special teams play and penalties must be greatly improved this week to have a chance in the fourth quarter. Texas, 35-28
Tye Richardson, ESPN Arkansas
This team can finally move on to the game everyone has had circled for months. The result will be unfortunate for everyone wearing red. Texas, 34-31
Bart Pohlman, Sport & Story
They say teams make their biggest improvement from Week 1 to Week 2. And if that's the case, the Razorbacks are going to have a real chance to knock off a ranked team for the first time since 2016. Arkansas, 31-28
Discussion
Have a comment on this story? Join the discussion or start a new one on the Forums.