SEC roundup: Aggies survive in Colorado; Vols fall at home
By: The Associated Press
Published: Saturday, September 11, 2021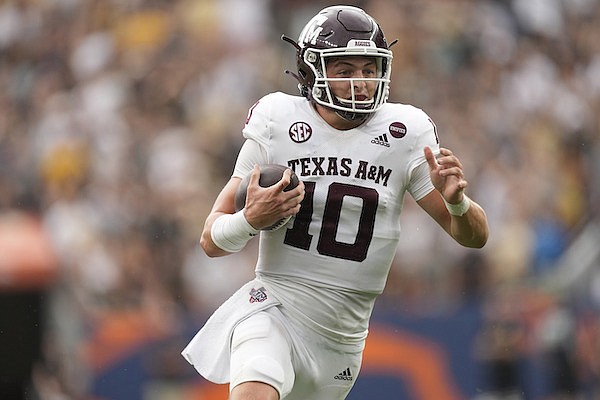 Texas A&M quarterback Zach Calzada runs for a short gain against Texas A&M in the second half of an NCAA college football game Saturday, Sept. 11, 2021, in Denver. Texas A&M won 10-7. (AP Photo/David Zalubowski)
DENVER — Backup quarterback Zach Calzada threw an 18-yard touchdown pass to Isaiah Spiller with 2:41 remaining and fifth-ranked Texas A&M escaped Empower Field at Mile High with a 10-7 win over Colorado on Saturday.
Spiller's TD gave the Aggies (2-0) their first lead on a day in which they lost freshman QB Haynes King to a lower right leg injury and eight of their first nine drives were three-and-outs.
Colorado's hopes of an upset over the 17-point favorite Aggies ended when Brendon Lewis' pass to Dimitri Stanley on fourth-and-13 from his 22 covered just 12 yards.
The Aggies (2-0), whose 10-game winning streak is second-longest in the nation to Alabama, took over with 1:39 left and ran out the clock on the Buffs (1-1), who managed just one first down after taking a 7-3 halftime lead.
The former Big 12 adversaries hadn't played each other since 2009 before the Aggies bolted to the Southeastern Conference and the Buffs headed to the Pac-12.
The old rivals put on a dazzling defensive performance, but an offensive dud in front of 61,203 fans at the home of the Denver Broncos.
The Buffs had a chance to pull off their first win over a top-five team in 14 years when Joshka Gustav forced a fumble inches from the goal line and cornerback Mekhi Blackmon recovered it in the end zone to prevent a touchdown by the Aggies midway through the fourth quarter.
The Buffs went three-and-out again, however, and the Aggies began their game-winning drive from their 23 with 7:50 remaining.
The Buffs lost their best rusher, Jarek Broussard, to an unspecified injury midway through the third quarter after he was smoked by nickelback Antonio Johnson just as he caught a pass in the right flat. He slowly walked off and didn't return.
King hobbled off the field favoring his right leg after a 2-yard keeper on the Aggies' second possession. He spent the second half watching from the sideline in street clothes, on crutches and with a walking boot on his right foot.
Calzada, a sophomore, completed just two of his first eight passes for 2 yards until heating up in the two-minute drill just before halftime.
After five three-and-outs and a missed field goal following an interception at midfield by Aggies defensive tackle Jayden Peevy, Calzada was 4 of 7 for 41 yards on a drive that ended with Seth Small's 41-yard field goal that pulled Texas A&M to 7-3 at halftime.
That drive began with a 15-yard run by Devon Achane. Before that, the Aggies were in danger of becoming the first team to head into halftime without a first down against Colorado since Nebraska in 1961.
Broussard scored from 2 yards for Colorado in the first quarter, but the Buffs blew several chances to put this one away early. One long drive ended with a missed field goal by Cole Becker and another ended when Lewis was stuffed on back-to-back attempts to gain a few inches inside the Aggies 5-yard line.
Pitt wins on Rocky Top
KNOXVILLE, Tenn. — Kenny Pickett threw for 285 yards and two touchdowns and ran for a score to lead Pittsburgh to a 41-34 victory over Tennessee on Saturday.
The Panther defense collected five sacks, recovered two fumbles, had an interception and a crucial fourth-quarter goal-line stand to seal their second victory of the season.
The Volunteers (1-1) lost the game and a starting quarterback. Joe Milton went down with a lower leg injury after being sacked and losing a fumble early in the second quarter.
Hendon Hooker came on to throw for 189 yards, but the mistakes hurt the effort.
After three straight three-and-out drives, Pitt came up with five straight scores. The Panthers scored touchdowns on all five trips inside the Tennessee 20-yard line.
Tennessee, known for its uptempo offense, managed 66 plays, compared to 82 for Pitt. The Panthers' biggest play of all came on defense with a fourth-quarter goal-line stand from the Pitt 3 that could have tied the game. Jaylen Wright was stopped cold by John Petrishen.
Just when Tennessee's offense was showing signs of life in the fourth quarter, the Panthers came up with an answer.
The Vols' defense ran into tackling issues on a 75-yard drive that resulted in a 5-yard pass from Pickett to Jordan Addison and a 41-27 Pitt lead.
Pitt's second double-digit lead didn't last long. Hooker ran for 23 yards, then hit Jacob Warren over the middle for 34 to the Panthers 2. Jaylen Wright scored on his third try.
Wright had an opportunity to tie the game midway through the fourth quarter. On fourth-and-1 from the Pitt 3, Petrishen shot the gap and hit Wright for a loss, giving Pitt the ball.
Three plays and a bad punt later, the Vols had the ball back 34 yards away from tying the game. Pitt's Brandon Hill ended that threat with an interception.
Pitt handled a rough start fueled by a blocked punt and a 2-yard touchdown run by Jabari Small. The difference got to be 10-0 before the Panthers put 27 points up in the second quarter. They scored on five straight possessions.
Along with the three turnovers, Tennessee was responsible for 13 penalties for 134 yards.
FG lifts South Carolina
GREENVILLE, N.C. — Parker White knocked through a 36-yard field goal as time expired as South Carolina rallied to beat East Carolina 20-17 on Saturday, earning its first road win under first-year coach Shane Beamer.
Damani Staley had a 63-yard interception return for a touchdown just before halftime to give the Gamecocks a needed spark after trailing 14-0 in a mistake-filled opening half. Former graduate assistant Zeb Noland also had a game-tying touchdown pass to Dakereon Joyner in the back of the end zone late in the third quarter.
It was the perfect outcome for Beamer: resilient enough for a win, with plenty of obvious deficiencies to improve.
In the end, the Gamecocks (2-0) did enough to give themselves a shot, then rode the legs of Juju McDowell – who gained 45 yards on six carries on South Carolina's final 10-play drive – to set up White's winner that had the Gamecocks spilling onto the field from the sideline to celebrate.
South Carolina won despite committing three turnovers in its first five drives, including a goal-line fumble that went through the end zone in the first half.
Tyler Snead hit on a 75-yard trick-play touchdown pass to Jsi Hatfield on the game's first offensive snap for the Pirates (0-2), while Holton Ahlers also ran for a short touchdown for the 14-0 lead. But East Carolina struggled to generate consistent offense, with Ahlers completing 11 of 24 passes for just 77 yards and two interceptions.
The Pirates were hosting a Southeastern Conference team for the first time since South Carolina's last visit here in 1997.
Vandy snaps 11-game skid
FORT COLLINS, Colo. — Joseph Bulovas connected a 38-yard field goal with 19 seconds remaining, Ken Seals accounted for three scores and Vanderbilt beat Colorado State 24-21 on Saturday night to snap an 11-game losing streak.
Seals drove the Commodores into field-goal range courtesy of a pass-interference penalty and a targeting call. Bulovas jumped up in excitement after making the kick, hugging his holder. His teammates soon joined in once the final horn sounded.
Seals threw two TD passes and ran in another for the Commodores (1-1), who earned their first win under new coach Clark Lea. It was Vanderbilt's first victory since knocking off East Tennessee State 38-0 on Nov. 23, 2019. The Commodores were coming off a loss to ETSU, an FCS team, last week.
Seals' short TD run in the third quarter gave the Commodores a 21-14 lead, but the Rams tied it with 3:07 remaining when Todd Centeio found a wide open Trey McBride on fourth-and-goal at the 3.
Both teams were in dire need of a confidence boost. Colorado State also lost last week to an FCS opponent (South Dakota State).
Trailing 14-7 in the first half and being statistically dominated, the Commodores steadily began to gain momentum by capitalizing on Colorado State's miscues. The Rams (0-2) missed two field goals and threw an interception.
Before the game, the Commodores players walked in wearing matching gray suits. It just took a bit for the team to be that in sync on the field.
Seals finished with 236 yards passing and two TDs, one to Cam Johnson and another to Chris Pierce Jr.
Cornerback Jaylen Mahoney turned in a big defensive play for Vanderbilt when he picked off a Centeio pass near midfield. Nine plays later, Seals hit Johnson over the middle for a 9-yard score to tie the game at 14.
Rams tailback David Bailey scored once on a run and another on a catch.
Colorado State's offense had everything going in the first half from a statistical standpoint, outgaining Vanderbilt by a 305-120 margin. But the Rams didn't exactly translate the yards discrepancy into points as they led just 14-7 at the break. Cayden Camper pushed a pair of field goals wide right and, just before halftime, McBride drew a costly unsportsmanlike conduct penalty that moved the Rams out of field goal range.
Gators win in-state road game
TAMPA — Florida coach Dan Mullen insists the 13th-ranked Gators (2-0) don't have a quarterback controversy or a reason to change the depth chart after Anthony Richardson outplayed Emory Jones for the second straight game in a 42-20 rout of South Florida on Saturday.
Jones and Richardson shared playing time, with each having his way in the opening half against a USF defense that allowed touchdowns on five consecutive possessions after producing a three-and-out to start the game.
Jones threw a 35-yard TD pass to Xzavier Henderson and scored on a 33-yard run on the way to a 35-3 halftime lead before a crowd of 66,646 at Raymond James Stadium.
The redshirt junior from LaGrange, Georgia, was not nearly as effective the rest of the way, though, tossing a pair of interceptions and turning the ball over on downs on four straight possessions to begin the second half.
Richardson, meanwhile, took an astounding passer rating of 917.2 into the fourth quarter after completing his first two attempts to Jacob Copeland on scoring plays of 75 and 41 yards before halftime.
The 6-foot-4, 236-pound backup from Gainesville, Fla., completed his only pass of the second half for 36 yards to finish 3 of 3 for 152 yards, two TDs and a 745.6 rating that seemingly would be difficult for Mullen to ignore with top-ranked and defending champion Alabama visiting The Swamp next Saturday.
Mullen said Jones will start, and both quarterbacks will play, against Alabama.
Richardson also outplayed Jones in a season-opening rout of Florida Atlantic, rushing for 160 yards on seven carries to key a 21-point victory. He may have sealed his bid for the starting job Saturday when he broke a tackle, then stiff-armed another defender, on an 80-yard TD run that put the Gators up 42-13 early in the fourth quarter.
Jones finished 14 of 22 for 151 yards, one TD and two interceptions. He's thrown four picks in two games against overmatched opponents after Kyle Trask threw eight all of last season against the all-SEC schedule the Gators played because of the coronavirus pandemic.
Richardson, who rushed for 115 yards on four carries against USF, limped to the sideline after Mullen said the backup's right hamstring tightened on his long TD run.
USF, which dropped its opener 45-0 at North Carolina State, fell to 1-10 under second-year coach Jeff Scott.
Scott was encouraged by the way the Bulls (0-2) played after trailing by 32 at the half.
Mississippi State beats NC State
STARKVILLE, Miss. — Last week, Lideatrick Griffin's 70-yard kickoff return in the fourth quarter sparked a 20-point comeback for Mississippi State in an eventual win over Louisiana Tech.
On Saturday against North Carolina State, Griffin made his presence felt a whole lot faster.
The sophomore took the opening kickoff back for a 100-yard touchdown, and Mississippi State's defense cracked down from there en route to a 24-10 win over NC State at Davis Wade Stadium.
After Griffin's kick return gave them a 7-0 lead 13 seconds into the contest, the Bulldogs (2-0) held the Wolfpack (1-1) to 4.5 yards per play — with most of the damage coming in garbage time.
Defensive coordinator Zach Arnett's unit held running backs Zonovan Knight and Ricky Person to 50 yards on 16 carries, while quarterback Devin Leary went 30 of 49 passing for 303 yards.
NC State scored its only touchdown with 1:06 remaining on a 4-yard pass from Leary to Thayer Thomas.
Quarterback Will Rogers was 33 of 49 passing for 294 yards and two touchdowns for Mississippi State. Malik Heath and Jaden Walley each caught scoring passes from the sophomore.
The Wolfpack missed their only chance for a tying touchdown in the first quarter when Green picked off a jump pass from Person in the end zone on third-and-goal.
NC State made a field goal early in the second quarter before the Bulldogs extended their lead to 14-3 on a 21-yard touchdown from Rogers to Heath with 1:09 before halftime. The senior receiver made a tough grab in the back left corner of the end zone.
Rogers found Walley for a 4-yard score in the third quarter.
Rodriguez leads Kentucky past Mizzou
LEXINGTON, Ky. — Chris Rodriguez Jr. rushed for a career-high 207 yards and three touchdowns, including the go-ahead score from 8 yards with 11:28 remaining, and Kentucky stopped Missouri late for a hard-fought 35-28 victory Saturday night in the SEC opener.
The Wildcats (2-0, 1-0) never trailed this thrilling showdown for the early East Division lead but had to overcome squandering a 28-14 lead as Missouri (1-1, 1-1) eventually tied the game early in the fourth quarter.
Kentucky answered by taking the kickoff and quickly marching 75 yards, helped by Rodriguez's 28-yard run and Will Levis' 28-yard pass to tight end Justin Rigg to the Tigers' 8.
Rodriguez barged in from the 8 for the TD, a play in which he appeared to fumble as he crossed the goal line but was upheld on review. Missouri had a final chance to tie after blocking Kentucky's field goal attempt, but turned it over on downs as Connor Bazelak's pass intended for Dominic Lovett was broken up by Kentucky's Carrington Valentine with 1:30 left.
Rodriguez, who surpassed his previous best of 149 yards against Vanderbilt last November, carried 27 times with additional TDs of 2 and 3 yards in matching his career high. The junior also had a 5-yard TD catch, his first, on Kentucky's opening drive.
Levis completed 10 of 18 passes for 179 yards, a TD and an interception off a tipped pass.
Most importantly, Kentucky controlled the line of scrimmage, an effort that totaled 341 yards rushing with Rodriguez leading the way.
The Wildcats outgained the Tigers 520-398 to avenge last year's loss in Columbia that marked their flattest effort of the season.
Bazelak completed 34 of 52 attempts for 294 yards and four touchdown passes, including a 17-yarder to Tyler Badie early in the fourth that tied the game. But he also threw an interception early in the third that Kentucky turned into a Rodriguez TD.
Badie contributed multiple ways for Missouri with 10 receptions for 88 yards and 14 carries for 61 in a workman-like performance. That was the Tigers' pattern all night as they drove 75 yards or longer for all four TDs but fell short of completing a spirited comeback.
Georgia backup QB ties record
ATHENS, Ga. — Stetson Bennett tied a school record with five touchdown passes filling in for injured starter JT Daniels, leading No. 2 Georgia to a 56-7 rout of UAB on Saturday.
Bennett completed his first six passes — four of them going all the way to the end zone for the Bulldogs (2-0), who didn't show any signs of a letdown after a 10-3 victory over Clemson despite the absence of their No. 1 quarterback.
Jermaine Burton set the tone by slipping behind the secondary to haul in a 73-yard TD from Bennett on Georgia's second offensive play, thrilling the raucous crowd of nearly 93,000 at Sanford Stadium.
It was the first full house between the hedges since the 2019 season. Crowds were limited to about 20,000 last season because of the pandemic.
By the opening minute of the second quarter, Bennett had tacked on scoring passes of 12 yards to Kenny McIntosh, 89 yards to Brock Bowers and 61 yards to Arian Smith.
At that point, Bennett's passer rating was a staggering 775.6. The Blazers' secondary didn't put up much resistance, leaving Burton, Bowers and Smith wide open with blown coverages.
After finally throwing an incompletion, Bennett tacked on his fifth TD of the game with another to Bowers, the freshman tight end finding a seam in the zone to grab a 9-yarder that sent the Bulldogs to the locker room with a 35-0 halftime lead.
Bennett completed 9 of 11 for 279 yards and became the sixth Georgia quarterback to pass for five touchdowns in a game. The most recent was Aaron Murray vs. New Mexico State in 2011.
Daniels was sidelined by an oblique injury, which is not believed to be a long-term problem. He was in uniform on the sideline, but the Bulldogs had no reason to risk a more serious issue by playing him against a team that was a 25 1/2-point underdog.
Once Daniels was ruled out, Georgia coach Kirby Smart made a bit of a surprising call on the starter. Redshirt freshman Carson Beck was listed as No. 2 on the depth chart, but the Bulldogs went with the more experienced signal-caller.
Great call. While some fans groaned when Bennett, a former walk-on who started five games in 2020, was introduced as the starter, there were nothing but cheers after he lit up the Blazers (1-1).
Georgia scored touchdowns on six of seven possessions with Bennett in the game.
The Bulldogs' defense wasn't too shabby, either. The unit has yet to allow a touchdown this season and has scored two itself, following up a pick-six against Clemson with another on Jamon Dumas-Johnson's 21-yard interception return for a score.
UAB was held to 174 yards overall on a miserable day for quarterback Tyler Johnston III, who completed just 6 of 14 for 39 yards with three interceptions.
The Blazers avoided a shutout when Keondre Swoopes picked off a pass from Beck and returned it 61 yards for a score.
Beck did throw the first TD pass of his college career, a 12-yarder to Justin Robinson.
Alabama wins with ease
TUSCALOOSA, Ala. — Bryce Young threw three touchdown passes and Jase McClellan scored three times to help fuel No. 1 Alabama to a 48-14 rout of FCS Mercer on Saturday.
The Crimson Tide (2-0) started sluggishly on offense in what amounted to a warmup game before the Southeastern Conference opener at No. 13 Florida, but potentially more notably had star linebacker Will Anderson Jr. leave with an apparent right leg injury.
Special teams struck before Young and the offense. Chris Braswell blocked a punt, which McClellan scooped up for a 33-yard touchdown, and the expected rout was on against the Bears (1-1). It just took eight minutes and change.
A sophomore backup tailback, McClellan had two touchdowns in his first 14 games, but added a 21-yard catch and run and a 5-yard, fourth-down scoring run.
Young completed 19 of 27 passes for 227 yards after coming out slow in just his second game as 'Bama's starter. Freshman JoJo Earle had seven catches for 85 yards and also had a 29-yard punt return.
Mercer quarterback Fred Payton did burn Alabama for two big plays to wide-open receivers in the second half, a 60-yard touchdown to Devron Harper and a 22-yarder to Ty James in the third quarter.
Anderson, a preseason All-American, headed to the locker room, coming up limping after a cut block to the right leg. The defense was already without fellow outside linebacker Chris Allen, expected to miss the rest of the season with a foot injury sustained in the opener.
Other Scores
Auburn 62, Alabama State 0
Ole Miss 54, Austin Peay 17
LSU 34, McNeese State 7
Discussion
Have a comment on this story? Join the discussion or start a new one on the Forums.