Future Hog DBs facing off in Tennessee
Published: Friday, September 17, 2021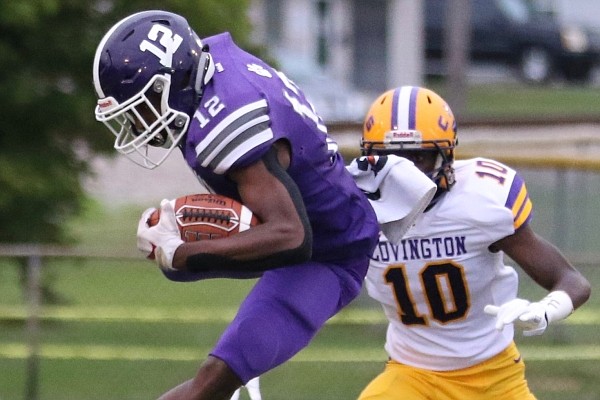 ( Courtesy of Oscar Esquivias )
2022 Arkansas DB commit Jaylen Lewis
Two friends and future Arkansas defensive backs will match up Friday in a West Tennessee high school football showdown.
Jaylen Lewis (6-2, 175) will lead Brownsville (3-0) against Milan (2-2) and Anthony Brown (6-2, 190), who committed to the Razorbacks on Tuesday.
"Anthony will be going up this Friday night against Jaylen Lewis when we play Haywood," Milan coach Carl Diffee said. "He and Jaylin are going to be on opposite sides of the ball on every play. He'll be guarding Jaylin and Ant will be guarding him.
"That's pretty cool to have best friends committed to Arkansas going up against each other."
Diffee expects a big night from Brown.
"The lights are never too bright for him," Diffee said. "He always rises up in those occasions where a lot of kids might get a little starstruck. He wants to compete. He wants to make plays in the biggest moments."
Diffee was the former coach at Sardis (Miss.) North Panola, where had current Arkansas starting quarterback KJ Jefferson.
"It is so rewarding to see all the time and energy that KJ invested as a ninth grader, the countless hours that we spent going to training sessions and doing private work pay off," Diffee said. "To be on this side of it now and have a kid that has gone through that process, it is really cool to see him showcasing his talents.
"I think the most proud I am is of him getting elected as a team captain. That speaks more to who we all knew he was. His talent and ability is going to take him a long way, but I think what is going to take him over the top is his leadership, his charisma and his character."
"It is very exciting to wake up on Saturday mornings and have a reason to watch the Hogs, and now I am going to have two reasons."
Diffee is excited about Brown's present and future as well.
"I am definitely proud of him," Diffee said. "He is a great kid, a great person, a great leader and of course he is a great football player or he would not have the offers and all these opportunities.
"I already have one over there in KJ Jefferson and they are cut from the same mold. They are both really good kids and kids that I think are blue collar, kind of like Arkansas likes recruiting and winning with."
Discussion
Have a comment on this story? Join the discussion or start a new one on the Forums.