Analyzing Nick Smith Jr.'s commitment to Arkansas
Published: Wednesday, September 29, 2021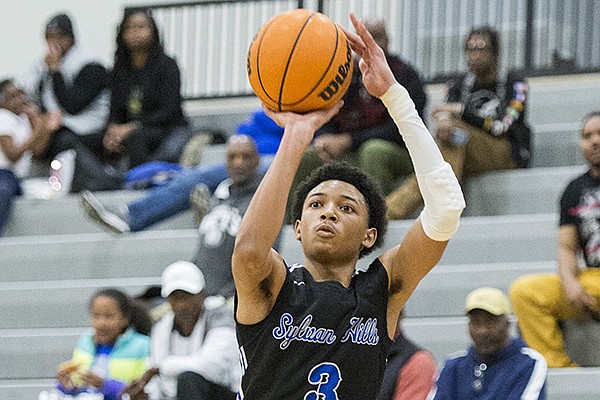 (
Jeff Gammons
)
Sylvan Hills guard Nick Smith shoots a 3-pointer during a game against Little Rock Hall on Friday, Jan. 17, 2020, at Cirks Arena in Little Rock.
FAYETTEVILLE — The addition of North Little Rock 5-star guard Nick Smith Jr. to Arkansas' 2022 commit list on Wednesday further validates the hire of Razorbacks basketball coach Eric Musselman.
Smith, who is ranked ESPN's No. 6 player in the country, chose Arkansas over a who's who of college basketball teams, and arguably puts the Razorbacks back among the blue bloods, as was the case in the 1980s and 1990s.
Landing Smith (6-5, 180 pounds), who privately let Musselman know of his decision last week, is a massive get for Arkansas, not only for what he can do on the court, but also for the perception of the program.
Smith made up his mind after taking an official visit to Arkansas on Sept. 10-12, the weekend the Razorbacks won a home football game over Texas.
He had offers from Arkansas, Kentucky, Kansas, North Carolina, Memphis, Baylor, Alabama, Auburn, Oklahoma, Oregon, Texas, Oklahoma State and many others.
"I went to the visit and it was a cool visit," Smith said. "It was the Texas game, and so it was going to be rocking as Texas is a big rival of Arkansas."
Smith said he was impressed with the presentation Musselman made to him while in Fayetteville.
"Going back and talking to my mom and dad on the way home, it was a no-brainer for them, but I just wanted to make sure on my end," Smith said. "I wanted to make sure I was not missing out on an opportunity somewhere else.
"In the end, Arkansas was by far the best opportunity for me."
He joins Magnolia guard Darien Ford (6-4, 205), Morrilton small forward Joseph Pinion (6-6, 180) and Mobile (Ala.) McGill-Toolen Catholic forward Barry Dunning (6-6, 185) as pledges in the Razorbacks' 2022 class.
Arkansas is also heavily in the mix for 5-star Branson (Mo.) Link Year standout Jordan Walsh (6-7, 200) and Duncanville, Texas, forward Anthony Black (6-6, 185) — ESPN's 7th- and 26th-ranked players, respectively.
Ford is 68th in ESPN's rankings, Dunning 76th and Pinion 93rd.
That would be a great class regardless of the decisions by Walsh and Black, but if Musselman lands one or both of them, Arkansas will further solidify itself as a 2022 national title contender.
Musselman is coming off his second season at Arkansas. He stunningly led the Razorbacks to a 25-7 record and the NCAA Tournament's Elite Eight, where Arkansas lost to national champion Baylor.
He credits Arkansas natives Moses Moody, Davonte "Devo" Davis, Khalen "KK" Robinson and Jaylin Williams — last season's four freshmen — for taking a leap of faith and making this 2022 recruiting haul possible.
"The recruiting stuff, Moses, Devo, KK and J-Will — we owe them a lot," Musselman said. "They did not have a lot to go off other than Year 1 where we played really, really hard. That is kind of what they saw, what their parents saw and their inner circle saw.
"We hadn't really proven anything other than, hey, we garnered respect from referees, we garnered respect from other coaches and two guys had phenomenal years and were able to play in the NBA in Isaiah (Joe) and Mason (Jones), which is not an easy thing either to have two guys go play at that level.
"Those guys kind of trusted us and obviously making the run we did last year and...it is really, really hard to make the NCAA Tournament.
"It just doesn't happen, but to make it and to be able to have success and have a team that understood what was at stake and sacrificed, there is a lot of things that go into winning Iike we did in the postseason.
"Certainly with that momentum, we are not selling something anymore; right now it is a reality. You want to ride the momentum when you have the momentum, and I certainly think we have done that and we want to continue to do that as well."
Musselman and his staff have also navigated the Name, Image and Likeness possibilities that allow their players to profit.
"As far as Name, Image and Likeness, I don't really see any negatives," Musselman said. "It's well overdo to be able to earn some money. Obviously we try and stay out of it, but we are in a unique position here where we have a fanbase that loves the Razorbacks and we are not competing with anybody else.
"That's a great thing for our student-athletes as well."
Discussion
Have a comment on this story? Join the discussion or start a new one on the Forums.