Future Razorback shining as 2-way player
Published: Tuesday, April 5, 2022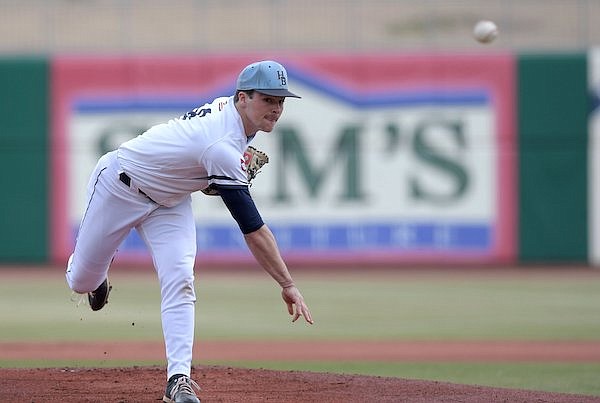 (
J.T. Wampler
)
Cooper Dossett of Har-Ber throws during a game against Bentonville on Monday, March 14, 2022, in Springdale.
SPRINGDALE — Even when he didn't have his best stuff and pitched in spitting rain, Arkansas signee Cooper Dossett was nearly un-hittable Monday, just as he has been all season.
Dossett (5-11, 175 pounds) struck out 11 and allowed a fifth-inning bloop single on the mound, and also hit an RBI double to lead Springdale Har-Ber to a 12-1 win at Springdale.
Dossett walked five in a game that was delayed nearly one hour by rain. Jake McCool's fifth-inning single was the lone hit he allowed.
"I felt good, even though we got delayed a little bit," Dossett said. "I felt like I went out there and got the job done, pitched well and gave our team a chance to win. I thought we hit the ball really well and played good overall."
Dossett (3-0, 0.00 ERA) has fanned 51 batters in 28 2/3 innings, given up just 8 hits and allowed 4 unearned runs in 6 starts this season.
"I am throwing a fastball, curveball and a changeup," Dossett said. "I have started throwing a spike curveball and that's been a lot better for me. It's a different spin rate and I have been able to control it a lot more. I have started throwing a lot of changeups, too, and throwing them for a lot more strikes."
Dossett is 11-1 overall in his Har-Ber career with 139 strikeouts in 74 2/3 innings.
"He struggled there a little in the first finding his command and just getting comfortable with the (strike) zone," Har-Ber coach Dustin Helmkamp said following Monday's game. "I think he got comfortable in the second, third and fourth, and then the rain started coming again in the fifth and he lost it a little bit.
"But that shows his growth. As a 10th grader and an 11th grader, there might have been times where he never could get back into it. He's been so much more mature this year and finds the zone and just competes.
"We are lucky to have him....The kid is really good."
Dossett is looking forward to finishing up his high school career strong and then joining the Razorbacks this summer.
"It is going to be exciting and I can't wait to get there," he said. "They might have the best coaches and the best facilities in the nation.
"I know it is going to be a great team next year and I am happy I am going to be a part of it."
He is especially excited about working with Arkansas pitching coach Matt Hobbs.
"Coach Hobbs is awesome and I love what he is doing," Dossett said. "I love his knowledge of the game, how he approaches it and kind of how advanced he is. I am very excited to get to Arkansas and work with them to see how good I can get.
"That's exciting to me, being able to work with Coach Hobbs and everyone there and just developing my game from there."
Har-Ber (13-4, 4-1) leads the 6A-West race.
"Our bats started out slow, but now we are starting to hit it pretty well," Dossett said. "We went 1-3 down in Panama City against some really good teams, but now we look like the team we thought we would be."
Dossett is swinging a big bat this season with a .364 average, 3 home runs, 17 RBI, .452 on-base percentage and a .673 slugging percentage.
"I usually play in the outfield when I am not pitching," Dossett said. "I am feeling good right now at the plate. I'm getting some good base hits and having a good approach at the plate. I'm getting a lot of hits with two strikes, so that's good."
Har-Ber is pushing to win the state title.
"I think we have just got to keep hitting the ball and getting better every day," Dossett said. "Our pitchers and defense just need to keep doing what we are doing and keep working."
Har-Ber sophomore Ross Felder is hitting .327 and 4-0 on the mound with a 0.52 ERA. Felder is committed to the Razorbacks' 2024 class.
"I think he is a beast," Dossett said. "He is a great kid and like a brother to me. He is pitching great and hitting great. He is a great player and a I am very proud of him."
Discussion
Have a comment on this story? Join the discussion or start a new one on the Forums.