Hog Futures:
Kutas growing into his role
By:
Mitchell Gladstone

Published: Saturday, August 13, 2022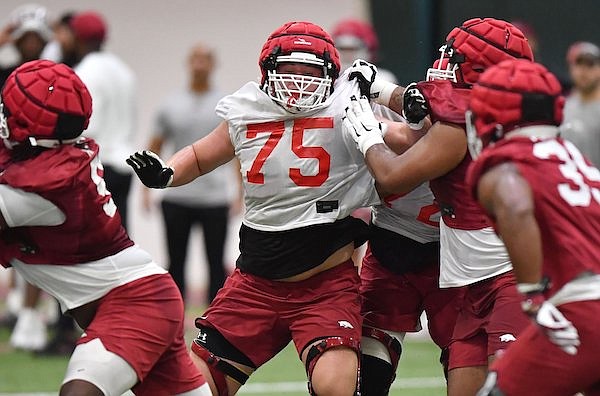 (
Andy Shupe
)
Arkansas offensive lineman Patrick Kutas (75) blocks Friday, Aug. 5, 2022, during practice at in Fayetteville.
Most sophomores at Memphis' Christian Brothers School don't get meaningful game action, and certainly not defensive tackles weighing less than 250 pounds.
It didn't go all that well for Patrick Kutas — at least not in the short term.
"He took a lot of butt whoopings," Christian Brothers Coach Thomas McDaniel recalled. "[But] between the frame, the work ethic, his mentality and the way that he just battled as a sophomore and never asked for a way out, I knew that we probably had something special."
McDaniel was on the right track, yet he couldn't foretell all that was to come with Kutas. Instead of ending up a 265-pound defensive end, Kutas grew a couple of inches, crossed the 300-pound threshold and before his senior season, he made the transition from defensive line to offensive line, the position he'll play at Arkansas.
"It just hit me and I felt like I had a better ceiling as an O-lineman," Kutas said. "Coach [McDaniel] was all about it."
Where he'll play on the line for the Razorbacks remains to be seen. At Christian Brothers, the 6-6 Kutas manned the Purple Wave's left tackle spot and was rated as the nation's No. 54 offensive tackle by Rivals in the Class of 2022. But 247Sports ranked him as the 15th-best interior offensive lineman in his class — and Kutas says he's been working at guard with the Razorbacks.
McDaniel said he thinks Kutas could even play center at some point, despite the fact that it's a position Kutas has never learned.
"I give him a lot of credit, being mature enough to see into the future and having the foresight to say, 'Hey, I'm probably built long-term as an offensive lineman,' " McDaniel said. "In the seven years that I've been here, we've had a lot of talented players. There's nobody that worked harder than Patrick Kutas in the weight room, in the offseason, on the practice field and putting in extra time."
Kutas had his pick off several power-conference programs. He visited both Oregon and Illinois and held offers from Texas A&M, Tennessee, Mississippi State and Florida State as well as several others.
The environment at Fayetteville as well as the opportunity to learn from a former offensive line coach in Sam Pittman ultimately swayed him.
"Arkansas has always been a school that's maybe been overlooked a little bit … just being in the SEC," Kutas said. "It felt like a family, especially when I came on my visit, just being around everybody."
McDaniel, who worked with Kutas' position groups during his junior and senior seasons, said he recognizes his former player is "really still a puppy" when it comes to playing on the offensive line.
Kutas said he wanted to spend the summer locked in the playbook, understanding what's required from each of the spots on the line. He could still add on another 15-20 pounds, if not more, but that'll come in time.
And when it's his turn, neither he nor McDaniel doubt Kutas will be ready.
"Patrick doesn't want for anything," McDaniel said. "Yet he still is one of the toughest, nastiest kids."
Kutas At a Glance
CLASS Freshman
POSITION Offensive Lineman
HEIGHT/WEIGHT 6-6, 303 pounds
HOMETOWN Memphis
HIGH SCHOOL Christian Brothers
AGE 18 (April 12, 2004)
NOTEWORTHY Rated by 247Sports as a 4-star prospect and No. 7 in the state of Tennessee. … Began his career at defensive tackle before adding offensive tackle to his repertoire as a senior. … Averaged 26.7 tackles and 2 sacks per game while helping Christian Brothers to a state semifinal appearance last season. … Chose Arkansas over scholarship offers from Illinois, Florida State, Texas A&M, Tennessee, Mississippi State and others.
Discussion
Have a comment on this story? Join the discussion or start a new one on the Forums.