Arkansas soccer suffers season-opening defeat at Saint Louis
Published: Thursday, August 18, 2022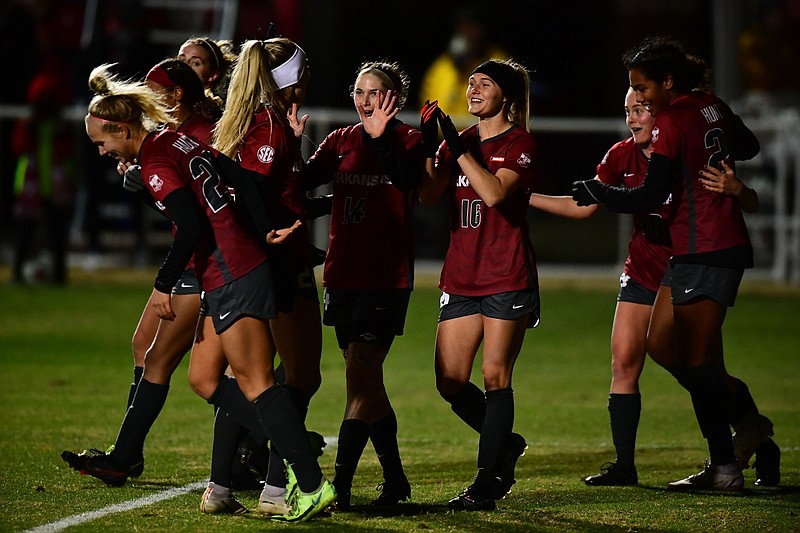 Arkansas players celebrate after Friday night's victory over Virginia Tech in the second round of the NCAA Women's Soccer Tournament in Fayetteville. The Razorbacks face Notre Dame on Sunday. (Photo courtesy of the University of Arkansas)
The eighth-ranked Arkansas soccer team lost its season opener 1-0 at Saint Louis on Thursday.
Emily Gaebe scored the game's only goal when she poked a loose ball over the line during a free-for-all in the box after Arkansas failed to clear a free kick in the 34th minute.
The Razorbacks struggled to contain Gaebe, the reigning Atlantic 10 Rookie of the Year, for the majority of the match without Bryana Hunter leading the backline. Hunter, who led the Razorbacks in minutes played in each of the last two seasons, exited in the 14th minute after going down with an injury.
The Billikens took total control of the match and came within inches of an opening goal twice on quick counterattacks. Caroline Kelly and Gaebe both sent their efforts to the left of the far-side goalpost on a pair of one-on-one attempts against Razorback goalkeeper Grace Barbara.
A suffocating Saint Louis defense not only kept Arkansas off the scoreboard but also did not allow a single shot in the first half. In stark contrast to the first 45 minutes, the Razorbacks came out firing attempt after attempt in the attacking third after halftime.
However, they often settled for low-percentage shots from long distances. The Razorbacks' best chance came when All-America forward Anna Podojil worked the ball on her left foot with a quick body feint.
Her weak-footed effort beat Saint Louis goalkeeper Emily Puricelli but curled away from the goal instead of toward it. In the 77th minute, Arkansas defender Van Fitch suffered an injury and had to be helped off the field by the coaching staff.
The Hogs pressed with urgency in the final 10 minutes but were never able to get a clean look on goal against the Billikens' defense. Arkansas only managed to put 2 of 10 shots on target.
The Razorbacks dominated possession in the early stages of the first half. They looked the more likely team to score after a few dangerous set pieces lofted in the box by Fitch inside the first 10 minutes.
The Billikens weathered the initial storm by getting all 10 field players behind the ball on defense. The flow of the game changed almost immediately after the departure of Hunter, a two-time All-SEC selection.
Arkansas has lost consecutive season openers and lost to the Billikens for the second time in three seasons.
The Razorbacks' home opener be against DePaul on Sunday at noon. The game will be available to stream on SEC Network-Plus.
Discussion
Have a comment on this story? Join the discussion or start a new one on the Forums.