MSU's Howland sees different band of Razorbacks
Published: Saturday, February 5, 2022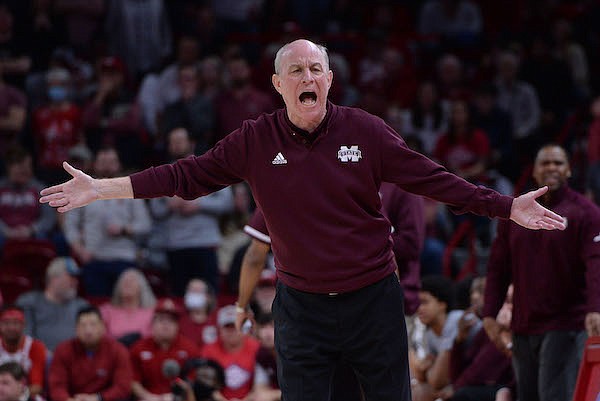 (
Andy Shupe
)
Mississippi State coach Ben Howland is shown during a game against Arkansas on Saturday, Feb. 5, 2022, in Fayetteville.
FAYETTEVILLE — Count Mississippi State coach Ben Howland among those on the Muss Buss.
Howland thinks Arkansas coach Eric Musselman's injection of graduate transfers Trey Wade, Stanley Umude and Au'Diese Toney into the starting lineup with has transformed the Razorbacks since Mississippi State won the SEC opener between the teams Dec. 29.
Arkansas won the rematch 63-55 on Saturday at Bud Walton Arena. The Razorbacks have won eight straight games.
"Give Arkansas credit," Howland said. "They are not only one of the hottest teams in our league, but one of the hottest teams in the country. They are the hottest team in the country. They have eight wins in a row, seven in the conference.
"I thought the difference was they were so much better now than the first time we played them. Especially their defense, they are so much bigger and strong because they are playing all those older seniors that have a lot of experience. And they are very physical."
More from WholeHogSports: Full coverage from Arkansas' win over MSU
Arkansas hit just 1 of 13 three-pointers in the first half and was just 2 of 17 before Jaylin Williams and Chris Lykes hit a pair of threes in the final two minutes.
Those came during a 9-1 Arkansas run after the Bulldogs pulled to within 53-52 on Garrison Brooks' dunk with 2:07 left.
"It was disappointing for our players because we let another one slip way," Howland said. "We had a great comeback to fight our way back and not get the job done on a Quad 1 opportunity here at Fayetteville."
The teams were tied at 25-25 at halftime while combining for 16 of 53 on first-half shot attempts.
Arkansas took a 53-44 advantage with 6:03 remaining, but Mississippi State crept back.
"I thought the first half was hard fought," Howland said. "I thought our defense was really good. I thought we struggled to score and they struggled to score.
"The second half, our offense really struggled at points and their offense obviously became much more patient to start the second half. They were much more patient than we were."
Iverson Molinar led Mississippi State with 19 points while Brooks added 12 points and 11 rebounds.
"I think they defended really well tonight," said Brooks, a transfer from North Carolina. "That was their game plan and that is what they hang their hat on. They came out and defended pretty well against us today."
Mississippi State fell to 0-5 on the road this season. Arkansas improved to 13-1 at home.
"I think it is just making big plays down the stretch," Brooks said. "I think it is just something that we are struggling to do right now and we are going to have to figure it out eventually — making big plays and making tough plays down the stretch."
Brooks said Arkansas made the plays needed on both ends late.
"They just made bigger plays down the stretch than we did," Brooks said.
Howland liked most of his team's box score numbers except field goal shooting. The Bulldogs made 18 of 51, compared to Arkansas 23 of 61.
VIDEO: Eric Musselman, players recap win over Bulldogs
"To win on the road, they had six turnovers and we had 12, so that was really the stat," Howland said. "The biggest difference in the game was that they had more possessions. They (out-rebounded) us by one, they had five more baskets than we did. We did a better job of making our fouls shots percentage-wise than they did."
Williams, who also had two blocks and one steal late, fought through foul trouble while being matched up with Mississippi State 6-11 center Tolu Smith.
Smith had 18 points and 11 rebounds in the earlier matchup, but was held to 11 points and 6 rebounds Saturday.
"I thought he did well down the stretch," Brooks said of Smith. "Of course, (Williams) made some really tough shots down the stretch. Kudos to him. I think he is just a really good player, but I thought we did a really good job on him."
Discussion
Have a comment on this story? Join the discussion or start a new one on the Forums.