Hogs' 2022 hoops signees have dazzling combined record
Published: Friday, February 11, 2022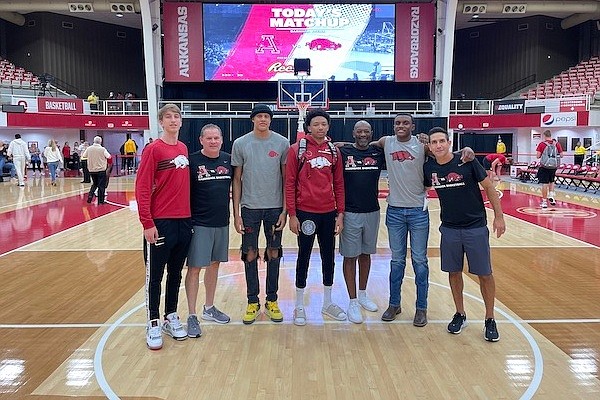 Arkansas 2022 basketball signees
It should come as no surprise that Arkansas coach Eric Musselman heard from all five members of his highly touted 2022 signing class as well as some recruits he hopes to add following the Razorbacks' 80-76 overtime win over No. 1 Auburn on Tuesday.
The Razorbacks (19-5, 8-3 SEC) extended their winning streak to nine games before a record crowd of 20,327 fans. ESPN2 also registered its largest audience for a regular-season college basketball game in more than three years.
"Everybody is really excited about the win, and maybe even more important than the win was maybe the excitement pre-game, in-game and post-game," Musselman said Thursday.
North Little Rock guard Nick Smith Jr. (6-5, 180) and Branson (Mo.) Link Academy small forward Jordan Walsh (6-7, 200), two 5-star prospects who have been named McDonald's All-Americans, join Magnolia guard Derrian Ford (6-4, 205), Morrilton small forward Joseph Pinion (6-6, 180) and Mobile (Ala.) McGill-Toolen star Barry Dunning (6-6, 205) in a group in which all are rated in the top 100 nationally by ESPN.
The five signees, which make up the nation's third-best 2022 recruiting class behind only Kentucky and Duke by ESPN, are all having outstanding senior seasons and have a combined record of 107-13 heading into this weekend's games.
"I think it is a really well-balanced group of guys and I think they will fit in with the returnees as well," Musselman said. "The incoming group, the one common denominator is that they are always talking about winning and they are really, really good teammates. I think that is important when you are adding a new group of players – are they good passers? Are they willing passers, and how important is winning to them?"
Ford's team is 20-0, has won 62 of its last 63 games and is trying to win a third Class 4A state title in four years.
"I feel that we will all work hard and play well together," Ford said Thursday. "I think we all want the same thing and that is to win a national championship."
Dunning's squad is 25-3, and he sees all five players meshing once they arrive on campus.
"We are a group of guys that love the game of basketball," Dunning said. "We give it all we have every time we hit the floor and play with passion. It shows a great mentality we have."
Smith and North Little Rock are 20-3 overall and 8-0 in conference action heading into Saturday's game with Little Rock Catholic (8-9).
Walsh and Link Academy are 25-0 with a game against Wasatch Academy on Saturday.
"I think we all know that Nick Smith is an incredibly dynamic scorer, but also is a really willing, unselfish guard who competes at a high level," Musselman said. "Jordan Walsh is fantastic and the most underrated part of his game is his passing ability. He is a guy that sees the floor on the break and is a willing passer.
"You watch Barry Dunning play with his high school team and they kind of play a Princeton-type high school offense," Musselman said. "They are over-disciplined and he is a great passer.
"Then you have Joseph Pinion's shooting ability and Derrian Ford's ability to just score the ball in different areas, and Derrian's ability to draw free throws attempted fits in well with us."
Pinion's Morrilton squad stands at 17-6 with a game at Clarksville on Friday.
"I feel like it shows we all have a winning mentality and that we will bring that to Arkansas and hopefully make an impact positively on the record," Pinion said.
Discussion
Have a comment on this story? Join the discussion or start a new one on the Forums.