Alabama's rollercoaster season adds win over Arkansas
Published: Saturday, February 12, 2022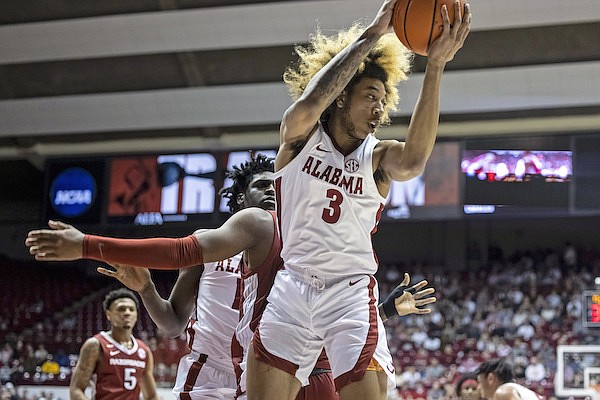 Alabama guard JD Davison (3) rebounds in front of Arkansas forward Kamani Johnson during the first half of an NCAA college basketball game, Saturday, Feb. 12, 2022, in Tuscaloosa, Ala. (AP Photo/Vasha Hunt)
Alabama has shown it can beat several of the nation's best teams this basketball season, including Gonzaga, defending national champion Baylor and Houston, all Final Four teams with UCLA last season.
The Crimson Tide (16-9, 6-6 SEC) have also looked dismal at times in losses at SEC bottom feeders Georgia and Missouri and also lost to Davidson in Birmingham and to Iona in Orlando, Fla.
Alabama had just enough to survive on Saturday, blowing a 13-point second half lead before Noah Gurley hit two big buckets late to down visiting Arkansas 68-67 and end a nine-game winning streak for the Razorbacks (19-6, 8-4).
"We've got plenty of stuff to improve on but that's a big win," Alabama head coach Nate Oats said. "That was the hottest team in the SEC. They'd won nine straight and they're playing great basketball."
Alabama led by 10 in the first half, but Arkansas cut that to 37-32 by halftime despite leading scorer JD Notae getting his second foul with 16:19 left in the opening half and going to the bench through intermission.
The Crimson Tide, who had 15 of their 25 turnovers in the first half, pushed the lead to 60-47 with 9:01 left, but the Razorbacks responded with a 13-1 run and eventually took a 65-64 lead on Noate's three-pointer with 3:26 left.
More from WholeHogSports: Full coverage from Arkansas' loss at Alabama
"Our guys fought hard," Oats said. "We got up 13 on them. Give Arkansas a ton of credit for coming back, down 13. We didn't take care of the ball well enough. We had way too many turnovers. Gave up too many 'O' boards, and a lot of that due to how hard Arkansas plays. You know they went to the offensive boards hard. They pressured us into turning it over some. But our guys showed a lot of resolve."
Gurley, who went to the locker room after an ankle injury in the second half, scored inside with 1:37 and 27 seconds left to give his team the lead each time.
"The first one, I was trying to get the ball to Shack (Jaden Shackelford) , but they were denying it to him," Gurley said. "So coach always tells us that if we have got an advantage, go make a play. So that was just kind of just my mindset - get some buckets."
That proved to be good enough when Notae, who hit two free throws with 28 seconds left, missed a three-pointer with four seconds left and Davonte "Devo" Davis' half-court heave was no good after Jahvon Quinerly missed a free throw.
"Noah was huge for us late in the game," Oats said. "He didn't shoot the three (1 of 6) particularly well tonight but he did a great job finishing up at the rim. He played really hard. Really happy for him."
Jaylin Williams had 22 points and 10 rebounds and Stanley Umude added 19 points while Notae ended the game with 12 points on a day Arkansas was a woeful 22 of 70 from the field, 6 of 21 from 3 and 17 of 24 from the free throw line.
The Razorbacks won the rebounding battle 45-40 with 21 offensive rebounds while having 9 of their 16 turnovers after halftime.
"I thought our guys did a pretty good job on JD Notae," Oats said. " We were obviously helped out by his foul trouble and him not playing much in the first half. But we did a pretty good job on him.
"Defensively, our first-shot defense was great. We've got to do a better job rebounding the ball defensively."
Gurley agreed Notae getting the two early fouls was important.
"It was big," Gurley said. "He's the leading scorer in the SEC. He's a great player, so you know we just tried to make life difficult for him, in every aspect. And then him getting two fouls early we knew they weren't going to go away, they're still a good team but you know that obviously helped and maybe got into his rhythm a little bit."
JD Davison led a balanced Alabama attack with 11 points while Shackelford added 10 and Gurley and Charles Bediako nine each.
"There wasn't a big message, it was just stay together," Davison said. "If we don't fight together, we don't win together. Have energy, don't let the energy drop and stay positive because all we needed was one stop, one board and a lot of things would change."
The Crimson Tide were 24 of 56 from the field, 7 of 29 from three-point range and 13 of 17 from the free throw line.
Alabama was 3 of 30 from three-point range in 66-55 home loss to Kentucky the previous Saturday and was 14 of 22 there in a 97-83 win at Ole Miss on Wednesday.
The Crimson Tide hit 6 of their first 11 three-pointers against Arkansas and were just 1 of 18 after that, but Gurley wasn't sure it was anything the Razorbacks did defensively.
"I don't know," Gurley said. "You know it was dropping in the first half. You know I guess they weren't in the second half, but, you know, regardless like coach always tell us you know that shouldn't affect how hard we play. You know we get stops and we can transition, get attacking down hill, you know, we get our paint shots and all that."
Discussion
Have a comment on this story? Join the discussion or start a new one on the Forums.