Missouri can't handle Arkansas again
Published: Tuesday, February 15, 2022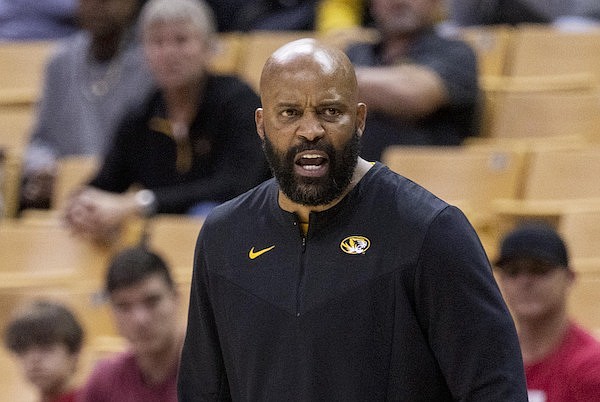 Missouri coach Cuonzo Martin talks to the team during the second half of an NCAA college basketball game against Arkansas on Tuesday, Feb. 15, 2022, in Columbia, Mo. Arkansas won 76-57. (AP Photo/L.G. Patterson)
One thing is apparent this college basketball season: Arkansas is not a good match for Missouri.
Five weeks after beating the Tigers by 44 points in Fayetteville, the Razorbacks easily handled them 76-57 on Tuesday in Columbia, Mo.
"They just came out and were tougher and stronger and got into the flow," Missouri coach Cuonzo Martin said. "They set a great tone from start to finish. We did a great job cutting it to nine, but we just couldn't get over the hump."
Arkansas (20-6, 9-4 SEC) jumped to a 20-3 lead when the teams met earlier at Bud Walton Arena, and roared ahead of the Tigers 19-4 with 15 consecutive points in the rematch.
More from WholeHogSports: Full coverage of Arkansas' win over Missouri
"(I'm) certainly frustrated," Martin said. "That can't happen — not at the start of the game. That can't happen, because you give guys momentum, they're able to make plays, now you're fighting to get back in it."
Martin, whose squad defeated visiting Ole Miss 74-68 on Saturday, was disappointed with his team's sluggish start.
"I feel like they had been playing good basketball and we just allowed those guys to come out and flow," Martin said. "They flowed and that's not good at all.
"They didn't play the way we know how to play. You move on to the next one. You don't have a lot of time. You can't get consumed with it."
Missouri (10-15, 4-8) has lost four games against Kansas, Illinois and Arkansas — viewed as the Tigers' rivals — by a total of 125 points this season.
A good number of Arkansas fans were on hand to negate the home advantage for Missouri.
"We didn't play how we were supposed to," said Javon Pickett, who led the Tigers with 13 points. "We didn't put any pressure, they were able to flow into their offense; that's really it. We didn't pressure them at all."
Discussion
Have a comment on this story? Join the discussion or start a new one on the Forums.