Arkansas signee Hyneman pumped about baseball season
Published: Thursday, February 17, 2022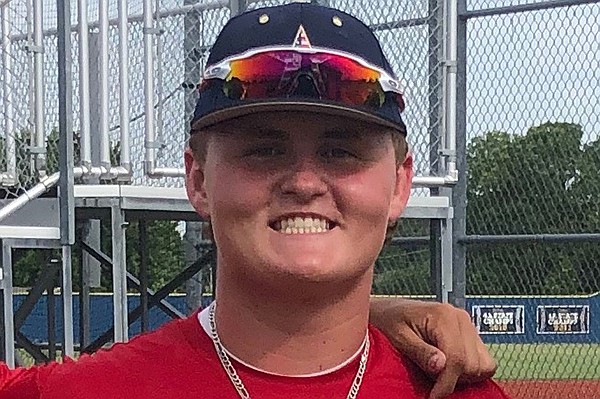 ( Courtesy of Josh Hyneman )
Jonesboro pitcher Josh Hyneman is committed to the Razorbacks' class of 2022.
Jonesboro senior baseball standout Josh Hyneman would love to be at Arkansas baseball's opening series this weekend with visiting Illinois State, but will have to settle for being in a Razorback uniform next season.
It's clear that the 6-4, 235-pound right handed pitcher and Arkansas diamond signee is excited.
"Arkansas has always kind of been the place to go for my family," Hyneman said. "My grandparents have a good name up there, my dad went there and a lot of his siblings went there as well. We have always grown up being Razorback fans and been going up there to watch games for as long as I can remember.
"I remember when I was young and wearing ear plugs and going to a (basketball) game at Bud Walton Arena. Just going to Arkansas has always been a dream so whenever the opportunity presented itself I knew exactly what I was going to do."
Hyneman is impressed with the program that Razorback head coach Dave Van Horn, hitting coach Nate Thompson and pitching coach Matt Hobbs are currently guiding.
"Coach Van Horn, Coach Thompson and Coach Hobbs are doing great jobs and great things up there," Hyneman said. "I can't wait to see what is coming this year and being a part of it the next few years."
The program's excellence has led to a great atmosphere at George Cole Field at Baum-Walker Stadium as well as Bud Walton Arena and Razorback Stadium.
"I think is it the best college sports atmosphere in the nation, especially now with every thing going on with football and basketball and baseball," Hyneman said. "It just brings all the attention around Fayetteville and everybody wants to be a part of it, be there and everybody has a big smile on their face, cheering and everyone is loud.
"I am going up to the Arkansas-Kentucky basketball game (on Feb. 26) and I know it is going to be crazy."
It may have reached a zenith noise-wise when Charlie Welch's eighth-inning home run lifted the Razorbacks over Nebraska and into the NCAA Super Regionals last season.
"I wasn't able to make the Charlie Welch home run game, but I felt like my house was shaking (in Jonesboro)," Hyneman said. "It is definitely one of the best atmospheres in the nation, if not the best."
Jonesboro (28-6) is coming off a 2021 season that ended in the Class 5A title game with a 12-1 loss to Van Buren, who exploded for 10 runs in the final two innings of the contest after Hyneman came off the mound.
Hyneman finished his junior season with a 12-2 record, 70 strikeouts and a 2.19 ERA.
"Last season definitely left a sour taste in my mind, how it ended," Hyneman said. "I definitely think it is just all about getting back to where we finished and just finishing it better than we did last time.
"Having a great season before that would mean a lot to me of course, but all I can think about is the potential to get back to where we were. I would love another chance at Van Buren."
Hyneman is one of three Arkansas pitching commits on Jonesboro's team along with junior Riley Henfling (6-4, 215) and sophomore Lance Davis (6-3, 185).
"We should be really good on the mound this season," Hyneman said.
Jonesboro opens the 2022 season with a game against Southside Bee Branch, which features a fellow Arkansas signee in shortstop Easton Swafford.
"He and I have really bonded over the last few years," Hyneman said.
The pair are part of over one dozen Arkansas signees or commitments that played on the same Arkansas Sticks baseball team for head coach Chase Brewster last summer.
"This summer I had a great time with the Arkansas Sticks," Hyneman said. "This was my third summer with them. Coach Brewster did a really good job of putting together a team this year with a lot of high level players. We had 13 Arkansas commits on our team alone.
"We all got to know each other and bond. We really played well and the chemistry we developed by the end of the year was insane. I think we were 25-0 at one point."
Hyneman continues to work on his pitching repertoire.
"I have got a four-seam and a two-seam fastballs and they have been up to 93," Hyneman said. "I have a slider that is usually in the 77 range, change-up in about the 79 to 83 range usually. And I have started to develop a curve ball recently. It is coming along. It is more of a wipe out right now.
"I need to get more to where I can put it in the zone and make the batter watch it. Right now it is more of a swing at it when I am ahead in the count pitch. I need to get confident in it so I can throw it when I am behind."
Hyneman is also a hitting threat for Jonesboro with a .410 average, six homers and 35 RBIs last season, but has plans to just pitch in college.
"I love hitting," Hyneman said. "I love being in the box and knowing everybody is watching me and I have to get the job done for my team. It's not just for myself, like scoring runs or put myself on base. But I really just want to focus on pitching once I get to college.
"That will take me a long way. My mom gets on to me about it because she loves watching me hit. But I just feel like pitching is my best option."
Hyneman also played football for Jonesboro his freshman and sophomore seasons before deciding to concentrate on baseball.
Jonesboro head coach Randy Coleman and his assistants were supportive of the decision.
"It was hard and really a tough decision, especially because the culture that Jonesboro football has developed just since I have seen it when I was a freshman to where it is now is insane," Hyneman said. "Coach (Randy) Coleman has done a great job with the program. He and the other coaches always supported my decisions no matter what they were.
"They were always making sure I stayed healthy because they knew baseball was my sport, but they also made football very enjoyable. I loved it. I would just say that the hardest part was leaving some of my family, almost, because I had played with those guys since the seventh grade."
He made a vow to his former football teammates.
"It was hard to step away from it, but I told them I would be there for every game, be in the student section and be leading it," he said. "It was really hard to see them do very, very well and not be a part of it on the field. But I was part of it off the field and so proud of them and they had my full support."
Hyneman expects a tough conference race.
"Conference wise, Marion and Batesville will be really good," Hyneman said. "I am really close with Chase Armstrong and Gage Watson on Marion's side and on Batesville's side there's (Arkansas commits) Gage Wood and Mark Brissey. We've been going at it since we were young, too."
Discussion
Have a comment on this story? Join the discussion or start a new one on the Forums.