Catalon, Pool impressed with Arkansas' early enrollees
Published: Saturday, February 19, 2022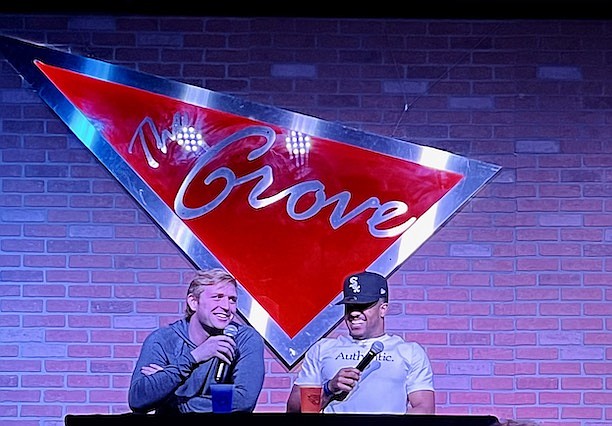 Bumper Pool, Jalen Catalon
As two of the senior veterans on Arkansas' football team, linebacker Bumper Pool and defensive back Jalen Catalon have taken a large group of Razorback freshmen under their wings in the last month.
There were 18 early enrollees when Arkansas started its second semester in January, most of them wide-eyed and a bit shocked as Pool and Catalon were back in the day.
The pair talked about that during their appearance Wednesday night at the Players Trough Q&A forum at The Grove Comedy Club in Lowell.
"That's what's fun about it because you remember being that kid back in the day, thinking you were the hot shot" Pool said. "Then you get here and you realize there is a whole process and a lot of work and preparation that goes into getting to the level that we played at.
"We welcome these guys in and we want them to be in our family and if they know the standard, you are not going to have to worry about these guys falling off. They learn there is a right way to do things."
Catalon feels it is a veteran's duty to make sure the program has a solid transitional base.
"For me I feel like your young guys are always going to be as good as how your older guys lead," Catalon said. "You kind of put your arm around them, take them under your wing and show them how things are supposed to be.
"When you are a new guy, it's like going to a new school. You might know a couple of people, but you don't know the philosophy and how you are supposed to work. The older guys need to step in and show them that. Not only by how your work, but by example.
"I think with our vets now, we do a great example of making sure that everybody is on top, whether you are a starter right now or whether you are a freshman that just came in.
"There is a standard that everybody has and you must follow that. That's the rules and that's how we do things."
Catalon has been impressed with what he has seen out of the freshmen as the team gears up toward spring practice beginning on March 13.
"The young guys so far, from everything I have seen, they are doing a great job," Catalon said. "They have been lifting, been consistent on being where they are supposed to be. So I am excited to see these guys on the field this spring and see what they can bring to the table."
The Razorbacks have also added six transfer additions in Alabama linebacker Drew Sanders, defensive backs Dwight McGlothern of LSU and Latavious Brini of national champion Georgia, LSU defensive tackle Landon Jackson and preferred walk on quarterback Cade Fortin of South Florida
Arkansas linebacker Grant Morgan and Hayden Henry have exhausted their eligibility so Pool was thrilled to add Sanders (6-5, 244) to the mix.
"He is a fantastic athlete and has a great mindset," Pool said of Sanders. "He came from Alabama and regardless of what you think of Nick Saban, he knows how to get guys to play hard and have the right mentality. He has come in and been a machine. He does nothing but works.
"…Just seeing him move around around, he is a 5-star for a reason or at least he was coming out of school."
McGlothern and Brini bring experience to a secondary that saw starters Greg Brooks and Joe Foucha transfer to LSU.
"You go on the back end we still have Slush (Myles Slusher) and Simeon Blair is going to be big for us this season," Catalon said. "Then you add on Dwight McGlothern as a corner and Brini playing in the back probably at the nickel.
"You look at it and we have all the pieces. Brini won a national championship at Georgia and he brought that insight now that it takes to do that. People are like a sponge and want to learn, they want to be there to make sure everybody grows."
"
Discussion
Have a comment on this story? Join the discussion or start a new one on the Forums.