Arkansas hoops signee Walsh envisions big things
Published: Sunday, February 20, 2022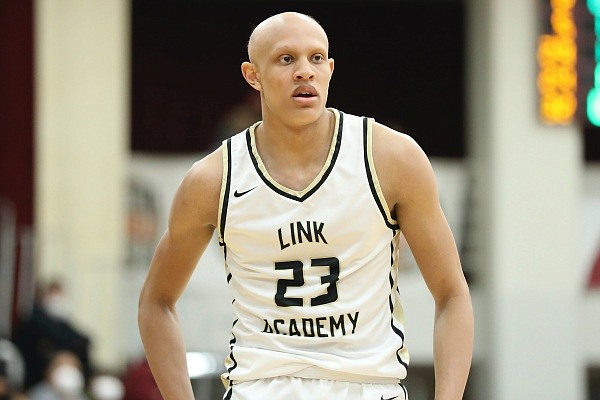 Link Academy's Jordan Walsh is shown against Prolific Prep during a high school basketball game at the Hoophall Classic on Monday, January 17, 2022, in Springfield, MA. (AP Photo/Gregory Payan)
Arkansas hoops signee Jordan Walsh took in his second Razorback game of the year on Saturday and it left him looking forward to being on center stage at Bud Walton Arena next season.
Brandon (Mo.) Link Academy's Walsh (6-7, 200) and fellow ESPN 5-star prospect and McDonald's All-American Anthony Black (6-7, 198) of Duncanville, Texas, were among the over 19,000 who watched No. 23 Arkansas take down No. 16 Tennessee 58-48.
"I'm super excited to know that I am going to be playing in front of big crowds like this," Walsh said. "I am also ready for the big moments and being able to compete in front of 20,000 people is going to be great."
It was the 11th win in 12 games for head coach Eric Muselman's Razorbacks (21-6, 10-4) with Walsh also having taken in Arkansas' 63-55 win over Mississippi State on Feb. 5.
"We (the Razorbacks) are really playing well right now," Walsh said. "I think we have a chance to do great things in the (NCAA) Tournament. The team is full of great guys, great players and great people. Everybody on the team works hard, knows their role and knows how to play inside of their role. Coach Muss does a great job of putting them in positions to be successful."
Walsh is part of a five-member Arkansas signing class that also includes fellow McDonald's All-Americana and 5-star prospect Nick Smith, Jr., of North Little Rock, Magnolia guard Derrian Ford, Morrilton small forward Joseph Pinion and Mobile (Ala.) McGill-Toolen star Barry Dunning, Jr.
Those five are all ranked in the Top 100 nationally by ESPN, third nationally as a group behind Kentucky and Duke and have led their teams to a combined record of 118-14 this season.
"We are a great group for sure and those are also great guys," Walsh said. "They are funny, they are hard workers and know when it is time to come to work and we have to earn everything when we come in here."
The group would love to add Black to the recruiting haul.
"I am working on him," Walsh said. "He is my guy and from Texas like me. I am trying to get him here with me. I am just telling him all the true things about it, how life is at Arkansas from what I know.
"I have told him that Coach Musselman is a winner and is going to make you work hard."
Link Academy (28-1) has six regular season games left and is pointing toward the GEICO High School National Tournament on March 31-April 2 in Suncoast Credit Arena in Fort Myers, Fla.
The Lions' only loss was to Bel Aire (Kan.) Sunrise Christian Academy 74-65 on Feb. 11.
"We have just become a closer team and are tightening up on the small details," Walsh said. "It is getting to the end of our season and we are trying to reach our peak at the right time. That is the plan for us at this point."
Walsh is expecting to be at Arkansas' Saturday 1 p.m. game with visiting Kentucky at Bud Walton Arena.
There is a chance that Link Academy five-star junior power forward and Arkansas recruiting target Omaha Biliew (6-8, 200) will also be in attendance for his second Razorback game of the season.
"He is doing good right now, but his mouth is kind of messed up right now as he got hit in the teeth recently," Walsh said.
Discussion
Have a comment on this story? Join the discussion or start a new one on the Forums.