Arkansas puts on show for top recruits again
Published: Saturday, February 26, 2022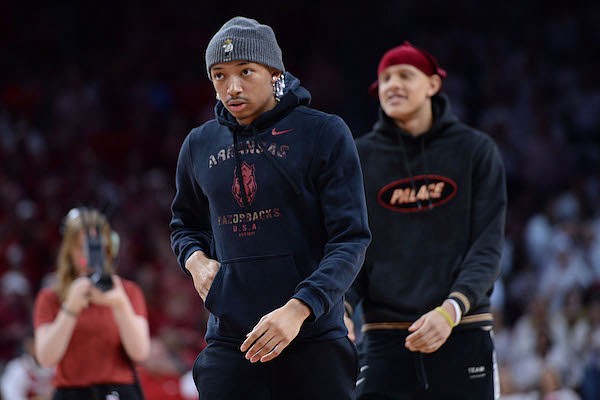 (
Andy Shupe
)
Arkansas basketball signees Nick Smith (front) and Jordan Walsh are shown during a game between the Razorbacks and Kentucky on Saturday, Feb. 26, 2022, in Fayetteville.
For the second straight Saturday, Arkansas had some of the nation's best high school basketball players on campus and put on a show.
The No. 18 Razorbacks downed No. 6 Kentucky 75-73 before a raucous crowd at Bud Walton Arena.
That crowd included Arkansas' two 5-star McDonald's All-American signees in Jordan Walsh of Branson (Mo.) Link Academy and North Little Rock's Nick Smith (6-5, 185), who were introduced during a timeout in the first half.
"It was ridiculous how loud it was," Walsh said. "When we went out on the court, they did the hog call and all I can say is it was just ridiculous. Just ridiculous. Just loved it.
"I feel like our team put out and I don't think this should surprise anybody. We came out and represented and did what we needed to do to get a win."
Also on hand were former Little Rock Christian star and current Bel Air (Kan.) Sunrise Academy junior point guard Layden Blocker (6-2, 175) and fellow 2023 prospects Baye Fall and Assan Diop, who play this season at Denver Prep Academy.
Little Rock Christian sophomore small forward Landren Blocker (6-4) also took in the game with his older brother.
Arkansas coach Eric Musselman is pleased to display the atmosphere as the Razorbacks (23-6, 12-4) have taken down Auburn, Tennessee and Kentucky in the last couple of weeks.
"Our crowd is as good as anywhere in the country," Musselman said. "I think it helps. I haven't read all my text messages, but I have a group of guys I went to college with that are blowing up my phone about if this place is really what it looks like. They live in San Diego and San Francisco and Oakland.
"This place is magical when you're winning. I think from a recruiting standpoint, it does nothing but help you."
Musselman noted the success of Razorbacks football coach Sam Pittman's program this past season played a factor in Arkansas signing the nation's No. 3 class nationally, per ESPN, 247 Sports and Rivals.
"You know what, when Coach Pittman's team won this year, and we brought recruits to the games, it helps everybody," Musselman said. "When teams on campus are winning and there's a crowd, it's enthusiastic."
He also noted that Dave Van Horn's baseball program, ranked No. 1 nationally most of the 2021 season and No. 4 this season, plays into things as well.
Duncanville standout Anthony Black (6-7, 198) joined Walsh at last Saturday's 58-48 win over Tennessee and also took in an Arkansas-Illinois State baseball game on Sunday.
"I mean, our recruits enjoy going to baseball games," Musselman said. "It's an insane environment there. Hopefully we hold up our end, because other sports here are helping us in recruiting. It's a little bit harder in our season to get recruits to come here because they're playing games, as well.
"Sometimes we rely on other sports on campus to help us with recruiting. I think any time you have crowd support like we do and the other programs on campus it makes it pretty magical."
Discussion
Have a comment on this story? Join the discussion or start a new one on the Forums.