Kentucky's magic at Bud Walton Arena runs out
Published: Saturday, February 26, 2022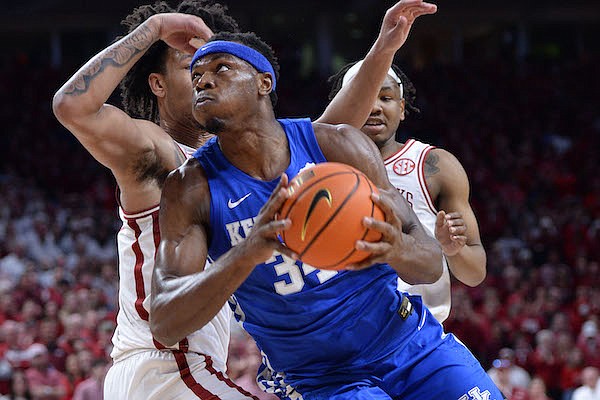 (
Andy Shupe
)
Kentucky forward Oscar Tshiebwe (34) turns toward the basket during a game against Arkansas on Saturday, Feb. 26, 2022, in Fayetteville.
While having dinner with Arkansas booster and successful business man John Tyson on Friday night at Herman's in Fayetteville, Kentucky basketball coach John Calipari was all smiles.
He seemed to enjoy Razorback fans as they serenaded him with a Hog call during his meal, but wasn't as happy after Arkansas downed Kentucky 75-73 on Saturday.
In fact, he did not like Arkansas' 15-2 start.
"The way we started the game, just the unaggressiveness, it puts a sad look on your face," Calipari said. "You get knocked around and they got every 50-50 ball…And we had some guys -- they're not robots, they're not machines -- who did not play well. They didn't. And if it's a couple of guys, that hurts us."
Arkansas (23-6, 12-4), which has won 13 of its last 14 games, led 34-28 at halftime over Kentucky (23-6, 12-4). The Wildcats, join Tennessee one game back of SEC leader Auburn.
"Here's what I said at halftime," Calipari said. "I came into halftime laughing. I was laughing. We were down six, 0 of 3, haven't made a 3. I said, 'Think about how you personally have played and we are down six. Let's just play and see what happens.'"
The Wildcats and Razorback, who have both clinched a double bye in the SEC Tournament, traded the lead seven times in the second half.
Kentucky's last lead came with 2:21 left when Kellen Grady hit a 3-pointer to give his team a 70-69 lead, but Arkansas scored the next six points.
Oscar Tshiebwe had a monster 30-point, 18-rebound game as the nation's leading rebounder got his 11th double-double in a row.
"He came in the huddle and said, 'Look, that guy can't guard me,'" Calipari said. "...He's playing for his teammates. The stuff that he's doing and the way he's shooting the ball, even passing the ball better.
"We've got to have some other guys play. We had two (rusty players) in there, and we had a couple other guys that didn't play very well. And we had our chances to win. Could have won the game anyway."
Normal starting point guard Savhir Wheeler, who has been injured, came off the bench to add 14 points while Keion Brooks added 14.
"I'm a competitor, so those games are always fun to me," Wheeler said. "I love winning, winning by 30 is great. But I also like the close games when it's back and forth like that. Most of the time, we are on the winning side. But today just wasn't our day."
Ty Ty Washington, another starting guard who also has been injured and came off the bench, added 10 points
JD Notae had 30 points and 8 assists for Arkansas while Stanley Umude added 13 points and Jaylin Williams, who had 10 points in four minutes late in the game, had 16 points and 12 rebounds.
"There were things where we hurt ourselves, but they are a good team," Calipari said. "They went through Notae and he did pretty good."
Kentucky was looking for its fourth straight win at Bud Walton Arena after getting victories in 2016, 2018 and 2020.
Both teams have a pair of games left before the SEC Tournament in Tampa, Fla.
"We didn't play our best and had our chances to win, Calipari said. "That's a good sign. We've got a home game and a road game and it's over. Now we start tournament play, which is why we do what we do."
Discussion
Have a comment on this story? Join the discussion or start a new one on the Forums.