Eads believes Hogs landed big-time commit in Young
Published: Monday, January 3, 2022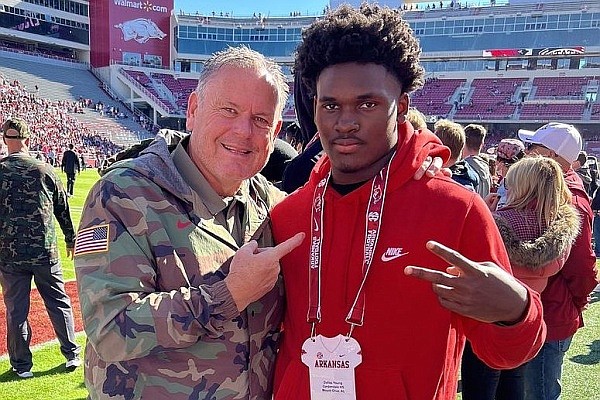 2023 DB Dallas Young visits with Arkansas coach Sam Pittman before the Mississippi State game.
Arkansas' football program ended 2021 by getting its first defensive pledge for 2023, one who appears to be an all-around prospect.
Gardendale, Ala., defensive back Dallas Young (6-1, 180), who committed on his great grandmother's birthday of Dec. 29, is a big pickup for the Razorbacks, according to his head coach Chad Eads.
Eads expressed it is not only because of his Young's talent, but because of his work ethic, attention to detail and mindset.
"He is not a big talker, but he is very consistent, shows up and gets himself ready each day," Eads said. "He works on the little things. Every Friday night he is playing against the best player on the field, so he understands doing the small things and works at it on his own and works at it with us. He is always trying to improve.
"That's different than a lot of other kids who get recruited and feel like they have kind of made it a little bit. He sees himself as a guy that is being recruited and he wants to prove everybody right."
Young had 60 tackles, 3 sacks, 8 pass breakups, 1 recovered fumble and 2 blocked punts this season while leading the Rockets to a 10-3 record and eight straight wins before falling in the Class 6A quarterfinals.
He is rated a 3-star prospect by 247 Sports, Rivals and ESPN, and a 4-star by CBS's Tom Lemming.
"I feel like I can lock down one side of the field and take out the other team's best receiver," Young said. "I don't really think I have one weakness, but I am working on my full game."
Eads thinks being a defensive back is the right spot for Young.
"He's got the personality that you want to play in the secondary," Eads said. "He wants to be the guy that wants to be depended on to make big plays, and if something goes wrong he moves on to the next play. If it goes great, he moves on to the next play, too."
Young chose Arkansas over Georgia, Ole Miss, Mississippi State, Penn State, Florida State, West Virginia, Georgia Tech, UAB and other programs.
"I got it down to Arkansas, Penn State and Mississippi State, but Arkansas stood out to me the most," Young said. "What really made them the right choice for me is that when I went down there is how the coaches treated me. (Just) my relationships with the coaches.
"I fell in love with it and prayed about it and talked it over with my parents. We made a list of pros and cons and it was just the best fit for me. Coach (Sam) Pittman is changing the culture down there. I love that and I can't wait to be a part of it."
Young said he knew of his final choice on Dec. 13, but was pretty sure of it after unofficially visiting Arkansas for its home games with Auburn (Oct. 16) and Mississippi State (Nov. 6).
He plans to make a third trip Arkansas on Jan. 22. Young is the Razorbacks' fifth commitment in the 2023 class.
Eads said that Young and Pittman do appear made for each other.
"I don't know Coach Pittman, but I know that Dallas seems to respond to him really well and liked his way of doing things," Eads said. "I think Dallas likes being around a coach that is consistent and wants him to work hard every day. He wants somebody who is going to be the same every day, not a cheerleader one day and mad at everybody the next day.
"That is the level of comfort for Dallas. He knows what to expect."
Eads is familiar with Arkansas special teams coach Scott Fountain, who played at Samford University in Homewood, Ala., as did Eads.
"He was a little bit ahead of me," Eads said of Fountain. "He played football there and then I played right after him. We got to know each other through some mutual friends."
Young is a big fan of Arkansas safety Jalen Catalon.
"I love him and that's the first guy I really started to watch and study his game when I knew I was likely going to Arkansas," Young said. "He's somebody I really think is a great player."
Discussion
Have a comment on this story? Join the discussion or start a new one on the Forums.