SEC midweek roundup: LSU edges Florida in Days' homecoming
By: The Associated Press
Published: Thursday, January 13, 2022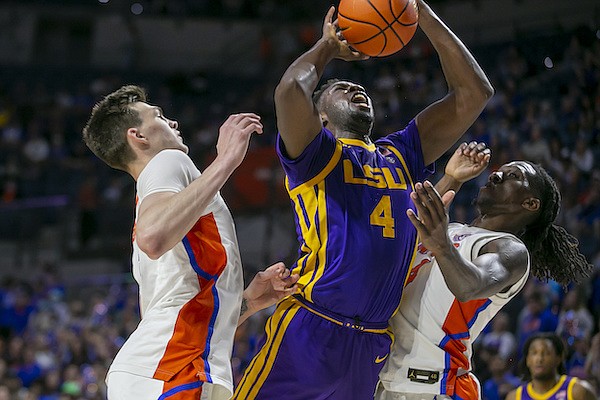 LSU forward Darius Days (4) drives for the basket between Florida forward Colin Castleton, left, and Florida forward Anthony Duruji during the first half of an NCAA college basketball game Wednesday, Jan. 12, 2022, in Gainesville, Fla. (AP Photo/Alan Youngblood)
GAINESVILLE, Fla. — Darius Days was mostly miserable during his last two trips home to play in front of friends and family members. He struggled, and LSU lost.
He tried to relax a little more this time around and ended up giving dozens of his fans who made the short trip north plenty of reason to cheer.
Days scored 20 points about 25 miles up the road from his hometown, Eric Gaines added 15 in his second start of the season and No. 12 LSU edged Florida 64-58 on Wednesday night.
"I told him in the locker room, 'You must have been saving it all up for this one,'" LSU coach Will Wade said. "This has been a tough place for him to play."
Days made nine of 14 shots — hitting six more than he did during his last two games in Gainesville — and was a one-man show for stretches. It was a much-needed performance because the Tigers (15-1, 3-1 Southeastern Conference) played without starting point guard Xavier Pinson (sprained knee) and had two big men foul out long before the game was decided.
"Everybody played their behind off," Days said.
Gaines came up big, too, scoring eight points in the second half and going 4 of 5 on free throws down the stretch in place of Pinson.
"Give our guys credit, man," Wade said. "We're a tough out. We've got guys that step up and come through for us. … We just dug it out there. We didn't have our normal lineups in there; we had lineups in there we've never practiced with. Our guys just found a way."
The Gators (9-6, 0-3) lost for the sixth time in nine games and fell to 0-3 in league play for the first time since the 1980-81 season.
"We have to get this thing going," Florida coach Mike White said. "We've proven to be capable. This team hasn't handled adversity very well. We've got to get some type of mojo back."
LSU dominated Florida down low, outscoring the Gators 42-26 in the paint. And the Tigers did that without much help from big men Tari Eason and Efton Reid.
Eason picked up his fifth foul on a charge with a little more than 14 minutes to play, and Reid joined him on the bench with 7:16 remaining. Reid picked up three fouls in the first half and was called for a fourth in the opening minute of the second.
Florida's biggest issue was at the free throw line. The Gators missed 11 from the charity strip, including seven of nine down the stretch.
"There's not 10 minutes that go by in practice without us stopping and do a free throw drill," White said. "We'll continue to do it. We might change up the drill."
Colin Castleton led Florida with 19 points and nine rebounds, and Phlandrous Fleming added 11 points.
LSU led by 14 in the first half, but Florida whittled it to two several times in the final minutes. Anthony Duruji, Myreon Jones and Brandon McKissic each missed a pair of free throws in crunch time.
"The thing is, you're talking about good shooters here," White said. "It's obviously mental. ... We've got to get mentally tougher."
Auburn gets best of Tide
TUSCALOOSA, Ala. — This time the Auburn Tigers got to celebrate at the end against their in-state rivals, mimicking the Alabama football team's signature Karate Kid pose on the court.
Freshman Jabari Smith scored a season-high 25 points and Allen Flanigan made four straight free throws in the final 54 seconds, lifting No. 4 Auburn to an 81-77 victory over No. 24 Alabama on Tuesday night.
Auburn players on the court mimicked the celebration adopted by Alabama's football team, which fell to Georgia in Monday night's national championship game but won the Iron Bowl in four overtimes.
And celebrated accordingly back in November.
"That's actually Alabama's thing, man," Flanigan said. "The football team did it to us. We were all right behind the end zone in the final seconds, and when he scored the touchdown they came right there to the end of the end zone and did the little karate kick. So we stole their move on them again."
The Tigers (15-1, 4-0 Southeastern Conference) lost all of a 14-point lead before managing to avoid becoming the third Top-5 team to lose on the night. They pushed their win streak to 12 games in the rivals' first Top 25 matchup in 35 years.
Smith's 3-pointer gave Auburn a 73-59 lead with eight minutes left. Then Alabama (11-5, 2-2) scored the next 14 and tied it with Darius Miles' dunk at the 4:04 mark. Flanigan, who missed the first 11 games recovering from surgery on his right Achilles, iced it at the line.
"Those balls he shot didn't even hit the rim," Auburn coach Bruce Pearl said. "They barely hit the net. I told him after the game, that's all those hours in the gym with your grandfather and your father.
"You earned those free throws, and you made history tonight."
Dylan Cardwell blocked a 3-point attempt after Flanigan's last two foul shots with 22 seconds left. Alabama missed its final eight shots.
Wendell Green Jr. scored 13 of his 19 points in the second half for Auburn. K.D. Johnson had 13 points and eight rebounds. Flanigan finished with 10 points.
Jahvon Quinerly led Alabama with 14 points and Jaden Shackelford scored 13, with three others reaching double figures. Noah Gurley scored 11 and Keon Ellis and Darius Miles had 10 apiece.
"We needed to play our best game of the year to win that one," Alabama coach Nate Oats said. "We gave ourselves a chance there late and didn't execute like we needed to down the stretch."
Auburn center Walker Kessler fouled out with five minutes left on a charge, managing just two points and two rebounds. Cardwell helped fill the void.
It was the first time since Jan. 22, 1987 the teams met when both were ranked. No. 13 Alabama beat No. 17 Auburn 88-82 at Coleman Coliseum in that one.
The Tide's top scorers, Shackelford and Quinerly, were a combined 8-of-33 shooting.
"We really won the game with our defense," Pearl said. "We really won the game by getting stops. When you hold Alabama to 34 or 35% shooting ... I think our defense is what saved us late."
Tshiebwe's 30 leads Kentucky over Vandy
NASHVILLE, Tenn. — John Calipari has one quibble with his 18th-ranked Kentucky Wildcats.
He'd like to see them finish what they start.
Oscar Tshiebwe scored a career-high 30 points and had 13 rebounds as Kentucky routed Vanderbilt 78-66 on Tuesday night for its second straight win. The final score was only that close because the Wildcats missed their final seven shots after taking their biggest lead of the game at 28 points.
"We let go of the rope, and we've got to get better at that," Calipari said.
The Wildcats (13-3, 3-1 Southeastern Conference) won their 11th straight in the series, and Calipari improved to 22-4 against Vanderbilt with his 797th overall victory.
Tshiebwe came in leading the nation in rebounding and second in double-doubles; this was his 12th. He became the first Kentucky player with at least 30 points and 10 rebounds in a game since Patrick Patterson on Dec. 22, 2008, against Tennessee State.
"Never had a dream about scoring 30 points in a game," Tshiebwe said. "It just happened. The team, they're helping me, they look for me down there. ... It was good to finish with 30 points, but I have the ability down in the post to finish, that's what helped me. And I'm making free throws. That was a good thing."
Calipari called Tshiebwe one of the hardest-working players he's coached.
"His body is so big, he's a terrific screener on ball screens," Calipari said. "You can say what you want. When you're 255 (pounds), you know, it's a tough thing."
TyTy Washington Jr. added 15 points for Kentucky.
Vanderbilt (9-5, 1-2) lost its second straight. The Commodores' first two SEC games were decided by a combined three points, and Kentucky swept last season's series by total of seven points.
Scotty Pippen Jr., the SEC's leading scorer, nearly matched his average with 17 points by halftime. He finished with 32. But junior Jordan Wright was held scoreless for the first time this season after averaging 12.7 points a game for Vanderbilt. Trey Thomas added 14 for the Commodores.
With 7-footer Liam Robbins sidelined by a foot issue, Vanderbilt struggled to defend Tshiebwe. Coach Jerry Stackhouse called the 6-foot-9 Tshiebwe a "handful."
"Hat's off to him," Stackhouse said. "He had a great game putting the ball in the basket, being really aggressive on the boards. It was his night."
Vanderbilt never got closer than a tie at 22 after an 11-0 run early.
Kentucky answered Vandy's run with 14 straight points, pushing the lead back to double digits. Stackhouse, now 1-7 against AP Top 25 teams, slammed a clipboard during a timeout.
Tshiebwe scored five of the final seven points as Kentucky led 41-27 at halftime.
The Wildcats led by as much as 78-50 with 6:14 left. The only thing that kept Vandy from allowing a season high in points was finishing the game on a 16-0 run.
Enough Wildcats fans filled Memorial Gym that it felt a bit like Rupp Arena South, especially when they chanted "Go Big Blue" repeatedly.
Commodores fans weren't happy students weren't allowed at this game with university officials limiting in-person activities until Jan. 24 amid a surge in COVID-19 cases. Plenty of Kentucky blue sprinkled the student section that had gold shakers at each seat waiting to be used.
Aggies keep winning
COLLEGE STATION, Texas — Henry Coleman III scored 18 points as Texas A&M cruised to its seventh-straight win, beating Mississippi 67-51 on Tuesday night.
Texas A&M (14-2, 3-0 Southeastern Conference) is 6-0 against Ole Miss at home and off to its best start since opening 17-2 in 2015-16.
Coleman made 9 of 10 shots and Tyrece Radford added 12 points for the Aggies, who shot 56% (29 of 52). The pair each had six of the Aggies' 31 rebounds.
Matthew Murrell scored 11 points to lead Ole Miss (9-6, 1-2). Daeshun Ruffin added 10 points.
The Aggies took the lead for good with about nine minutes remaining in the first half and led 33-29 at the break. Murrell's 3-pointer cut the Ole Miss deficit to 39-37, but the Aggies pulled away with a 19-3 run for a 58-40 advantage with 7:29 to go. Radford sparked the surge with a 3-pointer and Taylor scored nine points during the stretch.
Texas A&M has eclipsed the 80-point threshold nine times, the most in a season since 2017-18 when they scored 80 or more points 13 times. Their 67 points against Ole Miss were the fewest in a victory since beating Notre Dame 73-67 on Nov. 24.
The Aggies play at Missouri on Saturday. Ole Miss, which has lost three of four, hosts Auburn on Saturday.
Vols rout Gamecocks
KNOXVILLE, Tenn. — Confidence wasn't on Josiah-Jordan James' side.
But when the basketball came his way, he didn't have time to think.
Beating the halftime buzzer by a split-second, James drilled his first 3-pointer of the night to give No. 22 Tennessee the momentum it needed for a 66-46 Southeastern Conference victory over South Carolina Tuesday.
James had struggled, hitting just 22% of his 3-pointers coming into the game. But, with the ball in his hands, he didn't hesitate. His 3-pointer was the critical shot in a 12-2 run by the Volunteers (11-4, 2-2) that spilled over into the second half. It turned a game tied at 22 into a Tennessee victory.
"Hitting that shot felt really good," James said. "As soon as it came out of my hands, I had a real good feel for it."
"This team looks to Josiah," said Tennessee coach Rick Barnes. "He had a good look (on the critical 3-pointer)."
Frank Martin, whose Gamecocks fell to 10-5 (1-2), had a different look at the pivotal point of the game.
"We're up 22-20 with 1:30 to go in the half and by halftime we're down six (30-24)," Martin said. "We just had too many turnovers. If we don't turn the ball over 12 times in the first half, we'd be in good shape."
Tennessee, a team that thrives on 3-point shooting, missed its first five of the first half and didn't connect for the first time until 2 minutes before intermission. That meant the Vols had to overcome their struggles with defense.
"There are going to be struggles on offense," Barnes said. "We have to put so much effort on defense."
"Defense travels," said James. "We rely on defense night-in and night-out. It's a matter of effort and 'want-to.'"
"(Early in the second half) we're down 12 to the best defensive team in the country," said Martin. "That's a tough hill to climb."
Santiago Vescovi led the Vols with 14 points. James finished with 11 points and 12 rebounds. Zakai Zeigler came off the bench to score 11 points and John Fulkerson added 10.
"When (Zeigler) comes in the game, everything is going to change," Barnes said of the 5-foot-9 freshman. "He brings an energy. He's fearless. He's not going to back down from anyone."
James Reese led the Gamecocks (10-5, 1-2) with 15 points.
"James has my trust and respect," said Martin. "He's big-time."
Both Tennessee and South Carolina struggled at the free-throw line and nearly shot better from the field. The Vols hit 24 of 55 (43.6%) from the field and 11 of 25 (44%) on free throws. The Gamecocks were 17 of 49 (34.7%) from the field and 6 of 17 (35.3%) on free throws.
MSU hands Georgia 5th loss in row
STARKVILLE, Miss. — Iverson Molinar scored a career-high 28 points and Mississippi State quickly overtook Georgia in the second half, winning 88-72 on Wednesday night.
Molinar was 11-of-18 shooting with seven assists. Javian Davis produced 18 productive minutes off the bench with 12 points, a team-high six rebounds and three blocks. Cameron Matthews and Andersson Garica added 10 points each. Garrison Brooks had four of Mississippi State's 10 blocks. Mississippi State (11-4, 2-1 Southeastern Conference) shot 53%.
Kario Oquendo scored a career-high 28 points on 9-of-17 shooting, Noah Baumann added 15 points and Jabri Abdur-Rahim 13 for Georgia (5-11, 0-3), which lost its fifth straight.
After trailing by a point at halftime, Mississippi State built a 10-point lead over the first seven minutes of the second half. Abdur-Rahim scored seven consecutive points midway through the half to cut lead to three, but Mississippi State responded with a 17-5 run capped by Shakeel Moore's 3-pointer to go up 15. A few minutes later, Molinar scored six straight points and the lead was 19.
Neither team led by more than six points in the first half when there were nine lead changes and four ties with Oquendo scoring 15 points, two over his per-game season average, and Molinar 11. Baumann's layup with nine seconds left gave Georgia a 36-35 lead at the break.
Mississippi State was without 6-foot-11 forward Tolu Smith for a second straight game. Last year's SEC rebounding leader, when he had eight double-doubles, has played in only five games this season because of injuries.
Georgia will be home against Vanderbilt, while Mississippi State is host to No. 24 Alabama on Saturday.
Discussion
Have a comment on this story? Join the discussion or start a new one on the Forums.